The Puck Drops at Dodger Stadium for the NHL Stadium Series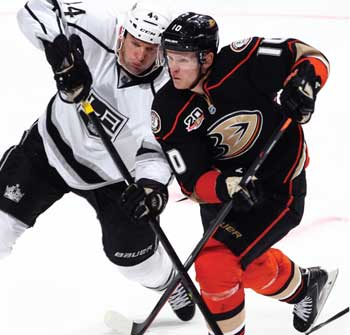 Dodger Stadium sets the stage for an icy rivalry when the Los Angeles Kings and Anaheim Ducks face off on the legendary baseball-field-turned-skating-rink. When it comes to sports, this is what's going on in Los Angeles!
From Michigan Stadium, to Dodger Stadium, to Soldier Field and more, the NHL pays homage to nostalgic times when hockey players laced up their skates to play on frozen lakes and ponds. This is no pickup game, however; the 2014 stadium series kicked off on New Years Day when the Toronto Maple Leafs battled the Detroit Red Wings in freezing temperatures at Michigan Stadium in Ann Arbor.
For the second game of the series, the Los Angeles Kings and Anaheim Ducks face off in the first hockey game ever to be hosted at Dodger Stadium, which has also held eight World Series since its inception 51 years ago.
Bundle up in winter woollies to take in the chilly action, with rink temperatures hovering around a cool 22 degrees Fahrenheit to stabilize the 2-inch-thick playing surface—courtesy of 20,000 gallons of water. And more than just the stadium will receive a makeover for the occasion; look for the teams sporting dynamic new chrome-treated team logos, in addition to specially designed jerseys for the series. The only question remaining: Who will take the heat?
1000 Elysian Park Ave., L.A. nhl.com