New Menu at Susan Feniger's Street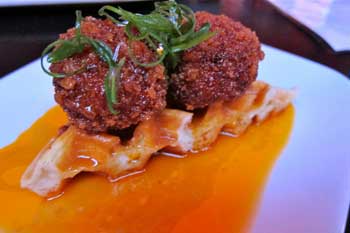 After tantalizing taste buds with global cuisine at Street since 2009, Susan Feniger unveils a new menu that features a variety of small plates with more vegetarian and vegan options.
By Christina Xenos
What consistently stands out at Susan Feniger's Street is her ability to thoughtfully layer global ingredients into delightfully bright and explosive flavors. And that remains the same even with a major overhaul of menu offerings, which debuted March 2. Now the spirit of street food shines through with a diverse selection of small sharable plates, of which more than 20 dishes can be prepared meat-free.
The new menu is broken down in to seven categories (Izakaya + Asian Pub Food, Pizza of the Day, Meatballs + Fritters, Veggie Sides, Korean BBQ, Salads, and Classic Street) with most dishes priced between $5 and $12.
Start your journey of flavor with one of Street's globally inspired cocktails. Fresh flavors are layered with an array of liquors and herbs to create selections such as the Singapore Colada (rum, homemade kaya, lime, pandan), which is a light, fresh take on a pina colada; the spiked green tea lemonade is the perfect sipping beverage and combination of Jack Daniels, cucumber and mint; while the Luna Chata is Street's take on the traditional horchata with the additions of 10 cane rum, coconut horchata and catdaddy moonshine.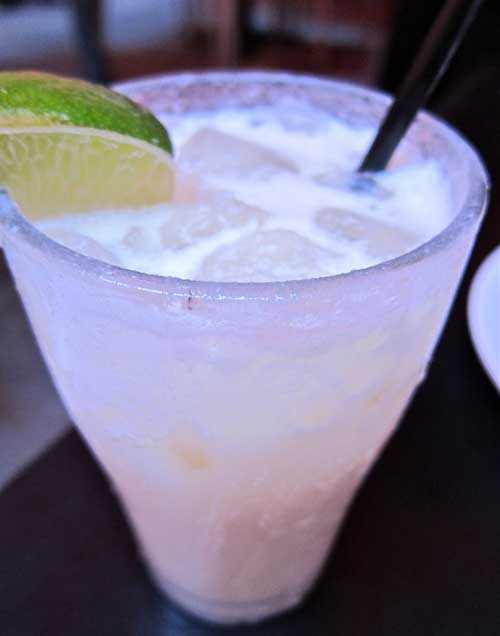 Under the category of Izakaya + Asian Pub Food, rises signature dishes such as Mung Bean pancake with scallion, kimchi, and shiitake; pea shoots; pork belly with mustard oil, coconut fried rice, and soft egg; and West Sumatra beef curry with rice and sweet Sambal.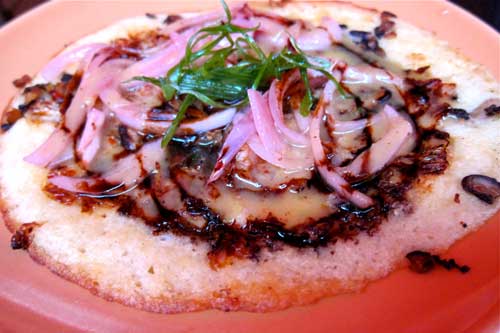 While Street has always excelled in mingling East and West, they tie in the South with their interpretation of chicken and waffles. It seems as though every Hollywood restaurant has a version, but Street's infuses the maple syrup with hot sauce and combines bacon in a chicken in a croquette—a sinful and delicious indulgence for any palate—that arrives crowning the waffle.
Meatballs, or some form of them, are the perfect street food and Street has plenty. The Meatballs + Fritters section of the menu features familiar flavors like Thai chicken satay meatballs and Syrian lamb meatballs, with creative options such as date + kamut fritters with yogurt sauce.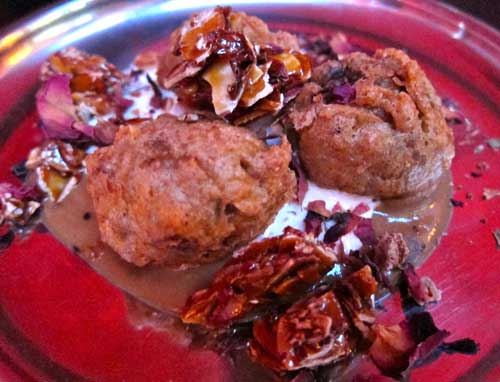 Also winning on the vegetarian and vegan side are Roman broccoli with white beans, and Turkish zucchini cakes.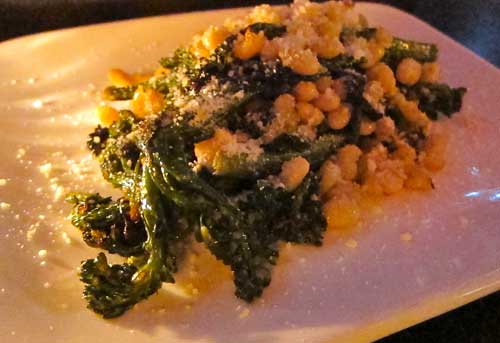 Fear not if you're a fan of old favorites like the Kaya toast (a flavor explosion of cocoanut jam, egg, dark soy and white pepper); it remains along with the Street burger and Panni Puri.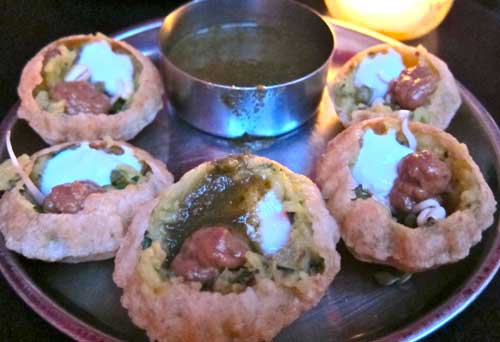 View our full photo album from Street:
[nggallery id=88]
Street serves dinner nightly and weekend brunch.  Happy hour runs Mon.-Thurs from 5-7 p.m. and Fridays from noon-7pm and features selected cocktails for $5. 742 N. Highland Ave., Hollywood, 323.203.0500. eatatstreet.com