KCRW Launches New Virtual Reality App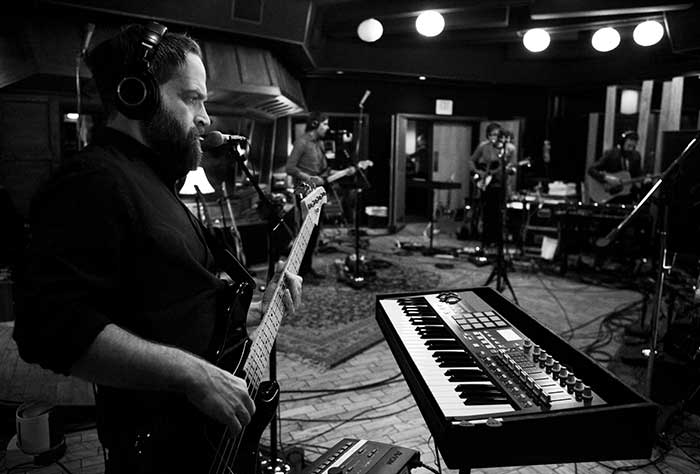 Experience a Morning Becomes Eclectic concert virtually with the new KCRW VR app.
By Christina Xenos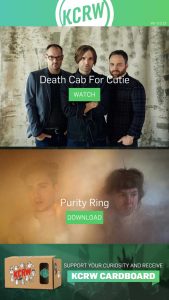 If you've ever wanted to be a fly on the wall in KCRW's studios when your favorite band is performing on Morning Becomes Eclectic, now is your chance. The public radio station just released KCRW VR, an app that gives you a virtual concert-going experience.
KCRW is the first public media entity to launch anything like this to date. They build a custom video rig of eight GoPro cameras in the basement of KCRW's Santa Monica studio. The cameras capture each artist's performance in stereoscopic 3D (virtual reality) to create a 360º panoramic video. Footage is then stitched together to create an immersive, stereoscopic 3D VR experience that puts you inside the session.
This means that when you download the app and select which concert you want to watch— the app launches with exclusive videos from artists including, Death Cab for Cutie, Brandi Carlile, Thundercat, and Purity Ring—you can change your orientation and see all the musicians in all parts of the studio. For full effect, grab a KCRW Cardboard; the branded version of Google Cardboard tops off the compete viewing experience. It's available on their website for $5 to cover shipping costs. You can still watch the videos without the cardboard viewer.
"Now for the first time, you can be in our studio with the artists. It's a revolutionary change in the way KCRW curated artists and music can be discovered," commented Jennifer Ferro, KCRW president.
Artists and songs available at launch include:
Death Cab for Cutie – "The Ghosts of Beverly Drive"
Brandi Carlile – "Murder in the City"
Thundercat – "Them Changes"
Purity Ring – "Stranger Than Earth"
Expect upcoming performance videos from Penguin Prison, Mew, Gardens and Villa, Amason, Mr. Pauer, Shana Halligan, Natalia Lafourcade, Korey Dane and Langhorne Slim in the upcoming months.
For more information and to download the app, visit kcrw.com/vr