Rain Room Installation Lands at LACMA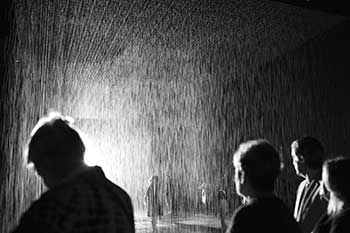 See the Random International's hugely popular Rain Room exhibition opening Nov. 1 at LACMA.
Random International's Rain Room (2012), opening Nov. 1 at Los Angeles County Museum of Art, is an immersive environment of perpetually falling water that pauses wherever a human body is detected. The hugely popular installation—people waited hours to see it at New York's MoMA and London's Barbican Centre—allows visitors to experience the seemingly impossible: the ability to control rain. Founded in 2005, Random International is a studio using science and technology to challenge the human experience in a machine-led world. Capacity is limited. Reserve tickets are available online beginning Oct. 21 (earlier for LACMA members). Cost for nonmembers is $15 over general admission.
5905 Wilshire Blvd., L.A., 323.857.6000. lacma.org