Norton Simon Museum Displays Printed Works of Ruth Asawa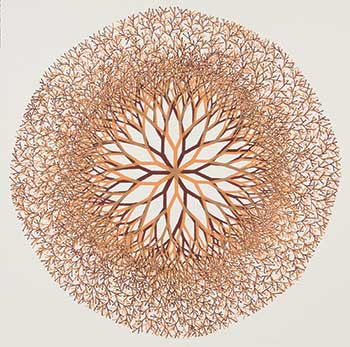 View portraiture and floral studies from artist Ruth Asawa at the Norton Simon Museum.
The late artist and arts activist Ruth Asawa rose to international prominence in the 1950s with her abstract crocheted wire sculptures, and cemented her place in California's art firmament with public art including Andrea, the mermaid fountain at San Francisco's Ghirardelli Square. But although Asawa is best known as a sculptor, she was formally trained in drawing and design and earned a fellowship at the Tamarind Lithography Workshop in Los Angeles in 1965, in part thanks to an exhibition of her work at what is now the Norton Simon Museum in Pasadena. Fittingly, the first exhibition dedicated to the subject of her portraiture and floral studies, Home and Away: The Printed Works of Ruth Asawa, is on view at the Norton Simon Sept. 19-Jan. 19, 2015, featuring Asawa's intimate studies of her family as well as a suite of 12 floral prints, including those pictured above, produced during that two-month residency.
Discover why this museum should be on your LA radar for cultural experiences!
411 W. Colorado Blvd., Pasadena, 626.449.6840. nortonsimon.org