Experience the Santa Monica Farmer's Market with Michael McCarty

One of biggest highlights of spending a morning with celebrated restaurateur Michael McCarty is the wealth of knowledge he shares about cooking, sourcing sustainable ingredients and the evolution of dining in Los Angeles. He should know, his restaurant, Michael's debuted in 1979 and has ever since offered fine food and wine in the atmosphere of contemporary art (from artists including David Hockney, Robert Graham, Frank Stella, Jasper Johns, Jim Dine, and Kim McCarty).
Now anyone can have the chance to spend a morning with McCarty and his chef Mikey Stern at monthly Michael's Market Meet-Ups. Start your day at 8:30 a.m. in Michael's lounge with a fresh plate of cinnamon buns and cappuccinos. Then tour the Wednesday Santa Moinica Farmer's Market with McCarty and Stern.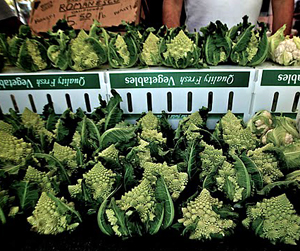 On your market adventure, McCarty punctuates his delicious monologue with stops to highlight vendors, their offerings and what's currently in season—whether it's a massive heap of chantarelle mushrooms, heirloom apples from Windrose farms, heirloom beets or the oddly fractal shaped romenesco cauliflower. Nothing stumps McCarty, who's restaurant predates the market, and before he could source local produce, had all his veggies, meats and cheeses flown in weekly from France. As you continue your journey he explains how all the fresh goods are applied to his dishes at the restaurant.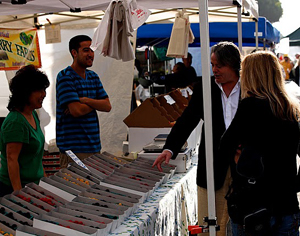 The experience culminates with lunch and wine pairings on Michael's garden patio. This month the meet-up focused on heirloom beets so Stern whipped up a Beet Cured Hamachi with Avocado and Easter Egg Radish and Red Beet and Goat Cheese Gratin with Liberty Farms Duck Breast, each paired with a wine off Michael's extensive curated wine list.
For $60 you receive a top culinary experience, delicious food and a signed copy of Michael McCarty's latest book, Welcome to Michael's: Great Food, Great People, Great Party! so you have the perfect guide for your own home culinary creations.
Future Market Meet-ups are February 23, and March 23.
Michael's Santa Monica, 1147 Third St, Santa Monica, 310.451.0843. www.michaelssantamonica.com