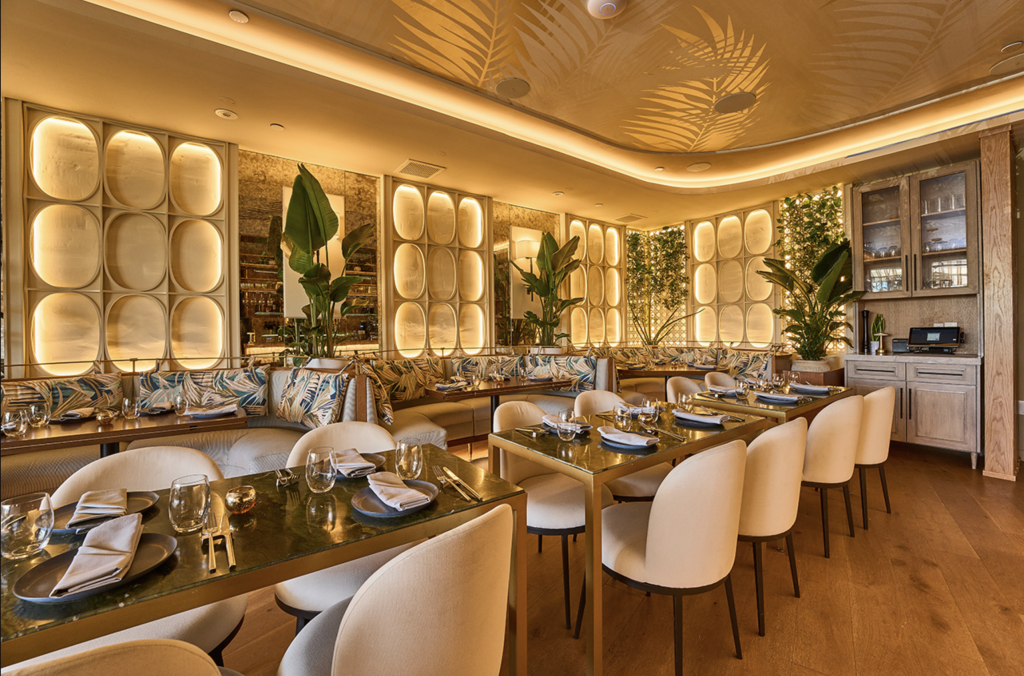 West Hollywood's New and Multi-Story Restaurant
Recently opened in April, this multistory restaurant sits in one of the most popular streets in Los Angeles. It has an open-air view with a gorgeous panorama landscape of the West Hollywood Hills and the restaurant's cozy, sleek environment sets a mood for those special date nights. Its a perfect place for those glistening nights of espresso martinis and small fun bites with friends and loved ones.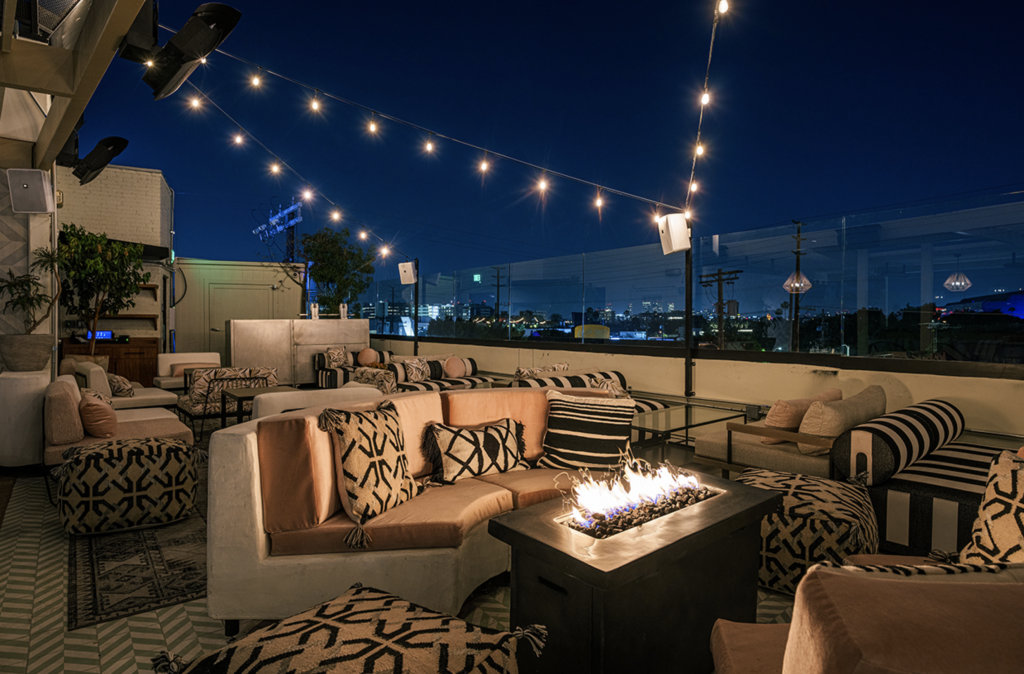 Three stories and 8,000 square feet, this new restaurant promises to be a one-stop shop for all things cafe, dinnertime, and cocktails. The interior has a modern California-chic feel, as guests are welcomed to a hallway filled with illuminating lights that shifts in different color spectrums. Towards the end of the hallway, several hosts are ready to show you the way to the main dining room, leading you up to a stairway with past-time California history on its walls. Every picture alludes to the glamour of the Los Angeles lifestyle from the design, the beaches, the fashion and architecture.
Within the main dining room, colors of gold and cream fills the space that features sleek curves, hidden lighting, and an open-arch way that leads to the grand views of the West Hollywood hills. Dining booths are featured with patterned fabrics that can accommodate two or more groups under the vine and palm vegetations. Everything about MELROSEPLACE, its entrance, the service, its interior design – showcases an exuberant and intimate dining experience that one can only experience in L.A.
Meet Executive Chef, David Lespron
Thrillist named him as one of the best chefs in Los Angeles, Chef David Lespron has a culinary background that stands tall with others in the culinary industry. Born and raised in South Texas, David has won several culinary competitions throughout his high school years, which landed him a scholarship at The Art Institute of Los Angeles. From then on, he cooked in some of the best restaurants in LA, such as becoming a Chef de Cuisine for the Dolce Group, Sous Chef of XIV by Michael Mina, Chef de Cuisine at Katsuya Hollywood, and now the Executive Chef of MELROSEPLACE. I had the chance to speak with Chef David and his thoughts on his overall journey to becoming the chef he is today.
What was your first start to your journey as a professional chef?
"There was this restaurant, Bohanan's Prime Steaks and Seafood, in San Antonio, where I felt that first feeling that "I'm here." Everything was moving fast and really quiet, I was terrified. I was used in a kitchen where everyone had fun and joking around. Here, you see the head chef with that white coat, stations are cleaned and organized, I felt like I did not know anything at all. This was a different level of cooking that I wasn't used to and I was only 18 years old during this time, but I learned what it means to truly be in a kitchen."
How was the process opening MELROSEPLACE?
"I've been at the start of the project since the beginning. The opening was very gnarly, for it was a process and we changed the menu 20 times before we got to where we are now. However, no matter how rough the process was I made sure that everyone in the team felt comfortable working in the kitchen. I was raised in the tail end where chefs were rough and tough in the kitchen, throwing things and cursing at people, through that rough experience I learned what not to do and chose to be a role model in the kitchen for people to follow."
What is the style of cuisine that describes MELROSEPLACE?
"Here we are cooking for the cool kids, everything that you would see in a lot of popular places. However, there is something more than meets the eye when it comes to my dishes. My belief is "under sell and over deliver." An example would be chicken parmesan, its everywhere in a lot of places, but how do I come at it in a different angle. Instead of chicken breast I use chicken thigh, I cook it slow first, juicy consistency. Instead of Italian bread crumbs, I use Panko making similar to Japanese Katsu. So you get this experience where a person eats what they are used to, but inside their mind, the chicken parmesan tastes a bit different, but in a VERY good way."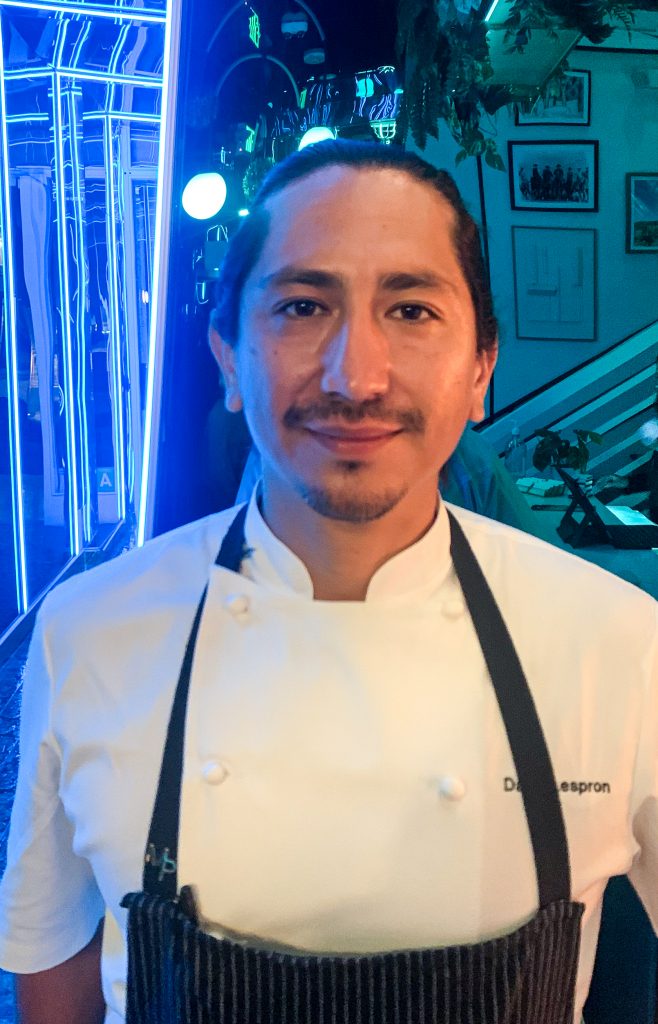 Any dish recommendations for new guests to try out?
"Cacio e' Pepe. With this particular dish, we use different types of peppers that gives it complex flavors and aromatic floral notes. Paired with slow-cooked egg yolks, it tastes like the classic pasta, but with a different finish that makes it my own. For drinks, the Cactus Prick is a Mezcal tequila with avacado, it is so delicious, a must try. Oh and of course, the chicken parmesan and fries with sour cream and caviar. I know I gave a few, but whatever direction a guest want to go to, there is really no failing in whatever they choose."
(There will be a full story on Chef David on Chef's of L.A later this month)
Try out MELROSEPLACE Today
Overall, what you can expect when dining at MEROSEPLACE is that the menu has a variety of popular signature dishes from healthy salads and starters like a sculpted tuna crudo, lobster rolls, savoy cabbage, and fresh oysters. For their mains they have a wild king salmon, jjidori chicken breasts, and a 40oz steak fries. Pair this all off with their selections of signature cocktails (we would recommend the espresso martini, voted as one of the best in the city) and wine from the bar, as you and your enjoy a pleasant evening at the restaurant.
Come visit what this restaurant is all about, from breathtaking views, excellent customer service, sunset happy hours and delicious eats, it has your LA dining experience covered.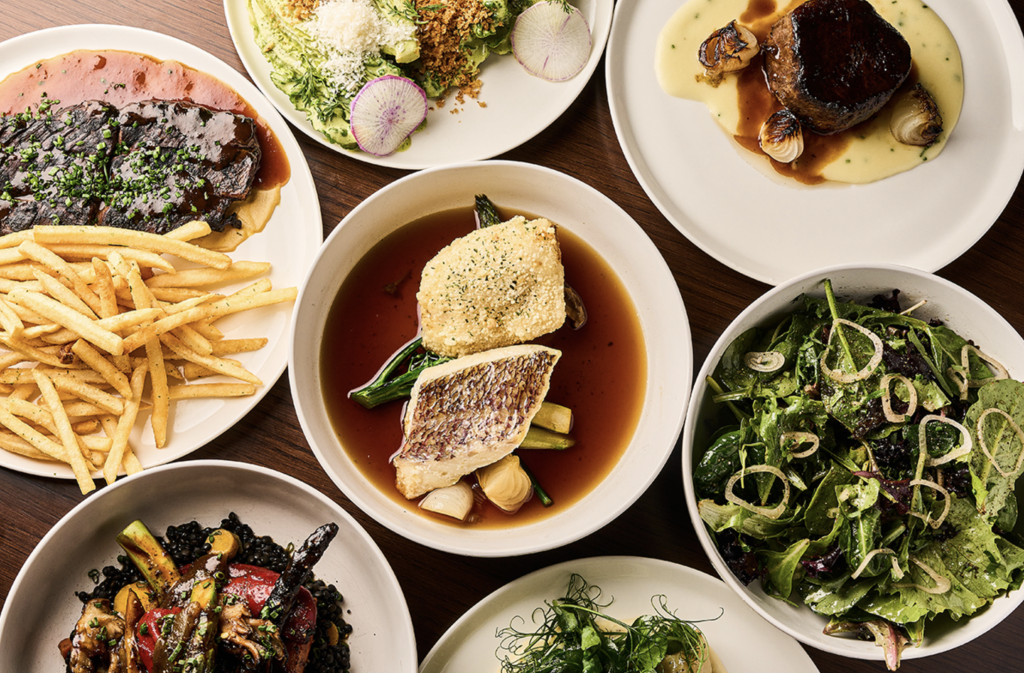 Information
Address: 8472 Melrose Pl, Los Angeles, CA 90069
Phone: 213-463-3222
Email: reservations@melroseplace.la
Schedule:
Lunch Tues – Fri: 11AM – 3PM
Brunch Sat – Sun: 11AM – 3PM

Dinner Sun, Tues & Wed: 5:30 – 10:30PM
Thurs – Sat: 5:30 – 11PM

Rooftop Sun, Tues – Wed 5PM – 12AM
Thurs – Sat: 5PM. – 2AM

Sunset Happy HourTues – Fri: 3PM – 6PM
Pictures courtesy of MELROSEPLACE