By Suzanne Ennis, Where Los Angeles magazine
Growing up in Huntsville, Alabama, Michael Luwoye didn't aspire to a performing-arts career. "For a long time, I didn't feel like I fit into what theater people do—I didn't have the temperament. I'm not a very extroverted person," he explains.
So it's delightfully ironic that he made his Broadway debut in one of the most lauded shows of all time—Lin-Manuel Miranda's hip-hop musical Hamilton—and was tapped not long after to play the titular role in its national tour. Through December 30, the show is at the Hollywood Pantages, where Luwoye is getting his shot to prove himself in front of an eager L.A. audience.
"Every time that a Hamilton goes onstage, forever and always, the audience is going to be looking at him and thinking, 'What can this person who's playing Hamilton do?'" he says. "I just love going onstage and being able to show my interpretation."
How did you react to getting a role in Hamilton on Broadway?
My reaction to that is my reaction every day when I wake up on this tour, and every day for the last 14 months, which is, like, "Really? What? OK, that's very cool. I definitely now have a lot of work to do!" Hamilton is my first Broadway show. The national tour that we're on right now is my first touring experience. It's sort of an expedited course on how to handle a phenomenon like this. Who knows when something like this will happen again in the musical-theater canon, and in a pop-culture canon. And not only to be in the middle of it, but to be the lead of it here on the tour, and to have been the lead of it, partially, on Broadway … what is that? I feel like I can only answer or respond with awkwardly high-pitched questions! How? Why? [Laughs]
You are the only actor to play both Alexander Hamilton and Aaron Burr on the same day on Broadway. Are there different challenges to playing each role?
The unique challenge, for me, was the energy output, because Hamilton is—pun intended—nonstop. He has all this energy, and he's throwing it out for everybody he meets. On a performance level, you're giving all the time. Out of the 50 songs that are in the show, I think Hamilton does all of them but six, maybe. With Burr, same energy, same output, [but]  you can't deliver it in the same way, because Burr holds it until it's the right moment.
Do you have a favorite song?
My top two favorites are "Hurricane" and "My Shot." Before I knew that I was really in consideration for Hamilton, I remember being inside my New York apartment, saying, "'Hurricane' is the one song that I would love to do." There's such gravity to that song. "My Shot" is, right out the gate, able to express so much. That's really Hamilton's introduction to all the characters onstage and also to the audience.
How about a favorite scene?
I don't really have one. But some of my favorite things are the silent moments that I get with everybody else onstage. You can't see them in the audience, but there are certain moments where everybody will improv or make up something every night. So while other people are speaking, I'll have a moment with [the performers in the roles of George]  Washington or [John] Laurens or [Marquis de] Lafayette and [Hercules] Mulligan, and we're able to just riff off of each other and just play around before we come to the story again. There's a little bit of levity.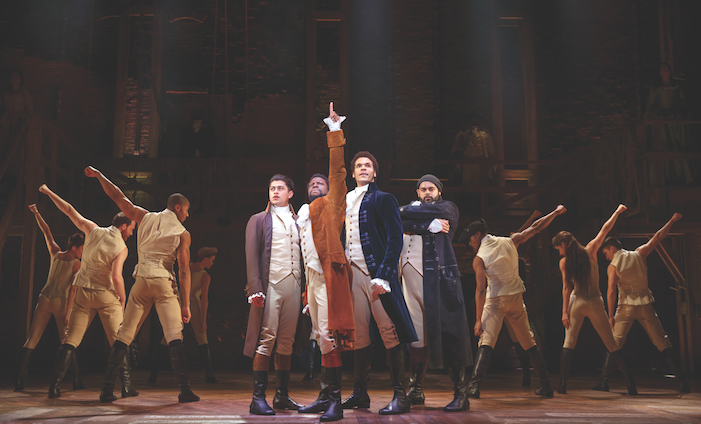 I'll keep an eye out for that! How is the L.A. production unique?
I think it's 2,700-plus [seats]  at Pantages, which is the largest house that Hamilton's been in. So we're having to push a lot here just so that we can make sure that the quality of our show is reaching every seat. And some people [in the show]  are L.A. natives, or native to California, so it's sort of a homecoming. So there's that spirit, and people are welcoming, in that respect. People are so excited for this show, so we're having to translate the energy that we're receiving from the audience and everybody's reactions into our performance.
Had you spent any time in L.A. before arriving for rehearsals?
This is my first time here. I haven't really gone to anything that's separate from Hamilton. Soon, I'm going to be able to manage my time a lot better so that I can actually go hike to the Hollywood sign and go and hike Runyon Canyon and go to the Griffith Observatory.
Have you gone out to eat?
We had a little thing at Wood & Vine last week. I tried Juicy Wingz last night. I happen to have an Achilles' heel for Shake Shack, and I've also been to Sweetgreen.
Do you get mobbed by fans?
I was at a crosswalk the night that we landed, and somebody was like, "I just saw you in San Francisco!" They were wearing their Hamilton gear, and they stopped and asked for pictures. The first day we got here! Even before that, we got off of the plane, and there were two women who were like, "Are you guys from Hamilton? Can we get a picture?" And just out of their excitement, they were like, "Do something Hamilton-y!" Yeah, I could get shot?! [Laughs]
What would you say to the kids who someday want to be in your shoes?
I would say, "Don't try to be in my shoes—stay in your shoes." The first time that I saw the show was my first week of rehearsal. I was watching Lin [-Manuel Miranda], and the first thing that came to my mind
was, "I can't do that," which could have been very discouraging. But on the flip side, I can do my own stuff. And that's the only way that I know how to survive in this craft that I didn't think I belonged in initially. I know my own quirks and my idiosyncrasies and my weirdness and my insecurity, my frustrations and the things that I'm confident about. I know that I function best when I'm actually nurturing and expressing those things. And so when I talk to kids after the show, my advice [is]: Instead of trying to purely emulate another person … walk in your own shoes and figure out how they actually fit on you.
Michael Luwoye photo by Ashley Barrett. Hamilton Touring Cast photo by Joan Marcus.