LA things to do on Thanksgiving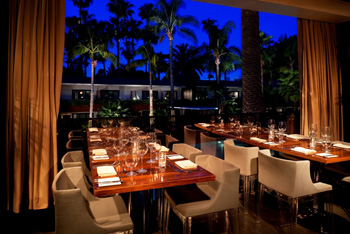 Looking for things to do Los Angeles on Thanksgiving? Here's your list for some of the best LA restaurant holiday offerings.
L.A. Market Comfort-food-loving chef Kerry Simon does his spin on the gamut of holiday classics at L.A. Market. Find roasted turkey, orange cranberry sauce, stuffing, garlic mashed potatoes, candied yams and pumpkin and pecan pies. 900 W. Olympic Blvd., downtown, 213.742.6855
The Bazaar by José Andrés For an international twist on the favorites, the menu at The Bazaar by José Andrés, references Andrés' home country of Spain in dishes such as Catalan spinach with apples and raisins and salted potatoes with mojo verde. SLS Hotel Beverly Hills, 465 S. La Cienega Blvd., Beverly Hills, 310.246.5555
The Restaurant at The Standard Downtown LA Find all your holiday favorites at The Restaurant's prix fixe ($25) including turkey chowder with sage, choice of roasted turkey with orange cranberry conserve or cedar smoked Scottish salmon, plenty of sides including Duck Fat Smashed Potatoes, Yams with "Toasty" marshmallow and either pumpkin pie royale or pecan-chocolate tart for dessert. The Standard Downtown, 550 S. Flower St., downtown, 213.892.8080
Nick & Stef's Steakhouse On a budget? Get gravy-smothered turkey, brioche stuffing, mashed potatoes, candied squash and your choice of dessert (our pick: pumpkin-and-hazelnut religieuse) for just $39. Wells Fargo Building, 330 S. Hope St., downtown, 213.680.0330
Napa Valley Grille's This three-course menu is a very reasonable option at $45 per person. Choose from an array of appetizers including duck confit ravioli with spaghetti squash and walnut emulsion, entrees of either turkey, salmon, duck or a vegetarian/vegan friendly options, desserts such as Napa Wine-Braised Winter Fruit "Pot Pie" with Brown Sugar Cream. 1100 Glendon Ave., Westwood, 310.824.3322
Tar Pit Chef Mark Peel migrates his Campanile Thanksgiving tradition to Tar Pit. His $50 three course menu includes choices like duck sliders, family style second course is beer-brined breast of organic Willybird turkey, confit of turkey leg and thigh with giblet and whole grain mustard gravy, while dessert offers choices like wild turkey pecan tart. 609 N. La Brea Ave., L.A., 323.965.1300
Whist Starting off with butternut squash soup topped with sage and crisped prosciutto, the Thanksgiving menu at The Whist allows guests to enjoy a full buffet of holiday classics with swanky upgrades. In addition to the turkey and poached char carving station, the al fresco dining experience also features a risotto station. $68 per person. Viceroy, 1819 Ocean Ave., Santa Monica, 310.260.7511
The Bridge Dine above the sparkling pool of the Tropicana bar while feasting on delicious Thanksgiving-inspired dishes including Chestnut agnolotti with crispy sage, ameritti cookies and shaved parmesan; Squab-roasted root vegetables and foie gras remoulade with Huckleberry jus; and Chocolate cake with salted caramel. $49 per person; $25 per child. Hollywood Roosevelt Hotel, 7000 Hollywood Blvd., 323.769.8888.
Palate Food + Wine Octavio Becerra's four course menu ($48) highlights farmers market ingredients including blue Hubbard squash, persimmons, pomegranate chestnuts, quince, heritage pork, pumpkin pie, which all complement a free range turkey. 933 South Brand Blvd., Glendale, 818.662.9463.
Oliverio Enjoy the cozy and calm atmosphere of Avalon Hotel with a simple Thanksgiving menu of a Winter pepita salad made with pumpkin seeds, goat cheese and walnut dressing; traditional roasted turkey; and finally apple pie topped with cinnamon ice-cream. $40 per person. Avalon Hotel, 9400 W. Olympic Blvd., Beverly Hills, 310.407.7791.
The Restaurant at L'Ermitage Find a feast for the senses at the L'Ermitage Thanksgiving brunch. A huge ice spectacle of freshly shucked pacific oysters, jumbo shrimp and jonah crab claws will greet guests. Also find a caviar station, smoked and shell fish display and a chocolate Thanksgiving dessert buffet, in addition to a chef's station with roasted herbed lamb legs. $80 per person, $45 per child. 9291 Burton Way, Beverly Hills, 310.385.5302.
Susina's Bakery Going straight for dessert? Pick up a rich pumpkin cheesecake, or perhaps a cranberry orange or pecan tart, from Susina's Bakery. 7122 Beverly Blvd., L.A., 323.934.7900