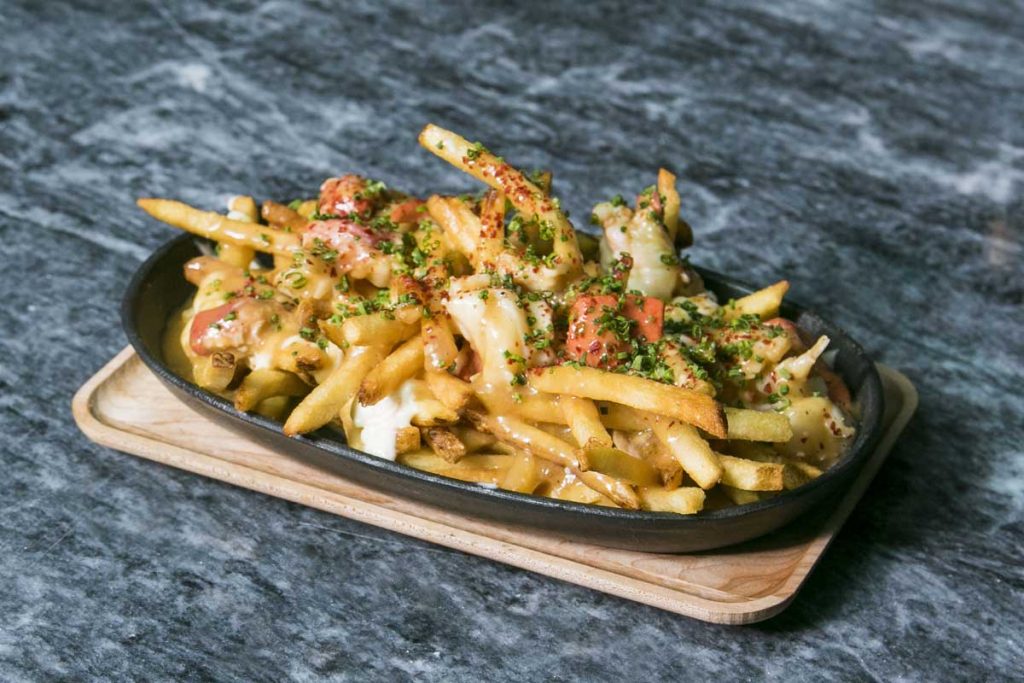 Each week we spotlight top Los Angeles restaurants, dining and drinking experiences you need to try.
Edited by Christina Xenos
Doheny Room
Opens April 25. The newest project from sbe Entertainment Group is a double-decker restaurant and lounge next to the Troubadour in West Hollywood. Step into Old Hollywood as you dine on an eclectic menu of small plates from Chef Danny Elmaleh (Cleo) that was inspired by LA's food truck scene, along with healthy vegetable-based choices. Highlights include everything from Korean Kobe beef burgers to vegan sushi, using five different grains. The bottom line is they want you to be social while you eat. Want dessert next to your sushi? No problem. Order selections like a chocolate dome served with a mixture of rum and other alcohols that slowly burn away to reveal and elicit, edible confection. Craft cocktails are on the menu as well with signatures like The Loma Vista, a mezcal-based dink with fresh pineapple juice and pressed ginger. 7 p.m.-2 a.m. 9077 Santa Monica Blvd., West Hollywood, 424.777.0266. DohenyRoom.com
Highland Park Bowl
Opens April 29. The newest project from 1933 Group (Bigfoot Lodge, Sassafras, Idle Hour) is the revitalized Highland Park Bowl. The business originally opened in 1927 and housed a number of businesses, including a pharmacy and music store. After a year of restoration the space now features its original Spanish Revival aesthetic along with a dedicated music room, micro-brewery (slated to open in 2017), open-air kitchen, dueling horseshoe-shaped bars and an eight-lane bowling alley. Food offerings include rosa and bianca wood-fired Neapolitan-style pizzas and gourmet sandwiches; while the cocktail menu features a rotating selection of local and seasonal craft brews and a medley of handcrafted and draft cocktails. 5621 N. Figueroa St., Highland Park, 323.257.BOWL. highlandparkbowl.com
Knead & Co. Pasta Bar + Market
Settling into its home at Grand Central Market, Knead & Co. Pasta Bar + Market is amping up its breakfast selections. Start your day with eye-opening (and stomach satisfying) dishes like egg raviolo, stuffed with kale and ricotta with egg yolk and covered with peperonata sauce; polenta porridge, silly polenta soaked over night in milk topped with seasonal fruit, pistachios and Santa Monica Honey; and a breakfast sandwich with house-smoked ham, tomato jam, fontina cheese and fried eggs. Breakfast is available until 11 a.m.; if you miss the cutoff, you can always add a cage free egg to any of the restaurant's pasta dishes, sandwiches or salads. Grand Central Market, 317 S. Broadway, downtown, 213.223.7592. kneadpasta.com
Sausal
Pair Nuevo Rancho cuisine with live mariachi music at the El Segundo restaurant. Kicking off this week, you can enjoy a performance from Los Martinillos Monday nights. Dine on a rotating selection of Monday night chef's specials from Anne Conness, and an exclusive El Mariachi cocktail (tequila, vermouth, and chocolate, orange, and Peychaud's bitters). 6:30-8 p.m. 219 Main St., El Segundo, 310.322.2721. sausal.com
Hey 19 Public House
April 27. Get a crash course in all things whiskey during Hey 19 Public House's Heaven Hill Bottled in Bond dinner. Led by owner and celebrated cocktail connoisseur Demi Stevens (also a co-owner of Ortega 120), the event will feature three courses that pair Heaven Hill whiskeys, Dishes include smoked blue cheese and artichoke heart fondue with crostinis; chicken-fried rabbit, bourbon BBQ coleslaw (kale, radicchio, Brussels sprouts) and chili roasted cashews; and candied bacon skewers with cinnamon toast dust. $65/pp. 4525 Calle Mayor, Torrance, 310.378.8119. hey19publichouse.com
Tam O'Shanter
April 27. Get your fill of prime rib at one of the oldest restaurants in Los Angeles. Tam O'Shanter celebrates National Prime Rib Day by upgrading your Tam O'Shanter Cut into a Prince Charlie Cut when you wish your server a "Happy Prime Rib Day!" 5-9 p.m. 2980 Los Feliz Blvd., L.A., 323.664.0228. TamOShanter.com
Eveleigh
April 27. Australian Winemaker Andrew Quin from Hentley Farm Wines teams up with Eveleigh to pair his fine wines with a multi-course menu. Selections from the menu include braised Tuscan kale and rainbow chard with warm egg yolk and grana padano cheese; hangar steak with roasted corn, breakfast radish, green garlic pistou and arugula; and local halibut with summer squash, thyme, caper, sorrel and sauce ravigote. The Australian Wine Dinner series is presented by the American Australian Association of California, Wine Australia and Table8. Table8 members $100/pp, non-members $120/pp. 7 p.m. 8752 Sunset Blvd., West Hollywood. Tickets.
Evan Funke at Jon & Vinny's
April 28. Preceding the opening of his new restaurant, Felix, on Abbot Kinney Blvd., Evan Funke will be cooking at Jon & Vinny's for one night only. The menu will feature a collection of dishes inspired by his recent travels through Italy, served family-style and available with wine pairings by Helen Johannesen. $85/pp, $45/pp optional wine pairing. Reservations are available by calling Jon & Vinny's. 412 N Fairfax Ave., L.A., 323.334.3369. felixla.com
MiniBar Hollywood
April 28. It's the cheesiest dinner party ever! MiniBar in Hollywood is partnering with 101 Cider House and Sierra Cheese to host a "Super Cheesy Dinner Party." Dine on three cheesy dishes courtesy of Little Dom's Chef Brandon Boudet paired with tart, dry ciders. Selections include "Strung Outta Compton" String Cheese paired with India Pale Cider; "Compton's Finest" Grilled Cheese paired with 101 Piña Menta Cider; and Fried Cheese Curds w Poutine Gravy paired with 101 Red or Black Cider (TBD). Open seating. 7-10 p.m. $25/pp. Email for reservations: Info@MiniBarHollywood.com. 6141 Franklin Ave., L.A., 323.798.4939. minibarhollywood.com
Osawa
Celebrate the Pasadena dining destination's third anniversary with a spring special menu. Osawa's Executive Chef Shigefumi Tachibe offers market-driven dishes like grilled saltwater eel on a bed of crispy rice, iwashi sushi and grilled branzino with sautéed spinach. Also enjoy favorites like shabu shabu and sukiyaki. 77 North Raymond Ave., Pasadena, 626.683.1150. theosawa.com
Le Pain Quotidien
If you need another option for your tasty Passover feast, Le Pain Quotidien is making their signature tartines on matzah (by request) this week. The Belgian open-faced sandwiches feature variations like avocado toast with citrus-cumin salt, tomatoes, scallions, chia seeds and extra virgin olive oil; smoked salmon with avocado, scallions and dill; and homemade hummus with artichokes, sun-dried tomatoes and harissa oil. See website for locations: lepainquotidien.com