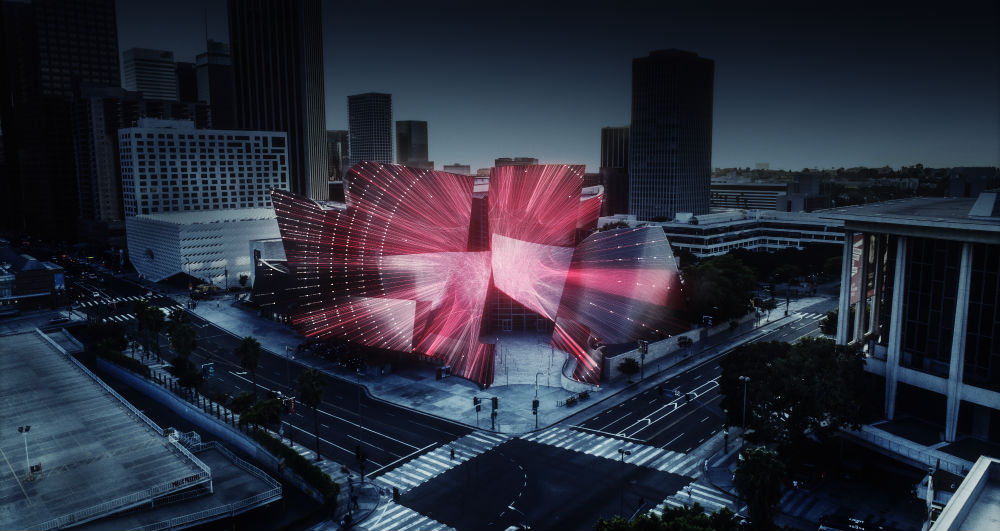 By Libby Slate.
The pairing of artificial intelligence and the L.A. Phil might seem odd. Yet it makes sense as the orchestra celebrates its 100th season in 2018-19: Besides honoring its history, "we're also pivoting and looking ahead to the next 100 years," says chief operating officer Chad Smith.
Accordingly, the season features more than 50 commissions as well as two projects involving artificial intelligence that premiere this month. Archives on Display, in the Walt Disney Concert Hall lobby's Gershwin Gallery, opens Sept. 20 and runs through October (ticket required when there are concerts). WDCH Dreams, a video projected on the concert hall's steel skin, runs Sept. 27-Oct. 6.
Both involve digitizing the Phil's archival material, including photos, audio files, planning documents and letters. (William Andrews Clark Jr., an amateur musician and millionaire, founded the ensemble in 1919.) The Phil asked media artist Refik Anadol what he would like to do with such materials.
"Refik and a team from Google AMI [Artists and Machine Intelligence] have been converting 7 terabytes [worth] of archives," Smith relates. "Google introduced an algorithm that looked at the content and started to 'dream' with it." The projected WDCH Dreams video runs about 10 minutes.
Archives on Display is a one-on-one interactive experience, powered by machine intelligence to present the Phil's history via a touchscreen display with various elements selected by the visitor.
On Sept. 30, the Phil hosts a free daylong festival called Celebrate LA!, what Smith calls "probably the most ambitious project we've ever done." An 8-mile street party with five performance hubs connects Walt Disney Concert Hall downtown with the Hollywood Bowl. The festival, presented in partnership with CicLAvia, features solo artists and music and dance ensembles representing many of the city's cultures. It culminates with an evening concert at the Bowl, conducted by Phil music and artistic director Gustavo Dudamel.
"We're doing this across the city we love," Smith says. "This is one of those big, bold ideas that when someone threw it out there, we said, 'Let's not be scared by this idea. Let's be energized by it.'"
As for honoring the past, two of the Phil's three surviving former music directors return to lead programs during the season: Zubin Mehta (Dec. 13- Jan. 6) and Esa-Pekka Salonen (April 12-20, April 26-28 and May 2-5). André Previn is composing a new work for fall 2019.
The music directors, of course, helped shape the evolution of the Phil over its 100 years.
First violinist Camille Avellano, who has been a member of the orchestra since 1981, recalls that for the late Carlo Maria Giulini, her first director, "it was about the sound. He was not as exact about our playing together.
"André Previn was about swing. He enjoyed exploring his own pieces with us, and all this English repertoire we've never done since.
"Esa-Pekka honed us into the fine-tuned, heavyrevving race car that we are now, able to turn on a dime.
"And with Gustavo," she continues, "it's the sound again—the warmth, the passion, something his Latin blood brings out in us."
The greatest change so far, Avellano says, is "our interest in promoting new music, not only the evolution of the Green Umbrella series but of the audience, which is a very dedicated part of the L.A. Phil family.
"Esa-Pekka taught us to play anything. That's one of the more exciting parts of the job for me. It makes you think, figuring out new ways of playing that you've never had to do before," she says.
According to Avellano, guest conductors and soloists have commented that the Phil seems to be "a very happy orchestra." Perhaps it's the weather or the laidback L.A. vibe, she says, "that's reflected in our playing."
That observation is echoed by pianist Jean-Yves Thibaudet, a frequent guest artist who lives in Los Angeles and says he has played with the orchestra every year since making his Phil debut in the mid-1990s. He likens the experience to "visiting friends and family. It's a very special, warm feeling."
Thibaudet plays a Bowl concert Sept. 11 and performs at Disney Hall on Dec. 4 and Jan. 19.
The Phil has become a world-renowned orchestra in part because of its move to Disney Hall and the subsequent arrival of Dudamel, Thibaudet says.
"Gustavo is just incredible," he says. "The repertoire I've seen them play—it's exciting. It's fireworks." The Phil reflects the global status Los Angeles has attained as a place for arts and culture, he notes.
The centennial season evokes the vibrancy and creativity of the Phil's home city, says Smith.
"We're inspired by the landscape, and the openness of the people who have bloomed and blossomed here," he says. "We're celebrating the L.A. part of the L.A. Phil."
"WDCH Dreams" photo courtesy Los Angeles Philharmonic