Los Angeles Natural History Museum Celebrates Its Centennial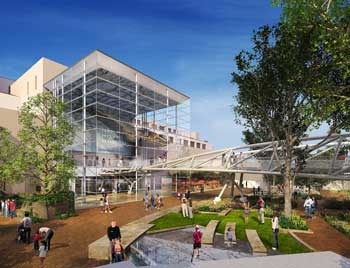 Natural History Museum of Los Angeles County celebrates its centennial and debuts several upgrades on June 9.
Los Angeles, no stranger to cosmetic enhancement, sees one of its oldest cultural institutions get a sparkling new makeover this month. As part of its Transformation campaign, the 100-year-old, kid-friendly Natural History Museum of Los Angeles County debuts several upgrades on June 9. The 3.5-acre Nature Gardens is an outdoor gathering place with plants specifically chosen to attract birds, mammals and insects. Features include a pond and water feature, hummingbird feeders and a "listening tree" where visitors can don headphones to listen to water moving through a tree's roots. The Otis Booth Pavilion—the entrance to NHM and the centerpiece of the Nature Gardens—features a 63-foot-long fin whale replica. Indoors, the Nature Lab is an interactive station on the plants and animals of Los Angeles. Coming in July: the 14,000-square-foot permanent exhibition Becoming Los Angeles.
You can also kick off the centennial with the celebration of the century on June 9. In addition to getting a first look at the Nature Gardens and Nature Lab, enjoy kid-friendly activities, workshops in the gardens, behind-the-scenes tours of NHM's collections with our scientists, and musical entertainment from The Ranger Band and Rhythm Child.
Later on in the evening you can join JPL's Adam Steltzner for a discussion about Mars rover Curiousity, visit food trucks, and take garden tours. DJs Raul Campos, Anthony Valadez, and Canyon Cody will be in the Mammal Halls, and see outdoor shows with DEVO and GZA/The Genius in concert.
Natural History Museum, 900 Exposition Blvd., downtown, 213.763.3466. nhm.org