Los Angeles Memorial Day Weekend Events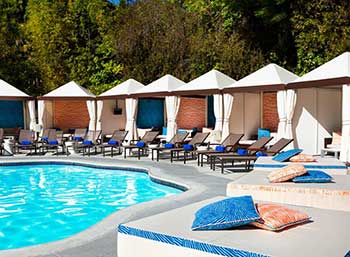 Memorial Day officially kicks off a summer season of stellar events in Los Angeles. Here are our picks for the best things to do in LA Memorial Day weekend.
Edited by Christina Xenos
STAYCATIONS
Four Seasons Hotel Westlake Village
May 23-25. Take the long weekend and plan a perfect staycation just 30 minutes north of LA and 20 minutes from Malibu. To celebrate the holiday, the destination is hosting a special dive-in move screening of Disney's Frozen in their indoor pool, complete with food offerings like fresh hamburgers and hot dogs from the grill, and an ice cream cart with six flavors. Adults can spend the weekend lounging by the adults-only serenity pool, enjoying luxe spa treatments, and dining at on-site restaurants, ONYX and Mercato Italiano or spending Sunday waterfall-side at enjoying their Jazz and Champagne Brunch. 2 Dole Drive, Westlake Village, 818.575.3000. fourseasons.com/westlakevillage
The Langham Huntington
May 23-26. The Pasadena hideaway is the perfect destination to staycation and celebrate summer. The hotel offers a special poolside BBQ menu and live entertainment all weekend long at the Terrace restaurant and Hideaway Pool Bar. Indulge on fare like slow-smoked brisket, grilled chicken, BBQ pork back ribs, grilled fish tacos, smashed potatoes, grilled sweet corn, roasted baby sweet potatoes and more, including housemade ice pops in adult flavors and ice cream. Through Labor Day, you can enjoy the BBQ menu Fridays from 5-9 p.m., Saturdays from 11 a.m.-3 p.m. and 5-9 p.m., and Sundays from 11 a.m.-3 p.m. 1401 South Oak Knoll Ave., Pasadena, 626.568.3900. pasadena.langhamhotels.com
CRUISE
Pier Pressure Marina Del Rey Yacht Party w/ DiJiTal
May 24. Celebrate the long weekend by taking a spin on the multi-million dollar Entertainer Yacht. The three-level party includes LA's top open format and house DJs DiJiTal and Dr. Coolwhip, VIP open bar, VIP bottle service, sunset views, party favors and more. 3-7:15 p.m. 13755 Fiji Way, Marina del Rey, 323.604.6030. ournightlife.com
Marina Del Rey Hornblower Yacht Party
May 26. Kick off the summer with three levels of fun on a Hornblower Yacht including VIP open bar, live DJs, cabanas, bottle service and more. 3-7:30 p.m. 13755 Fiji Way Marina del Rey, 323.604.6030. ournightlife.com
EVENTS
JazzReggae Festival
May 25-26. Kick off summer with live music, food, and live art. Headliners of the 28th annual festival include Snoop Dogg, Aloe Blacc, Ky-Mani Marley, and many more. $30-65. UCLA Intramural Field, 405 Hilgard Ave., Westwood. jazzreggaefest.com
Topanga Days
May 24-26. Celebrate music, the arts and the work of local artisans at the 41st annual Topanga Days. Spend the weekend listening to live music, while discovering art, jewelry and clothing from local artisans. Musical headliners include: Lockdown, Wooden Roots, Royal Southern Brotherhood, and many more. 1440 N. Topanga Cyn. Bl., Topanga, 310.455.1980. topangadays.com
MAINopoly: A Taste of Main Street
May 25. Experience the best food and drink offerings along Santa Monica's Main Street at this inaugural event. The interactive community event mirrors the classic board game, and you will receive food tastings in exchange for special MAINopoly dollars, which will include items such as as fresh fish ceviche from Enterprise Fish Co., goat cheese en pan tostada from Manchego, famed Magic Brownies from M Street Kitchen, Captain Ron's Mac n Cheese from The Galley, Freddos Iced Coffee from Peet's, California Rolls from Tsukiji Sushi Sen and more. Select restaurants will also be offering special happy hour menus and drink specials such as $4 draft beers and $5 cocktails and shots, to those with the official event wristband. Proceeds benefit Summer SOULstice and Heal the Bay. 2-8 p.m. Main St., Santa Monica. MAINopoly.eventbrite.com
The Brig's Crawfest
May 25. The Brig is is transforming their outdoor parking lot into a crawfish cooking extravaganza. Dine on 500 lbs. of AYCE crawfish, andouille sausage, and corn in addition to all you can drink beer and Sailor Jerry rum cocktails. $45. 11 a.m.-6 p.m. 1515 Abbot Kinney Blvd., Venice. Tickets
WET Sundays at W Los Angeles – Westwood
Kicks off May 25. The summer pool party serves up craft cocktails from The Hookup at WET, the hotel's mobile poolside bar, housed in a vintage 1963 Airstream Bambi trailer to the tune of live beats from local DJs. Hang out poolside, take a dip in the 280-square-foot pool or reserve one of 11 private cabanas. If you need a mid-week fix you can stop by on Wednesdays for the Midweek Hookup (5-9 p.m., Wednesdays in June), where you can enjoy drink specials, DJ tunes, ping-pong, swimming and board games. WET Sundays, 11 a.m.-6 p.m. Memorial Day through Labor Day. 930 Hilgard Ave., L.A., 310.208.8765. wlosangeles.com
Main Street Memorial Day Weekend Block Party
May 25. Party all day and night on Santa Monica's Main St. Four venues—31ten, Circle Bar, Rick's, Main on Main, & O'Briens—are aligning to throw a party where you can enjoy specials on eats and drinks, tunes from live DJs and more. 2 p.m.-2 a.m. 323.604.6030. CaliforniaNightLife.com/mdwblockparty
Grand Park''s Got Moves: The Salsa Session
May 26. Celebrate the holiday weekend and the start of a "spicy hot" LA summer with Grand Park's Got Moves: The Salsa Session. Grand Park collaborates with the 16th Annual International LA Salsa Fest to host a free Salsa event for families. Enjoy free music and dance performances from artists like Ricardo Lemvo and Grammy- winning Spanish Harlem Orchestra. 2-6 p.m. 200 Grand Ave., downtown, 213.972.8080. grandparkla.org
Barnsdall Friday Night Wine Tastings
May 23. Enjoy evenings of fine wine and art in the gardens of Frank Lloyd Wright's newly renovated Hollyhock House. The weekly event features four selections of boutique, small production, artisan wines from Silverlake Wine, music by KCRW's DJ Dan Wilcox, and a host of specialty food trucks and more. The event continues ever Friday through Labor Day. $25. 4800 Hollywood Blvd., L.A., 323.644.6275. barnsdall.org
United States Military Appreciation Day at Battleship IOWA
May 26. Tour the battleship Iowa, enjoy entertainment, carnival games, food and snacks and more. Active duty military and veterans, free; general admission, $18. Pacific Battleship Center, USS IOWA BB-61, 250 Harbor Blvd., San Pedro, 877.4.IOWA.61. More Info.
Fiesta Hermosa
May 24-26. Check out one of the largest arts and crafts fairs in the country at the 42nd annual "Fiesta Hermosa" in downtown Hermosa Beach. The event features more than 300 artisans including painters, photographers, jewelers, sculptors and more, in addition to live music on two stages, an international selection of food to eat, beer, wine and more. 10 a.m.-6 p.m. Hermosa Beach. fiestahermosa.net
SHOP
Unionmade Pop Up Shop
May 24-26. All men need a little shopping in their lives so over Memorial Day weekend they can stop by the pop-up to shop for t-shirts, swim trunks and woven shirts from Los Angeles based men's clothing company M. Nii. The styles are designed from archival pieces, inspired by vintage surfing, and made in the USA. Guests who make a purchase at the pop-up will receive complimentary M. Nii swatches and Unionmade totes. Guests who make a purchase over $200 will receive a complimentary M. Nii t-shirt. 189 The Grove Dr., L.A. thegrovela.com
EAT + DRINK
Katana's Red Sun BBQ
Kicks off May 25. Spend Sunday summer nights dining on a special menu from the Sunset Strip restaurant to the tine of DJs Anne-Tyler, Richie Rich, and Nikolas K. Dine on savory bites like sushi rolls, sashimi, and Robata skewers, as well as signature cocktails and drink specials. 6-11:30 p.m. 8439 West Sunset Blvd., West Hollywood, 323.650.8585. innovativedining.com
Franklin & Company
May 24-26. Celebrate the holiday with a weekend-long BBQ. Dine on BBQ bourbon brisket, and ale pork sliders, in addition to sides like cheddar pepper corn bread, blue cheese coleslaw, picnic potato salad, and three-bean salad, and more including apple pie for dessert. $15 (one meat and two sides), $18 (two meats and two sides). 5923 Franklin Ave., L.A., 323.463.1552. FranklinandCotavern.com
Casa Ado
May 24-26. Situated steps from the beach in Marina del Rey, you can enjoy 15% off everything from 9 a.m. to noon Saturday, Sunday and Monday. Diners need to walk on or before noon to receive the discount. 12 W Washington Blvd, Marina del Rey, 310.577.2589. CasaAdo.com
A-Frame
Kicking off on May 24. A-Frame offers diners all-you-can-eat pancakes during brunch hours (Sat.-Sun. 10 a.m.-3 p.m.) and dinner on Mondays (5-11 p.m.). Enjoy a stack of buttermilk, condensed milk and honey mango, fried chicken and pancake combo, chocolate chip and more. Also find bottomless Bloody Marys and Micheladas. 12565 W Washington Blvd, Culver City, 310.398.7700. aframela.com
The Hudson
May 26. Spend Memorial Day enjoying the brunch menu from 10 a.m.-4 p.m. Drink specials featured that day will be $15 bottomless mimosas, $6 Bloody Marys, $6 Micheladas, $8 Irish Mules. 1114 N Crescent Heights Blvd, West Hollywood, 323.654.6686. TheHudsonLA.com
Plan Check Kitchen + Bar
May 23-31. Get a jump on Memorial Day festivities with eight days of Golden Road Brewery beer pairings at both the Sawtelle and Fairfax locations. Find tasting flights of five beers for $5 and eight beers for $8. 351 N. Fairfax Blvd., L.A.; 1800 Sawtelle Blvd., L.A., 310.288.6500. plancheck.com
Bo Nuage
Parisian pastry shop is celebrating the long weekend with free coffee with any purchase of two pastries. Guests can choose from a large fresh brewed Stumptown coffee, or the Stumptown Cold Brewed bottle. 8010 Melrose Ave., L.A., 310.880.2065. BoNuage.com
41 Ocean
Top mixologist, Rob Floyd has boosted the bar programs at sought-after destinations the world lover and now serves up special libations with an ocean view at Santa Monica's 41 Ocean. Especially for the holiday, stop by and sip on 41 Ocean's Memorial Day cocktail all weekend long; the drink combines silver tequila, blood orange, lime juice and simple syrup. 1541 Ocean Ave., Santa Monica. 41ocean.com