Los Angeles Live Music Venues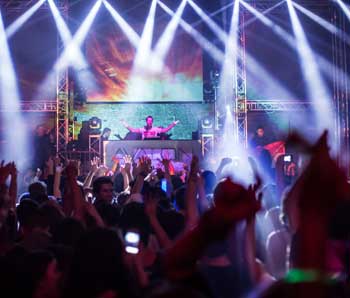 Whatever your musical preference, you can find your groove in one of Los Angeles' diverse live music venues.
Classical
Frank Gehry's Walt Disney Concert Hall is home to the Los Angeles Philharmonic, one of the world's most innovative orchestras. The 499-seat Broad Stage is an intimate experience.
Alternative
The Pitchfork-reading set appreciates the El Rey Theatre for booking indie and alternative acts on the cusp of mainstream stardom. When they get their first hit single, they play The Wiltern.
Folk + Acoustic
For local singer-songwriters, playing at Hollywood's Hotel Café is a rite of passage—just ask Rachael Yamagata. There's also a local vibe at The Satellite, which has hosted folksy natives such as Harper Simon, son of Paul.
House
Dance your face off to internationally renowned DJs at the huge Avalon theater in Hollywood. Get down to bootleg mash-ups on Bootie L.A. nights at the divey Echoplex in Echo Park.
Jazz
Dinner shows featuring contemporary jazz bands can be found at Vibrato Grill Jazz, co-owned by Herb Alpert, and Catalina Bar & Grill.
Pop
For radio favorites and chart-toppers, Staples Center downtown is a must stop on their international tours. Nearby, Nokia Theatre L.A. Live holds more than 7,000 people, but no seat is farther than 220 feet from the stage.
Rock
Head-bangers head to West Hollywood's House of Blues for the best in metal. East on Sunset Boulevard, party like a rock star at the Whisky a Go-Go, which once hosted the Doors.
Latin + Eclectic
L.A. Live's Conga Room offers Latin bands on Thursday nights and dance lessons on Saturday nights with live "música tropical." Steps away, at Club Nokia, Tokyo pop stars perform one night, R&B chanteuses or Irish punk bands the next.
Check out our top 20 venues for Live Music in Los Angeles