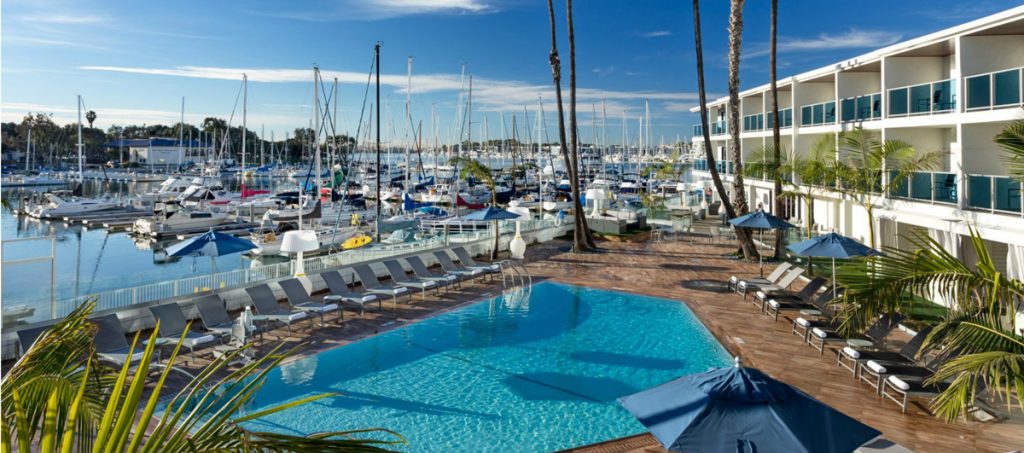 From pool parties to barbecues and more, we've lined up the best Los Angeles Labor Day weekend events.
Edited by Christina Xenos
The Taste
Sept. 2-4. The Los Angeles Times' annual food and wine fest offers a look at what's hot in the city's vibrant food and cocktail culture. Eat your way through a weekend packed full of tastings, chef demos and discussions. Take a closer look into The Taste. $100-$150; weekend pass $300. 21 and up. Paramount Pictures Studios, 783 N. Van Ness Ave., L.A., 213.237.5000. events.latimes.com/taste
John Williams: Maestro of the Movies
Sept. 2-4. Composer John Williams returns to the Hollywood Bowl to conduct music from hit movie Star Wars: The Force Awakens, along with other favorite themes from a galaxy far, far away. Bowl movie night maestro David Newman conducts the first half of film score classics, including a selection of clips shown on the big screen. 2301 N. Highland Ave., L.A. hollywoodbowl.com
L.A. County Fair
Sept. 2-25. We admit it: Los Angeles doesn't necessarily scream "country living." But once a year, the city's residents head to Pomona for the L.A. County Fair—a tradition since 1922—where they can milk a goat, ride on the Big Top Swinger and chow down on deep-fried everything. Beyond the typical fairground draws, this year's event offers an "igloo," complete with ice-skating rink; an interactive dinosaur exhibit; and a concert series with headliners including Blondie, Chicago and Iggy Azalea. W noon-10 p.m.; Th noon-11 p.m.; F noon-midnight; Sa 10 a.m.-midnight; Su 10 a.m.-10 p.m. $8-$20, under 6 free. 1101 W. McKinley Ave., Pomona, 909.623.3111. lacountyfair.com
LA Fleet Week
Sept. 2-5. The free public event at the Port of Los Angeles features guided ship tours, military and aerial demonstrations. Entertainment includes live music, educational programs, fireworks and "Galley Wars" cooking competition on the fantail of the Battleship IOWA. Event takes place at locations along the LA waterfront, including the Los Angeles World Cruise Center, Battleship IOWA, and downtown harbor in San Pedro. lafleetweek.com
The Queen Mary WET Carnival
Sept. 3. Cool off this Labor Day weekend at The Queen Mary's new WET Carnival, a waterfront beach club festival featuring live music, water-themed activities, dancing and more. The inaugural festival will include live entertainment from top artists such as B.o.B., Lil Jon, Tyga, DJ Mauricio and more. Enjoy multiple bars, waterslides, a foam dance floor, cabanas and food vendors—all overlooking the skyline of downtown Long Beach. SoCal's KIIS FM Radio and top LA DJs, along with headlining artists, will be joining in on the fun. 2-10 p.m. $39-$95. After party 9:30 p.m.-2 a.m. $50. 1126 Queens Highway, Long Beach, 877.342.0738. queenmary.com
Marina Del Rey Hotel
Sept. 4. Marina Del Rey Hotel sends off summer with bang at their Labor Day weekend pool party. Relax at the hotel's infinity pool, order cocktails from the poolside bar and snack on bites from Salt restaurant like avocado hummus, shingoku oysters, prime beef kabob and prime burger served up In-N-Out-style. Drink, dine and dance poolside with DJ Ella with marina views and an infinity pool to keep you cool. Marina Del Rey Hotel, 13534 Bali Way, Marina del Rey, 310.301.1000. marinadelreyhotel.com
Shade Hotel Labor Day Weekend Pool Party
Sept. 4. Send summer off in style at Shade Hotel's Labor Day weekend soiree. Enjoy specialty bites created by zinc@shade's executive chef Ashley Oates, such as mini ahi tacos and Manhattan Beach sushi rolls along with handcrafted cocktails, while lounging poolside on Shade's SkyDeck and listening to DJ tunes. Free admission. 1221 N. Valley Dr., Manhattan Beach, 310.469.3466. shadehotel.com
The Last Pool Party of Summer
Sept. 5. Celebrate the end of summer poolside at the Viceroy Santa Monica complete with DJs, Svedka cocktail specials, beach balls and blow-up swans. You'll also get a free pair of sunglasses just for joining. Party is presented by Three Day Rule, The Ivy Plus Society and Spin PR. $15-$20. Viceroy Santa Monica, 1819 Ocean Ave., Santa Monica. threedayrule.com
Endless Summer at Spa del Rey
Sept. 2. Celebrate summer at the spa and get refreshed for the fall. The event features complementary express HydroPeptide eye treatments, vitamin c crystal mini hand refresher and more, along with complementary light refreshments. 1-5 p.m. 4375 Admiralty Way, Marina del Rey, 310.574.4356. spa-delrey.com
Street Food Cinema
Sept. 3-24. Outdoor film series features screenings every Saturday night at various locations across L.A., as well as live music and food from the city's top trucks. Highlights this month include Grease and Bridesmaids. See website for a full schedule and times. $6-$21, under 6 free. 323.254.5068. streetfoodcinema.com
Cinespia
Sept. 3-4, 10, 17. Cinespia's screenings at Hollywood Forever Cemetery find crowds jostling for spots to watch cult flicks projected on a mausoleum wall. Also on hand are DJs and themed photo booths. Closing out the season this month are highlights like The Birds and Moonrise Kingdom. Check website for full schedule. $16. Parking $12-$15. 6000 Santa Monica Blvd., Hollywood, 877.435.9849. cinespia.org
Cinecon Classic Film Festival
Sept. 1-5. The annual festival is where archivists, authors, collectors and film fans come together for five days of classic film screenings, special programs, celebrity guests and the best movie memorabilia show in the nation. Cinecon is dedicated to showcasing unusual films that are rarely given public screenings. The Egyptian Theatre, 6712 Hollywood Blvd., L.A.; Loews Hollywood Hotel, 1755 North Highland Ave., L.A. cinecon.org
FLUX Hawaii General Store
Sept. 2-5. The FLUX Hawaii General Store, presented by Hawaiian Airlines will showcase the thriving creative scene that is erupting throughout the Hawaiian Islands. Store items will span fashion, accessories, beauty and skincare, home wares, pet supplies and food and drink. Programming, workshops and live music will also feature across the weekend. 11 a.m.-7 p.m. BAM! Space, 1306 Abbott Kinney Blvd. events.fluxhawaii.com
Terrine
Sept. 4. Chef/owner Kris Morningstar rolls out his grill to celebrate Labor Day with an endless all-American feast prepared with Terrine's French-California twist. The AYCE holiday menu will feature Terrine barbecue favorites including Morningstar's much-acclaimed Texas-style brisket with chimichurri; pickle-brine fried chicken; marinated swordfish brochettes; crispy potato and hatch chile tacos; in addition to several new sides and sweets. 11 a.m.-9:30 p.m. 8265 Beverly Blvd., L.A., 323.746.5130. terrinela.com
Katana Red Sun BBQ
Sept. 4. Spend Sunday dining on a special menu from the Sunset Strip restaurant paired with specialty cocktails and DJ tunes. The Red Sun BBQ menu includes an exclusive Yakiniku (Japanese-style grilled meats over bincho-tan charcoals) offerings with selections like shrimp with chimichurri, king crab leg with uni butter, American Kobe beef with black pepper, lamb chops with soy garlic, and supplemental items like shrimp and chips and tako ceviche. Also find boozy popsicles and Katana's signature Red Sun BBQ cocktail, the Tropical Fusion with vodka, watermelon, pineapple, cantaloupe and cranberry juice. 6-11 p.m. 8439 West Sunset Blvd., West Hollywood, 323.650.8585. innovativedining.com
Viviane
Sept. 4. Viviane's executive chef Michael Hung breaks out his spit for an all-you-can-eat Filipino cookout and pool party. Normally reserved for hotel guests, party-goers will have access to the Avalon Hotel's pool while they enjoy a feast of lechon cebuano; classic chicken adobo; bistek Tagalog; summer squash guisado; and leche flan, along with speciality cocktails from bar director Ryan Wainwright. The Avalon Hotel, 9400 West Olympic Blvd., Beverly Hills, 310.407.7791. vivianerestaurant.com
TART and Little TART
Sept. 5. Celebrate Labor Day at TART and its sister restaurant Little TART. Tart offers a beer and brat special for $17; while Koreatown's Little TART is offering free garlic fries. TART, 115 S Fairfax Ave., L.A., 323.556.2608; Little TART, 740 S. Western Ave #116, L.A., 213.387.2300.
Rooftop BBQ at the Peninsula Beverly Hills
Through Sept. 25. Summer weekends bring a special BBQ menu to the poolside Roof Garden restaurant at the Peninsula Beverly Hills. In lush Mediterranean surroundings—five floors above Beverly Hills—you can dine on menu offerings like smoked baby back ribs,  Pabst Blue Ribbon beer can 1/2 chicken, 28-day dry-aged rib eye with barrel-aged house steak sauce, charred whole branzino and pulled pork biscuits. Sat.-Sun., 5 p.m.-9 p.m. 9882 S. Santa Monica Blvd., Beverly Hills 310.975.2855. beverlyhills.peninsula.com