Los Angeles Halloween Events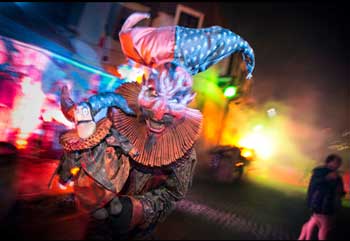 Halloween in Los Angeles is more than a month-long affair, and we've lined up the best Los Angeles Halloween events for you. Let your inner ghoul shine at masquerade balls, costume carnivals and more!
West Hollywood Costume Carnaval
Oct. 31. Each year, several hundred thousand costumed revelers converge on Santa Monica Boulevard for what's dubbed "the largest Halloween street party in the world." Celebrating its 25th anniversary in 2013, the event features trucks and vendors, live entertainment and tricks and treats aplenty. 6–11 pm. Free. Santa Monica Boulevard between La Cienega and Robertson boulevards, West Hollywood. westhollywoodhalloween.com
Halloween Horror Nights
Oct. 4–6, 11–13, 17–20, 24–27, 31. Universal Studios Hollywood offers fright-filled mazes inspired by TV show The Walking Dead and films including Evil Dead and Insidious, plus a "Terror Tram," access to shows and scary attractions and more. 7 pm nightly. $59–$229. 100 Universal City Plaza, Universal City, 800.864.8377. halloweenhorrornights.com
Dark Harbor
Oct. 3–5, 11–13, 17–20, 24–27, 31. Ghosts, monsters and freaks—oh my! Dark Harbor returns to the Queen Mary in Long Beach for several nights of terrifying Halloween fun. A circus-themed maze and a "Ferrisqueal" (that's Ferris wheel) top the new attractions at this year's scare fest, which also includes food, drink and undead entertainment. Not recommended for children. 7 pm–midnight nightly. $20–$109. 1126 Queens Hwy., Long Beach, 877.342.0742. queenmary.com
Boos for Booze
Oct. 31. The Corner Door, Waterloo & City, and A-Frame are celebrating the spirit of Halloween with "Boos for Booze" – a cocktail crawl in Culver City. The trio of restaurants along Washington Blvd will offer spooky snack and cocktail specials (from the likes of The Corner Door's Beau du Bois) at rotating times for imbibers in costumes. The crawl kicks off at A-Frame from 5-7 p.m., moves onto Waterloo & City from 7-9 p.m. and culminating at the Corner door at 9 p.m.
Dia de Los Muertos
Nov. 2. The vibrant Mexican tradition is celebrated at Hollywood Forever Cemetery with dancers, food and craft vendors, a lively procession and more than 100 elaborately decorated altars. Live music is provided by bands to be announced presently. Noon-midnight. $15. Hollywood Forever Cemetery, 6000 Santa Monica Blvd., Hollywood, 323.469.1181. ladayofthedead.com
Picca
Oct. 31. Show up in costume for a free welcome shot and enjoy a $20 open bar for anyone who dines for the evening and $25 open bar for the general public. Also enjoy a costume contest, "Thriller" dance competition, and bobbing for apples. 9575 West Pico Blvd., L.A., 310.277.0133. piccaperu.com
Mo-Chica
Oct. 31. Enjoy 20% off the entire bill at happy hour and also enjoy a costume contest and dance competition, in addition to a welcome shot for those dressed in costume, and $25 open bar featuring Peruvian Pisco Halloween Punch, Peruvian beer, and house wines. 517 West 7th St., downtown, 213.622.3744. mo-chica.com
Paiche's 666
Oct. 31. Sip all night on a $25 open bar with themed cocktails, beer and house wine and dine on a 666 menu from 9 p.m.-midnight that features six dishes for $6 each. Also enjoy a raffle and costume contest. 13488 Maxella Avenue, Marina Del Rey, 310.893.6100. paichela.com
KCRW's Masquerade
Oct. 26. Don your favorite costume and discover a feast for all your senses with five uniquely themed ball rooms, DJs, ghost stories, food trucks, performances by Grizfolk, The Lions, Dale Earnhardt Jr. Jr. (DJ set), Angel City All-Star Brass Band, and more. $100. 9 p.m.-2 a.m. Park Plaza, 607 South Park View St., downtown. kcrw.com
Los Angeles Haunted Hayride
Oct. 4-31. This year's hayride at the Griffith Park Old Zoo features brand new scenes of horror and disturbia and you will get wet. Hay filled wagons wander through the high octane fantasy world in the woods to tell an original story that exploits the most disturbing fears that live in us all. New this year is the "Carving Shack" a sit down activity where guests can pick out a pumpkin and let their creativity fly, and "Death Row" an interactive room that allows guests an up close and personal look at devices of death used throughout history. (Thurs.-Sat., in addition to Wednesday, the 30th) $30+. Griffith Park (Old Zoo), 4730 Crystal Springs Ave., L.A. losangeleshauntedhayride.com
The Purge: Fear The Night
Sept. 27-Nov. 2. Inspired by the backstory to the feature film, in this new type of horror theater you become a "delegate" to the annual convention of the New Founding Fathers, the dystopian governing party of a near-future America, in which all crime is legal once a year for 12 hours. Once you're inside, you may find yourself complicit in the shocking acts undertaken by a warped government—directly threatened by hostile dissenters—or intrigued by the mysterious lives of elected officials. With every step, you will be drawn deeper into the New Founding Fathers Headquarters. You will be encouraged to interact with the people on your journey and take your own time discovering the long-hidden, carefully guarded secrets of Purge Night and the New Founding Fathers of America. $65+. Variety Arts Theater, located at 940 S. Figueroa St., downtown. purgelive.com
Blackout Haunted House
Oct. 4-Nov. 10. The immersive performance takes inspiration from the four basic elements, thrusting you into an intense world of fear. After signing a waiver, you must walk through the experience completely alone. Immersing yourself in the elaborately designed set pieces. You are forced to interact with the characters in a series of twisted and petrifying scenarios. The experience is approximately 30 minutes per person. $65+. Variety Arts Center, 940 S. Figueroa St., downtown. blackouthh.com
Lucha VaVoom Aztec Horror!
Oct. 30-31. Celebrate the 11th anniversary of the ridiculously fun performance featuring masked Mexican wrestlers, mini Mexican wrestlers comedy, and burlesque acts all rolled into one wacky and entertaining evening. Mayan Theatre, 1038 S Hill St., downtown. luchavavoom.com
LACMA's Muse Costume Ball
Oct. 26. The 10th-annual LACMA Muse Costume Ball is haunted by the ghosts of old Hollywoodland. Make your red-carpet debut and toast the town, but don't be surprised if you feel some darkness lurking behind the red carpet. Works of art and exhibitions on view include See the Light—Photography, Perception, Cognition: The Marjorie and Leonard Vernon Collection, John Divola: As Far As I Could Get, plus Bruce Nauman's For Beginners, Metropolis II by Chris Burden, Richard Serra's Band, LACMA's modern art galleries, and more. 8 p.m. $100/$80 LACMA MEMBERS/$60 MUSE members. LACMA, 5905 Wilshire Blvd., L.A., 323.857.6010. lacma.org
Yelloween at the Hollywood Roosevelt Hotel
Oct. 26. Hit the Hollywood Roosevelt Hotel for their annual Yelloween Halloween bash. Find live performances by by Nadia Ali and musical guests Mei Lwun + DJ Just, David Bullock, Derwin McRoth, Mixed Reactions, DJ Politik, and Anthony Shah. 8 p.m.-2 a.m. 7000 Hollywood Blvd., L.A. HalloweenattheRoosevelt.com
Beacher's Walking Dead Zone
Oct. 26. Los Angeles hot-spot Beacher's Madhouse will transform into Beacher's Walking Dead Zone featuring mini zombies and frightful delights, guests are in for a Halloween filled with the over-the-top and zany at this vaudeville-inspired nightlife and performance spectacle. 11 p.m.-2 a.m. 7000 Hollywood Blvd., L.A. beachersmadhouse.com
Delusion: Masque of Mortality
Through Nov. 23. The original interactive horror theater company is back this year at a new location with a new storyline. The experience transports you to 1930, where there has been an outbreak of the plague. You'll embark on a journey where secrets and horror lurk around every corner. To survive, you must push forward into dark paths, and unravel the mysteries yourself. Amongst all of this, you find refuge in The Church, where you await to be summoned when the time is right… In the meantime, you will seek comfort at the bar where fellow refugees will imbibe on craft cocktails of liquid courage, while they await their destiny. Bethany Presbyterian Church, 1629 Griffith Park Blvd., L.A. enterdelusion.com
Wurst Halloween Party Ever at Ray's and Stark Bar
Oct. 28. Come dressed in costume to participate in the "Wurst Costume Ever" while you enjoy food, drinks and a deep fried stuffed whole hog's head delicately carved with a chainsaw by Executive Chef Kris Morningstar. Dine on wurst plates including: Wesisswurst, Braunschweigner, Bratwurst and more. Cocktail highlights include the Dragon's Tail made with blended scotch, allspice, dram, lime and bitters and The Blood Sucking Brady Bunch including Rum, Calvados, Velvet, Falernum, lemon juice and Angostrua Bitters. Wine and beer specials will be featured as well. Winning costume receives a prize. 7-10 p.m. Carving begins at 9 p.m. Costume contest following carving at 9:30 p.m. LACMA, 5905 Wilshire Blvd., L.A. raysandstarkbar.com
Zombie Crawl
Oct. 31. Come out for the biggest crawl in Santa Monica on All Hallows Eve night as hundreds of zombies takeover the city. Get zombie-fied and join the undead in Santa Monica starting at Rusty's on the Pier for check-in and wristbands, and continue throughout the night to Big Dean's, Ye Ole King's Head, Brittania Pub, West 4th and Jane, Barney's Beanery and finish at the Official Zombie After Party at Wokcano. Gather at 8 p.m. under the Santa Monica Pier sign for a photo opp of the city's walkers. Halloween in Santa Monica will never be the same. Tickets and more info at: zombiecrawlsm.eventbrite.com
WOK-ing DEAD Halloween
Oct. 26. Fright-seekers can experience the largest (and spookiest) Halloween party on the Westside at Wokcano. The WOK-ing DEAD Halloween Party will include Top 40 and House music by DJ Frankie, costume contests, a photobooth, and spooktacular food and drink specials from 8-10 p.m. Guests can enter the costume contests for the chance to win hundreds in prizes for best zombie, sexiest, scariest, most original or best overall costume of the night. Tickets are $15 in advance and $25 for VIP. 1413 5th Street Santa Monica. wokcanoSMhalloween.eventbrite.com
Night of the Living Zoo
Oct. 25. Claw your way over to Griffith Park for a frightful adults-only bash that will transform the Los Angeles Zoo into a theater of macabre delights: enjoy the spine-chilling feats of the Sideshow Sirens, while ghouls and ghosts roam about the grounds in search of contenders for the night's costume contest. The Night of the Living Zoo also features hair-raising decorations and special effects, fortune tellers, DJ Johnny Hawkes spinning at the Tom Mankiewicz Conservation Carousel, and live musical performances by Batwings Catwings and Edgar Allan Poets. Creepy cocktails and food truck favorites, including Coolhaus and Trailer Park Truck, will be available for purchase to keep all manner of spirits high for a night of scary merry-making. Tickets $40+. 5333 Zoo Dr., L.A., 323.644.4200. lazoo.org
Maliboooo Country Mart
Oct. 31. Stop by the Maliby Country Mart for trick-or-treating, loads of pumpkins, bales of hay and a costume contest for children. Trick-or-treating from 4-6pm. Stores participating in the trick-or-treating will display a Halloween balloon. The fun will continue with a children's costume contest starting at 6pm. The winning children's costume will be awarded a $100 gift certificate. Children should meet by the Jester fountain. 3835 Cross Creek Road, Malibu. malibucountrymart.com
Boo at the Zoo
Oct. 26-27. Wear your wildest costume and enjoy trick-or-treating throughout the Zoo. Additional activities include pumpkin carving demonstrations, arts and crafts, creepy-crawly animal encounters, chomp n' stomp animal feedings, and interactive storytelling and music with Campfire Cathy. Los Angeles Zoo, 5333 Zoo Drive, L.A, 323.644.4200. lazoo.org/Boo
Dia de los Muertos at Grand Park
Nov. 2. Grand Park presents its second annual Downtown Dia de los Muertos concert, featuring Latin Alternative music with such artists as El Conjunto Nueva Ola, mixing the rhythm of cumbia with sounds of new wave, rock and disco; Raul Y Mexia, with its exciting fusion of electronic dance beats and hip-hop with traditional Mexican influences;  Subsuelo,  a Los Angeles-based Flamenco/electronic group combining DJs, flamenco dance/percussion and flamenco guitar; La Chamba, a Los Angeles-based Peruvian band with a love and respect for Peruvian Chicha; Cumbia Machin, with their use of live electronics and sequencers to create an original Dub-Style cumbia; and Nortec Collective  with "sound that defines the border," mixing electronica with musical elements and instrumentation of Tambora and Norteño music, resulting in the nortec style.  The event also features a number of family activities themed to the holiday, providing children with the opportunity to learn about its traditions, along with free face painting, food trucks and more. grandparkla.org
Asylum at Skybar
Oct. 31. The party isn't just themed to American Horror Story's Asylum, Skybar at Mondrian Los Angeles went one step further and got the props for the decorations at the exact same place as American Horror Story designer got theirs. Think old hospital beds, operating chairs and tables, padded walls and many creepy performers. 8 p.m.-2 a.m. There is no entrance fee but RSVP is required (RSVP at skybarla@mhgc.com). 8440 Sunset Blvd., West Hollywood. morganshotelgroup.com
Hollywood Halloween at Colony Nightclub
Oct. 26. Hollywood's sultriest crowds don their finest costumes and lingerie for the annual Colony Hollywood Halloween. This sexy party features a costume contest, fashion show, and music spinning through the night. Expect a celeb-infested night of mischief and mayhem in two vastly different rooms – Hip-Hop and House Music – As Colony presents Saturday Night w/over 1000+ sexy party people and 2 rooms of music. For Guest List & Bottle Service, contact Jamie Barren: 310.749.9029. jbpevents.com
The Hudson Halloween Bash
Oct. 26. Celebrate Halloween with themed cocktails, photo booth props and costumes, party favors and all around holiday festivities. Guests who come in costume and check into The Hudson on Facebook will be eligible to win prizes given throughout the evening. 7 p.m.-2 a.m. 1114 N Crescent Heights Blvd., L.A. thehudsonla.com
33 TAPS
Oct. 31. Sip on specially themed fare like the Graveyard Martini with vanilla Absolut, Kahlua, amaretto and whipped cream topped with Oreo cookie "dirt" and gummy worms; Pumpkin Hummus Flatbread and Jack's Spooky Turkey Chili. 6263 Hollywood Blvd., L.A. 33taps.com
Melisse
Oct. 31. Chef Josiah Citrin offers a Halloween inspired menu that includes highlights like squash ravioli, Wagyu beef flat iron steak, Devil's Gultch quail and more. $75. Reservations required, mention that you're reserving the Halloween menu. 1104 Wilshire Blvd, Santa Monica, 310.395.0881. melisse.com
Halloween Candy & Wine Tasting at Vintage Enoteca
Oct. 30-31. Pair your Tempranillo with Tootsie Rolls, brut rose with pop rocks and more at Vintage Enoteca's annual Halloween and candy wine tasting. $30 per person, includes four tastings with a bowl of candy. 7554 W. Sunset Blvd., L.A., 323.512.5278. vintageenoteca.com
The LASH Halloween Bash
Oct. 31. The eclectic, concept space downtown L.A. is a perfect compliment to celebrating the spooky holiday in any costume creation. There is no cover charge, and special spine-chilling cocktails will be served. 9 p.m.-2 a.m. 117 Winston St., downtown. thelashsocial.com
Yelloween Soiree at Fig & Olive Melrose Place
Oct. 31. Enjoy a spellbinding French Riviera-inspired three-course prix-fixe dinner (think lobster bisque, octopus a la Gallega, pumpkin sage ravioli and more) by Executive Chef Pascal Lorange followed by an exclusive enchanted after party with St. Tropez celebrity DJ Julien Nolan, Halloween cocktails, party favors, and festive décor. 6-11 p.m. and the "Yelloween" party begins at 9:30 p.m. $45. Fig & Olive Melrose Place, 8490 Melrose Place, West Hollywood, 310.360.9100. figandolive.com
Haunted Hotel at the W Hollywood
Oct. 26. The Brazilian themed-costumed party takes over the entire hotel for a party that features Top 40 beats in the Living Room, video DJ in Station, and house music in Delphine. 6250 Hollywood Blvd., L.A. whollywoodhalloween.com
Fright Night at the W Hollywood
Oct. 31. Costume party features Top 40 beats in the Living Room, Hip Hop in Station and house music in Delphine. 6250 Hollywood Blvd., L.A. whollywoodhalloween.com
Chuckie's Haunted Hellhouse at Create Nightclub
Oct. 31-Nov. 1. This spooky rager will be led by internationally renowned (and aptly named for the occasion) DJ CHUCKIE who will be spinning the soundtrack to the madness on Halloween eve. Party starts at 9 p.m. on Oct. 31 and continues to 4 a.m. on Nov. 1. $30, $50 VIP. 6021 Hollywood Blvd., LA. play.sbe.com
80s Prom Halloween at Dog Haus
Oct. 26. Dog Haus celebrates three years with a soiree that boasts spiked punch, a costume contest 80s cover band, photobooth, biergarten and more. Dine on an array of Dog Haus dogs from special all beef skinless dogs to the "Dirt Bag" with Fritos, haus chili, cheese sauce and diced onion. Free admission, food for purchase. 6 p.m.-1 a.m. 93 E. Green St., Pasadena. doghaus.com
Nightmare on Selma
Oct. 31. AV Nightclub and Aventine offer a Halloween party that features five celebrity DJ's, with special guests to be announced. Come dressed to impress because the person in the winning costume receives a $1000 prize. $100 open bar 10 p.m.-2 a.m. For table service: rsvp@avhospitality.com. 1601 Cahuenga Blvd., L.A., 310.334.9619.
Halloween Silent Film: The Phantom of the Opera
Oct. 31. One of the most famous of all early horror classics is projected with live organ accompaniment is accompanied by Clark Wilson on Walt Disney Concert Hall's organ. Walt Disney Concert Hall, 111 South Grand Ave., downtown, 323.850.2000. laphil.com
Danny Elfman's Music from the Films of Tim Burton
Oct. 29-31. Hear newly created suites from all 15 film collaborations of the legendary composer Danny Elfman and visionary director Tim Burton. Elfman himself will perform his songs from "The Nightmare Before Christmas." He was the singing voice of Jack Skellington in the 1993 classic film. The concert that includes songs from—Batman, Edward Scissorhands, The Nightmare Before Christmas, Beetlejuice, Charlie and The Chocolate Factory, Alice In Wonderland and others—will be accompanied with large screen film clips, and the artwork of Tim Burton. Nokia Theatre L.A. LIVE, 777 Chick Hearn Ct., downtown, 88-929.7849. axs.com
Wicked Lit
Oct. 3-Nov. 2. Hear dynamic new adaptations of classic horror literature. For the 5th anniversary of the production short play adaptations of H.P Lovecraft's The Lurking Fear, Sir Arthur Conan Doyle's The New Catacomb and Washington Irving's The Legend of Sleepy Hollow come to life on stage at Mountain View Mausoleum & Cemetery. 7:30 p.m. See website for exact dates. $30-$60. 2300 N. Marengo Ave. Altadena. unboundproductions.org