Los Angeles Halloween Events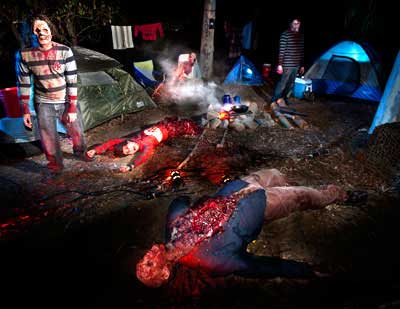 Halloween in Los Angeles is more than a month-long affair, and we've lined up the best Los Angeles Halloween events for you. Let your inner ghoul shine at masquerade balls, costume carnivals and more!
West Hollywood Halloween Costume Carnaval
Oct. 31. Santa Monica Boulevard shuts down from La Cienega to Robertson boulevards to accommodate thousands of Halloween revelers in their most eccentric costume creations. Live entertainment, food vendors, pumpkin-carving contests and children's activities fill the week leading up to the event. 6–11 pm. Admission free. Santa Monica Boulevard between La Cienega and Robertson boulevards, West Hollywood, 323.848.6400. westhollywoodhalloween.com
Dia de Los Muertos
Oct. 27.  The vibrant Mexican tradition is celebrated at Hollywood Forever Cemetery with dancers, food and craft vendors, a lively procession and more than 100 elaborately decorated altars. Live music is provided by bands including Ozomatli. noon-midnight. $10. Hollywood Forever Cemetery, 6000 Santa Monica Blvd., Hollywood, 323.469.1181. ladayofthedead.com
Queen Mary's Dark Harbor
Oct. 5–7, 12–14, 18–21, 25–28, 31. The famed ship receives a macabre makeover for the event, complete with 160 monsters and 20-foot-tall flames. The annual event features mazes, live music, food, drinks and a few hair-raising surprises await at the Queen Mary Ship & Seaport in Long Beach during this annual scare fest. 7 pm–midnight. $24–39; VIP ticket $50–$60. 1126 Queens Hwy., Long Beach, 562.435.3511. queenmary.com
Halloween Horror Nights
Oct. 5–7, 12–14, 18–21, 25–28, 31. Nightmares become reality at Universal Studios Hollywood's annual Halloween Horror Nights, with themed shows, scare zones and fright-filled mazes. This year, zombies from AMC's original series The Walking Dead invade a new maze set in a post-apocalyptic wasteland, one that extends through the Terror Tram that patrols the famous Universal back lot. John Murdy, creative director at the Universal City theme park, says the experience was designed for guests to feel as though they're walking in the footsteps of the show's characters. Additional haunts include terrifying transformations for Revenge of the Mummy—The Ride, Jurassic Park—In the Dark, Transformers: The Ride—3D and The Simpsons Ride, and a roast of infamous guest stars in the parody show Bill & Ted's Excellent Halloween Adventure.  $72–$80, under 3 free. Front-of-line pass, $139–$149. VIP Experience $269. Universal Studios Hollywood, 100 Universal City Plaza, Universal City, 800.864.8377. halloweenhorrornights.com
Delusion: The Blood Rite
Sept. 27-Nov. 10. Every 12-15 minutes, groups of 10 begin this haunted house meets interactive play, guided by mysterious figures. This year, the play begins outside…in a graveyard. Delusion: The Blood Rite engages viewers through disturbing immersion, suspenseful storytelling and explosive stunt work. You will have to make terrifying decisions to further the story. Jon Braver (The Dark Knight Rises, Priest, Indiana Jones) writes and directs this year's show along with producing it with Neil Patrick Harris. $45. Thurs.-Sun. 2218 S. Harvard Blvd., L.A. hauntedplay.com
Los Angeles Haunted Hayride
Oct. 5-31. This year's hayride at the Griffith Park Old Zoo features brand new scenes of horror and disturbia and you will get wet. Hay filled wagons wander through the high octane fantasy world in the woods to tell an original story that exploits the most disturbing fears that live in us all. Ponchos will be provided. $28, $52 VIP. Griffith Park (Old Zoo), 4730 Crystal Springs Ave., L.A. losangeleshauntedhayride.com
The Blumhouse of Horrors
Oct. 4-Nov. 4. Tour the twisting corridors of an eerily haunted theater whose stage was home to one of the world's most deranged dark-arts magicians during the heyday of 1920s vaudeville. That is, until one tragic performance when his assistant climbed into a magical box and vanished forever. The theater was shut down instantly and permanently closed to the public… until now. Filled with terrifying sights, sounds and smells, The Blumhouse of Horrors (from the producers of Paranormal Activity, Insidious and Sinister) brings you face-to-face with the ghostly spirits of the magician and his disciples – all of whom continue to hone their craft, on the lookout for volunteers for tricks that could end in disappearance or death. $29 presale, $35 door. Thurs.-Sat., daily during the week of Halloween. 940 South Figueroa St., downtown. blumhouseofhorrors.com
KCRW's Masquerade
Oct. 27. Don your favorite costume and discover a feast for all your senses with five uniquely themed ball rooms, DJs, ghost stories, food trucks, performances by Z-Trip, Mexican Institute of Sound, Hanni El Khatib and Dustbowl Revival. $85 advance, $100 door. 9 p.m.-2 a.m. Park Plaza, 607 South Park View St., downtown. kcrw.com
LACMA's Muse Costume Ball
Oct. 31. A preview of LACMA's new Stanley Kubrick exhibition fuels this year's theme as the legendary director's work inspires live music, video projections, DJs, art installations, and the annual costume contest. Dress to impress and you might be one of the lucky few to be chosen for the contest, with the winners taking home fabulous prizes. 8:30 p.m. $100/$75 MUSE members. LACMA, 5905 Wilshire Blvd., L.A., 323.857.6010. lacma.org
Paranoia at Santa Monica Place
Sept. 28-Oct. 31. Terrifying mazes, monsters and blood-curdling thrills consume 50,000-square-feet of horrifying space on the third level of Santa Monica Place. At this hair-raising spook-fest, the un-dead will possess three terror-filled mazes: There is no place to run from the psychotic doctors and nurses in "The Infirmary," the insane sleepless clowns in "Insomniac Clown Playhouse" or granny and her restless relatives in the "Manor of Mayhem." Advance $24/$39 VIP; door $30/$45. 395 Santa Monica Place, Santa Monica. paranoiahalloween.com
Halloween Chocolate Cocktail Party
Oct. 31. Northern Italian haven Cecconi's in West Hollywood is offering adults a sweet and BOO-zy way to celebrate Halloween this year with a Chocolate Cocktail Party. Diners are invited to savor sips of Creative Bar Director Chris Ojeda's fall cocktails, as well as wine from Cecconi's Sommelier and General Manager Marino Monferrato, paired with five seasonal truffles from famed Compartes' Chocolatier Jonathan Grahm. Reserve your space pre- or post-dinner for $25 prior, or purchase the tasting for $30 the day of. 7-10 p.m. 8764 Melrose Ave., L.A., 310.432.2000. cecconiswesthollywood.com
Halloween Silent Film: The Cat and the Canary
Oct. 31. The will of wealthy Cyrus West is read to his relatives, who spend the night in his mansion and are stalked by "The Cat," a mysterious escapee from the local asylum, who claws his victims like canaries. Directed by German Expressionist filmmaker Paul Leni, this 1927 classic silent film is accompanied by Clark Wilson on Walt Disney Concert Hall's organ. Walt Disney Concert Hall, 111 South Grand Ave., downtown, 323.850.2000. laphil.com
D.L. & Co. Halloween Trunk Show
Oct. 25. Purveyors of curious goods D.L. & Co. pop up in Regalo at The Bazaar by José Andrés at the SLS Hotel at Beverly Hills for a special Halloween Trunk show, 7-9 p.m. RSVP to sls.pr@luxurycollection.com 465 South La Cienega Blvd., L.A., 310.247.0400. thebazaar.com
Lucha VaVoom Aztec Horror!
Oct. 25-26. Celebrate the 10th anniversary of the ridiculously fun performance featuring masked Mexican wrestlers, mini Mexican wrestlers comedy, and burlesque acts all rolled into one wacky and entertaining evening. Mayan Theatre, 1038 S Hill St., downtown. luchavavoom.com
Rock & Reilly's
Oct. 30-31. On Tuesday grizzly gouls in red leather jackets will transform Rock & Reilly's Irish rock-n-roll pub into a scene straight from the King of Pops' music video. From 8pm to midnight, a Thriller dance expert will be on hand to instruct guests on proper technique for Michael Jackson's classic routine.  Take a Zombie shot and be entered to win a one-of-a-kind Thriller leather jacket. Because "no mere mortal can resist the evil of The Thriller!" On Halloween, stop by Rock & Reilly's for the "Best Worst Costume Contest."  Come dressed up in your most awesomely terrible costume and have a chance at winning a $250 Reilly's bar tab. 8911 West Sunset Blvd., West Hollywood, 310.360.1400. rnrpub.com
Pink Taco Sunset Strip
Oct. 28, 30. Celebrate Sunday Funday in the Halloween spirit with Pink Taco's costume party from 1-8 p.m. Taking place on the 2nd floor adorned with Dia de los Muertos street graffiti on the walls, the weekly "Funhouse Fiesta" will add Halloween games and prizes, such as a chance to win a spa day at Burke Williams, to its already fun-filled repertoire of bottomless mimosas until 3pm, beer pong, hula hoop contests, board games and more. On Tuesday, they offer  two-for-one pitchers of margaritas, a costume contest and prizes from 8-11 p.m. 8225 Sunset Blvd., West Hollywood, 323.380.7474. pinktaco.com
"Type or Treat" at Poketo
Oct. 29. Kyle Durrie of the Moveable Type letterpress truck and mobile print shop stops at Poketo to create letterpress prints on paper, masks and Trick or Treat bags for this event. Alongside the letterpress truck, Café Dulce from Little Tokyo will be serving up some specially created Halloween donut holes, together with their well-loved bacon and Fruity Pebbles donut holes. Poketo staff will also be on hand to dish out candy to guests. 5-8 p.m. 820 E. 3rd St., downtown. poketo.com
Vampire Circus Costume Party at Skybar
Oct. 27. Skybar is hosting a Vampire Circus costume party from 9 p.m.- 2 a.m. Costumes required. Music by DJ Lindsay Luv. RSVP to skybarla@mhgc.com. facebook.com/mondrian
XEN Halloween Masquerade Ball
Oct. 31. Grab your costume and a masquerade mask and head to XEN the new Studio City restaurant/bar/lounge for Masquerade Ball. Dinner hours begin at 6:00 p.m., dancing, music and other festivities go until 2 am. Contact marie@xenlounge.com for dinner and bottle reservations. 10628 Ventura Blvd., Studio City, 818.505.3513. xenlounge.com
Halloween at Bootsy Bellows
Oct. 31. DJ Spider DJs the West Hollywood club that offers a four-hour open bar included in the $100 price of admission. Costumes are mandatory. 9229 West Sunset Blvd., West Hollywood. bootsybellows.cravetickets.com
Shore Bar Halloween
Oct. 31. Stop by Santa Monica hotspot Shore Bar for sounds by DJ Bee Fowl, open bar, costume contest and more. $50/$500 VIP. 112 W. Channel Rd., Santa Monica, 310.429.1851. More Info.
"Yelloween" at Fig & Olive Melrose Place
Oct. 27. Stop by Fig & Olive Melrose Place for a bewitching bash that features the musical stylings of St. Tropez celebrity DJ Julien Nolan, a candy bar, party favors, and festive décor as well as Veuve Clicquot bottle service starting at $76/bottle. Dress in your best hair-raising costume and get a chance to win a dinner for two at the French Riviera-inspired restaurant. Party starts at 10 p.m. Or stop by on Oct. 31, for a special fall-theamed three course prix-fixe dinner for $42. 8490 Melrose Place, West Hollywood, 310.360.9100. figandolive.com
Bob Baker's Halloween Hoop-Dee-Do
Oct. 6-Nov. 10. Featuring a fantastical cast of more than 100 Halloween themed puppets, from the Purple People Eater and the Invisible Man to a gaggle of Roaring 20's skeletons dancing the night away in Hernando's Hideaway, "Bob Baker's Halloween Hoop-De-Do" whisks you away to "the place where imagination dwells". These celebrated marionettes are presented in Bob Baker's now famous "In the Round" cabaret style, with the puppeteers not only exposed to the audience, but serving as an integral part of the proceedings . . . and also making the audience part of the show. $15, children under 2 free. The Bob Baker Marionette Theater, 1345 West First St., L.A., 213.250.9995. bobbakermarionettes.com
Halloween at the Mali-BOO Country Mart
Oct. 31. The Malibu Country Mart gets frightful this Halloween. Stop by for trick-or-treating festivities at select stores. Children and pets are also encourages to dress up in their best costume for a chance to win prizes. 4-7 p.m. Malibu Country Mart, 3835 Cross Creek Rd., Malibu. malibucountrymart.com
W Hollywood Halloween
Oct. 27. The W Hollywood turns into a haunted hotel with DJs taking over the Living Room, Station and Delphine. spinning top 40, videos and house music. 6250 Hollywood Blvd., Hollywood. whollywoodhalloween.com
Theatricum BOO! -Tanicum Classic Halloween Fun and Haunted House
Oct. 26. For one night only, you can wander the Theatricum's wooded grounds in the heart of rustic Topanga Canyon, where you'll find a haunted house; ghost stories, pumpkin carving, game booths, specialty foods, live music and more. $20/$15 teens/$5 kids 5-12. Will Geer Theatricum Botanicum, 1419 N. Topanga Canyon Blvd., Topanga, 310.455.2322 x227. theatricum.com
EAT | DRINK
LA Market Restaurant
Oct. 1-31. At celebrity chef Kerry Simon's downtown outpost, celebrate Halloween with Simon's Spooky Sweets Junk Food Platter. The holiday take on LA Market Restaurant's favorite dessert offers range and purple coconut snowballs, bat and mummy cake pops, pumpkin-shaped Rice Krispies treats, frosted brownies with worms, candy corn and caramel corn parfait, Fruit Loop treats, and chocolate chip cookies. 900 W Olympic Blvd., downtown, 213.765.8630. lalivemarriott.com
Magnolia Bakery
Find more treats than tricks at the West 3rd Street bakery, which is sure to get you in the spooky spirit with devil's food Halloween cupcakes and Halloween chocolate wafer whoopie cookies with rich vanilla buttercream in orange and white, layered between two handmade chocolate wafer cookies. 8389 West 3rd St., L.A., 323.951.0636. magnoliabakery.com
Whiskey Blue at W Los Angeles – Westwood
Stop by Whiskey Blue for an array of Halloween themed cocktails includeing the Jack-O-Lantern (Jack Daniels, chambord, lemon, simple syrup), Candy Corn Martini (orange vodka, coconut vodka, grenadine, orange juice, splash of creme), Peaches and Scream (bourbon, cream, peach puree, cinnamon, brown sugar rim), and Witches Brew (Caliche rum, Bacardi 151, pineapple juice, lime juice, simple syrup, grenadine). 930 Hilgard Ave., Westwood, 310.208.8765. wlosangeles.com
Halloween Fiesta at Tortilla Republic
Oct. 31. In honor of the 2012 West Hollywood Halloween Costume Carnaval, Tortilla Republic hosts a Halloween Fiesta with festive décor, DJs, photo booth, food and drink specials. The modern, chic Mexican restaurant is situated in the heart of West Hollywood on Robertson Boulevard within the boundaries of one of the world's largest Halloween celebrations. Stop in for $7 well drinks after 7 p.m., along with their contemporary Mexican dinner menu until 9 p.m. and "late night" menu featuring small plates until 2 a.m. 616 N. Robertson Blvd., West Hollywood, 310.657.9888. tortillarepublic.com
Tuesdays at Tony's
Oct. 30. The weekly brew event gets a BOOzy kick from Smog City Brewing in celebration of their first anniversary. Halloween costumes will only further the disguise of beer-goggled party goers, who will have the chance to chat with co-owner/brewer couple Jonathan and Laurie Porter while enjoying top craft beers on tap. 6 p.m. 1710 W. Magnolia Blvd., Burbank. tonysda.com
Halloween Candy & Wine Tasting
Oct. 26, 27, 31. Stop by Vintage Enoteca for an evening of classic Halloween candy paired with boutique wines. Sip a sparkling rosé paired with Sour Patch Kids and Almond Joy; merlot with Kit Kat bars and 3 Musketeers and more. $25. 7554 W. Sunset Blvd., L.A., 323.512.5278. vintageenoteca.com
Napa Valley Grille
Oct. 27-31. Westwood Village's rustic dining destination is treating young ghouls and goblins in costume to executive chef Taylor Boudreaux's kids menu for free (with the purchase of an adult entrée). Adults can also sip on spirited specialty cocktails like the burnt orange Jack o'lantern pumpkin. 1100 Glendon Ave., Westwood, 310.824.3322. napavalleygrille.com
Mohawk Bend
Oct. 31. While you dine on festively orange buffalo cauliflower and down a few of the 70+ brews on tap, catch Lorenzo Grassi and the Funkalleros play a spooky set of funk music in the spirit of Halloween. 2141 W. Sunset Blvd., L.A., 213.483.2337. mohawk.la
Booritos at Chipotle Mexican Grill
Oct. 31. Diners dressed in costume will be treated to a burrito, bowl, salad or order of tacos for only $2 between the hours of 4 p.m. and closing. Proceeds from the fundraiser, up to $1 million, will benefit the Chipotle Cultivate Foundation, which supports family farmers and their communities, educators and programs that teach younger generations about food matters, and ranchers and farmers who are working to develop more sustainable practices. Participants in this year's fundraiser are invited to also enter the Chipotle Costume Contest for a chance to win $2,500 and other prizes. chipotle.com/boorito
Tom Bergin's
Chef Brandon Boudet at legendary LA Irish tavern is cooking up trouble with black pudding, made from blood sausage, as part of a traditional Irish breakfast. 840 S. Fairfax Ave., 323.936.7151. tombergins.com
Drago Centro
Follow Alice into another world with the Through The Looking Glass (Oxley gin, Cardamaro, Earl Grey tea, sugar beet syrup, citric acid, cream, nutmeg) or tell spooky stories around the Campfire Dawn (Pierde Almas Puritita mezcal, Clear Creek Douglas Fir eau de vie, sugar, Scrappy's lime bitters, Fee Bros. mint bitters), in addition to other festive fall cocktails at Drago Centro downtown. 525 South Flower St., downtown, 213.228.8998. dragocentro.com
Little Dom's
The White Spaniard cocktail from Nikki Sunseri at Little Dom's is a darker, more brooding version of the White Russian made with aged rum, coffee liqueur and cinnamon. 2128 Hillhurst Ave., Los Feliz, 323.661.005. littledoms.com
The Mixing Room
Oct. 1-31. Sip festive cocktails at the JW Marriott Los Angeles L.A. LIVE's sophisticated cocktail lounge. Trick-or-Treat Cocktail Menu featuring nostalgic Halloween flavors including candy corn and pumpkin, in drinks like the candy corn martini; great pumpkin with house-infused cinnamon and cardamom Buffalo Traced bourbon; devil's old fashioned and more. 900 W Olympic Blvd., downtown, 213.765.8600. lalivemarriott.com