Los Angeles For Kids: A Guide to Kid-Friendly LA
Los Angeles Film and Studio Tours for Kids
<<prev 7 of 7 beginning>>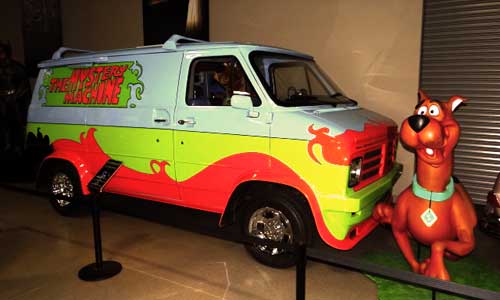 The magic of the film industry is especially alluring for kids. In addition to tours that provide glimpses into their favorite TV shows and films are unique cinema experiences.
Backlot tours of historic studios abound. The most famous is certainly that at Universal Studios Hollywood, free with general theme park admission. Aspiring superheroes will dig the sets from Spider-Man on the Sony Pictures Studios Tour in Culver City, and it's a wonder to wander through the studio's "Main Street," where false storefronts have helped create the illusion of a city street in so many films. The longest-operating (and only remaining) movie studio in Hollywood, Paramount Pictures, offers a two-hour tour and a more in-depth four-and-a-half hour VIP tour that includes lunch and a glimpse of props and set pieces in the archive. In Burbank, top draws include the NBC Studios Tour and the Warner Bros. VIP Studio Tour, in which trams escort guests to the sets of popular TV shows new and old ("The Big Bang Theory," "Friends" and "Pretty Little Liars" among them), some of which might be filming; the VIP tour is two-and-a-half hours, and the deluxe tour five.
Formerly the Kodak Theatre, the Dolby Theatre, home of the Academy Awards ceremony, offers a tour. A short walk west on Hollywood Boulevard reveals the famous Grauman's Chinese Theatre. Kids love to put their paws in the hand- and footprints in Grauman's famous forecourt, and the theater itself usually screens family-friendly fare. Across the street, the El Capitan Theatre is an ornate movie palace that shows Disney movies and other blockbusters preceded by a performance from an organist and other live entertainment. Grab root beer floats for the family at Disney's Soda Fountain and Studio Store (6834 Hollywood Blvd., Hollywood, 323.817.1475), adjacent. Outdoor summer film screenings have become an LA tradition in summertime, and the "Oscars Outdoors" series at the Academy of Motion Picture Arts and Sciences' new open-air theater (1341 Vine St., Hollywood, oscars.org/events-exhibitions/outdoors/index.html) is a hot new ticket. Bring a blanket or chairs to sit on and cash to buy noshes from the various food trucks that stop by before settling in to watch films.