Los Angeles For Kids: A Guide to Kid-Friendly LA
Los Angeles Adventures for Kids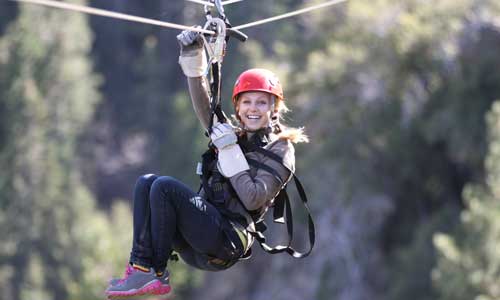 Got kids with energy to burn? Run to the beach, head for the hills or hit indoor entertainment centers for activities that will leave the young'uns pleasantly exhausted.
Santa Monica State Beach is prime territory for beachside fun, from beach cruiser and inline-skate rentals at Perry's (1200 Pacific Coast Hwy., Santa Monica, 310.458.3975) to beach tennis and "Yoga Buddies" classes (for kids 5 to 11) at the Annenberg Community Beach House. The Annenberg also teaches classes for the water sport of the moment: stand-up paddle-boarding, perfect for older children and teenagers.
More daring teens and preteens can try Navitat Canopy Adventures (6047 Park Drive, Wrightwood, 760.249.9990), the only zip-line tour in the area, based in nearby Wrightwood. Gliding between treetops in the San Gabriel Mountains would prove an unforgettable experience, but being grounded can be exciting, too. Certain hiking trails in Griffith Park (4730 Crystal Springs Drive, LA, 323.913.4688), such as the East Observatory Trail and the path to the Bronson Caves, are short, scenic hikes suitable for any experience level.
If your tot never met a bounce house he didn't like, wait until he gets a load of Sky High Sports (6033 De Soto Ave., Woodland Hills, 818.346.6300), where the floors and walls in an expansive room are trampolines. Adventureplex (1701 Marine Ave., Manhattan Beach, 310.546.7708), featuring outdoor rock walls, a ropes course and an obstacle course like "play structure," is another energy sucker.