Los Angeles For Kids: A Guide to Kid-Friendly LA
Los Angeles Outdoor Spots for Kids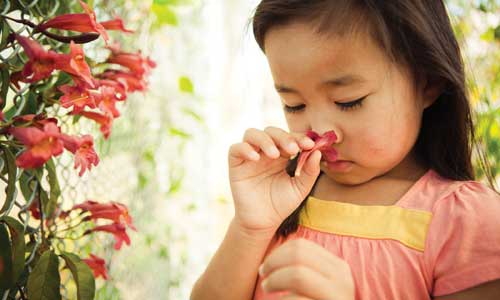 If you've got a budding biologist or a young nature lover in your family, there are plenty of ways to "take it outside."
In addition to its indoor offerings, the Natural History Museum's newly unveiled North Campus is a 3.5-acre "urban habitat" in which visitors can embark on nature walks and poke around plants selected to attract various bugs and critters. Speaking of gardens, the Huntington Library, Art Collections, and Botanical Gardens in San Marino features an interactive Children's Garden among its 14 themed plots. In Arcadia's 160-acre Descanso Gardens, parents may appreciate the vast Camellia Forest, but their kids prefer hitching a ride on the Enchanted Railroad and sitting down for story hour. Locomotives and a miniature train ride can be found at Travel Town Museum (5200 Zoo Drive, LA, 323.662.5874) in Griffith Park, a vast urban park where kids of all ages have fun exploring the Griffith Observatory with its new planetarium show, the Autry National Center of the American West and the Los Angeles Zoo and Botanical Gardens.
Agriculture may not come to mind when you think of LA, but local families love Underwood Family Farms (3370 Sunset Valley Road, Moorpark, 805.529.3690). A tractor transports you to fields where you can pick your own produce; just remember to BYOC (bring your own clippers). At the farm's Animal Center, babes can scope animals or snag a pony ride.
Animal encounters abound at Star Eco Station (10101 Jefferson Blvd., Culver City, 310.842.8060), an environmental science museum and haven for rescued exotic wildlife, where tours are offered Friday through Sunday. And what of marine animals? Long Beach's Aquarium of the Pacific is the county's most impressive aquarium, where you can pet a bamboo shark or a bat ray, be a human perch for a lorikeet or watch seals and sea lions frolic around their habitats.