Los Angeles For Kids: A Guide to Kid-Friendly LA
Finding things to do in Los Angeles for kids is child's play. Read on for dozens of things to do in Los Angeles with kids that might just bring out the kid in you.
By Riley Carter
Kid-Friendly Los Angeles Museums
 1 of 7 next>>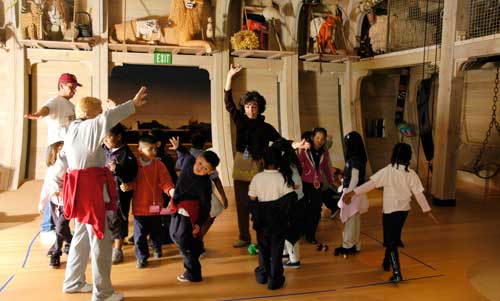 On summer's sultrier days, nothing beats the vast array of the museums in the county for keeping tykes busy in cool environs. In addition to a number of children's museums, many other local institutions offer excellent kid-oriented programming.
On the Miracle Mile District's Museum Row, the Los Angeles County Museum of Art boasts the Boone Children's Gallery. Children can get hands-on by taking part in Korean brush-painting classes or settle in for story time on Mondays and Fridays at 2 pm . Adjacent to LACMA, little ones look on in awe at the bubbling La Brea Tar Pits, one of the most abundant preshistoric animal fossil sites in the world. Some of those remains are housed in the Page Museum onsite, including a saber-toothed cat . Elsewhere, even the most jaded teenager can get revved up by the classic cars, hot rods and motorcycles on display at the Petersen Automotive Museum. Over at the small Zimmer Children's Museum (6505 Wilshire Blvd., LA, 323.761.8984), watch the babes perform their own play in the Mann Theater, complete with set pieces and costumes, or pretend to be a pilot in a real (grounded) plane.
Interactive exhibits are central to Kidspace Children's Museum (480 N. Arroyo Blvd., Pasadena, 626.449.9144) where there's seemingly no limit to the things that curious ankle biters can touch, ogle, dig, paint, climb and crawl through. Pack extra clothes in case kids want to splash around in the water features. At the Skirball Cultural Center, whimsical Noah's Ark is a giant wooden ark filled with kinetic animal puppets. Children can help "build" the ark with blocks, board sets of wooden animals on a tiny conveyer belt or climb a ropes course above the ark.
A few miles down the 405 Freeway from the Skirball is the Getty Center. Stop in the Family Room for mask-making or tube-sculpture-building and have a picnic in the Central Garden. Traverse to Pacific Palisades to check out the Getty Villa, whose Family Forum has a shadow-pose area with costumes and a puzzle-building station. From 11 am–3:30 pm on weekends, youngsters can join ArtQuest! classes and make tiny model mummies. Downtown's Exposition Park is an educational paradise for children. Highlights include the California Science Center, where tykes can fawn over growing baby chicks in the World of Life gallery or watch a flick in the IMAX theater, and the Natural History Museum, home of a new Dinosaur Hall and the diorama-filled Age of Mammals exhibit.