Los Angeles Cocktails You'll Want to Drink Now
Whether you're sipping cocktails at home or on the town, here are a few of our current favorite Los Angeles cocktails, where to find them, and how to mix them at home.
Lost In Paradise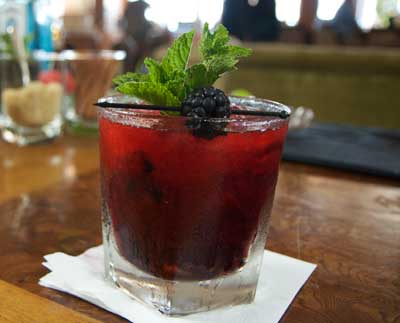 Aidan Demarest (Seven Grand, The Edison, The Spare Room, Neat) is Hotel Casa del Mar's guest mixologist. The hotel recently launched Market Fresh Mixology Tuesdays through Fridays from 6-11 p.m. in the Lobby Lounge. Each week, the house mixologist prepares a new menu full of innovative cocktails created with ingredients straight from the Santa Monica Farmers Market, in addition to a variety of spirits.
2 oz. Dos Maderas 5+5 Rum
1 oz. Cointreau
1 oz. Lime Juice
3 Blackberries
2 Mint Sprigs
Muddle lime juice, 2 blackberries and one mint Sprig. Add Cointreau and Rum. Add ice and shake. Strain over crushed ice and garnish with mint sprig and berry.