Los Angeles Christmas Guide 2013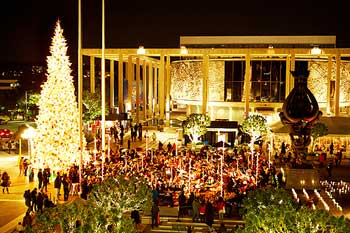 What are the most recommended attractions in Los Angeles this holiday season? We're glad you asked! Celebrate Christmas in Los Angeles with events, sports, dining and more. Find out the best ways to celebrate the Holiday season in LA in our roundup.
EVENTS
The Music Center's Holiday Sing-Along
Dec. 20. Celebrate the holidays with a night of singing under the stars on Music Center Plaza. Sing to live accompaniment and lyric sheets will be provided. Free. Tickets are distributed starting at 6 p.m. Event runs from 6:30-8 p.m. Music Center Plaza, 135 North Grand Ave., downtown. musiccenter.org
A Judy Collins Christmas
Dec. 17. Grammy-winning singer/songwriter Judy Collins, known for her silvery soprano and eclectic tastes, will fill you with the spirit of hope this Christmas, performing beautiful songs of the season as well as some of her greatest hits. Walt Disney Concert Hall, 111 South Grand Ave., downtown, 323.850.2000. laphil.com
A Chanticleer Christmas
Dec. 20. With their repertoire ranging from Medieval/Renaissance to spirituals/contemporary, the exquisite singers of Chanticleer never fail to spark the Christmas spirit. Walt Disney Concert Hall, 111 South Grand Ave., downtown, 323.850.2000. laphil.com
Holiday Organ Spectacular
Dec. 18. Holidays and the mighty Walt Disney Concert Hall organ – the perfect combination. The beauty and majesty of the Walt Disney Concert Hall organ are ideal for this wide-ranging program of devotional and festive holiday music. Walt Disney Concert Hall, 111 South Grand Ave., downtown, 323.850.2000. laphil.com
A Swingin' Christmas: The Count Basie Orchestra
Dec. 23. One of the hottest bands anywhere cooks up a jazzy Christmas celebration featuring their inimitable Kansas City sound – from holiday favorites to the best of the Basie Band tunes. Walt Disney Concert Hall, 111 South Grand Ave., downtown, 323.850.2000. laphil.com
Holiday Sing-Along
Dec. 21. Julie Andrews stops by the Walt Disney Concert Hall for an afternoon of caroling. Lift your voice and sing along to all your favorite Christmas and holiday songs. Performances at 11 a.m. and 2:30 p.m. Walt Disney Concert Hall, 111 South Grand Ave., downtown, 323.850.2000. laphil.com
L.A. County Holiday Celebration
Dec. 24. The Dorothy Chandler Pavilion downtown showcases the cultures of L.A. with holiday-inspired music and dance. More than 20 entertainment groups share their traditions in this free, Emmy Award–nominated show. Dorothy Chandler Pavilion, 135 N. Grand Ave., downtown, 213.972.3099. lacountyarts.org
SPORTS
Lakers vs. Miami Heat
Dec. 25. Kobe is back to face off with Lebron James in this East Coast/West Coast rivalry. 2 p.m. 1111 S. Figueroa St., downtown, 800.745.3000. staplescenter.com
DINING
Timpano at Cecconi's
Dec. 24. In addition to the regular a la carte menu, dine on chef Andrea Cavaliere's handmade Timpano, a domed pasta dish that features rigatoni with ragu bolognese and meatballs, baked together in a handmade dough crust. The iconic Italian dish, celebrated in the Stanley Tucci film "Big Night," will be available for dine-in and take-out for $90 (serves 6-7 people). Orders must be placed 48 hours in advance and require a deposit. 8764 Melrose Ave., L.A., 310.432.2000. cecconiswesthollywood.com
Feast of the Seven Fishes at Ray's and Stark Bar
Dec. 24. Dine on a special special seven-course dinner from chef Kris Morningstar, which features variety of fresh, delicious seafood with robust spices to enhance the Italian meal. Menu highlights include seafood salad, salt cod fritters, cavatelli pasta with octopus topped with uni sauce, tiramisu and more. 5-10 p.m. $55 per person served family-style, $19 for children under 12. LACMA, 5905 Wilshire Blvd., L.A., 323.857.6180. raysandstarkbar.com
Feast of Seven Fishes at Drago Centro
Dec. 24. Celebrate Christmas Eve in traditional Italian style with a festive Feast of Seven Fishes at Drago Centro. Highlights of the meal include tuna crudo with persimmon puree; poached egg, smoked salmon, semolina gnocchi with celery root; scallop tagliolini with green onions, sea urchin crème and lemon; swordfish with crispy polenta, brussel sprouts and squash puree; and more. $80/pp; $55/pp wine pairings. 525 South Flower St., downtown, 213.228.8998. dragocentro.com
Culina, Modern Italian
Dec. 24. Dine on a four-course dinner filled with highlights like persimmon and prosciutto salad; chestnuts pappardelle with duck confit; roasted turbot and charred eggplant puree with oven dried tomatoes; osso buco with braised winter greens, potato and fennel gratin and more. $75/pp. Seatings begin at 6 p.m. 300 South Doheny Dr., L.A., 310.860.4000. fourseasons.com
Mélisse
Dec. 24. Dine on a five-course menu from chef Josiah Citrin that include decadent options like Main lobster, truffle risotto and Liberty duck. 1104 Wilshire Blvd, Santa Monica, 310.395.0881. melisse.com
Hatfield's
Dec. 24. Kick off your holiday over a special four-course Christmas Eve dinner from chefs Karen and Quinn Hatfield. Menu highlights include some of the chefs favorite dishes. 6-10 p.m. $75/pp. 6703 Melrose Ave., L.A., 323.935.2977. hatfieldsrestaurant.com
Feast of the Seven Cows at Trattoria Neapolis
Dec. 24. Trattoria Neapolis in Pasadena puts its unique spin on the traditional Feast of the Seven Fishes with a Feast of the Seven Cows seven-course menu that includes oxtail ravioli, beef carpaccio, crispy veal sweetbread, panna cow-ta and more. Regular menu available that night as well. Four courses $59 or seven courses for $88. Make reservations to pre-order the feast by Dec 21. 5 p.m. 336 South Lake Ave., Pasadena. trattorianeapolis.com
The Pikey
Dec. 24-26. Celebrate all the way through the holidays at Hollywood's popular English Pub. Menu highlights include roasted chestnuts with bacon and chili, smoked pigs in a blanket, goose served with roasted potatoes for Christmas Day, and more including a variety of holiday cocktails available all winter long. Dec. 24-25, 3 p.m.-2 a.m.; Dec. 26, 11:45 a.m.-2 a.m. 7617 W Sunset Blvd., L.A., 323.850.5400. thepikeyla.com
Four Seasons Hotel Westlake Village
Dec. 20, 24-25. From holiday tea to Christmas feasts, find it all at the Four Seasons Westlake Village. At the holiday tea on Dec. 20, enjoy tea sandwiches, pastries and more. Seatings at 12:30 p.m. and 3 p.m.. $45/pp, adults; $20/pp, children 12 and under. On Christmas Eve enjoy a dinner buffet in the picturesque Hampton's ballroom which opens to the Waterfall Lawn. The festive dinner buffet will feature a raw bar, carving stations with house-roasted poultry and meats, holiday dessert spread and more. 5:30-8:30 p.m.; $109/pp, adults; $54/pp, children 4-12. Christmas Day brings a holiday-inspired combination of breakfast and lunch dishes including traditional Christmas signature entrees, dessert spread, donut station and more. 10 a.m.-4 p.m. $109/pp, adults; $54/pp, children 4-12. Two Dole Drive, Westlake Village, 818.575.3000. fourseasons.com
Wolfgang Puck at Hotel Bel-Air
Dec. 24-25. On Christmas Eve dine on a four-course prix-fixe dinner that includes dishes like roasted Italian chestnut soup with black truffles, and blue fin toro tuna carpaccio and Maine lobster pot pie; 5:30-9:30 p.m., $160/pp, adults, $65/pp, children. On Christmas Day celebrate over a three-course brunch that offers highlights like Maryland blue crab cakes, soft French-style omelet and winter salad with Tuscan kale; 11 a.m.-3 p.m., $125/pp, adults, $65/pp children. Later on in the day holiday carolers provide live entertainment from 6-9 p.m. during a four-course prix-fixe dinner which includes dishes such as pumpkin soup, stone crab and lobster Louis, organic Guinea hen and hand-cut tortelloni; 5-9 p.m., $160/pp, adults $65/pp, children. 701 Stone Canyon Rd., L.A., 310.909.1644. wolfgangpuck.com
The Blvd. at the Beverly Wilshire
Dec. 24-25. The Beverly Wilshire hotel has decked the halls with festive decor and offers holiday feasts for all to enjoy. Dine on a Christmas Eve dinner that features selections like arctic char salmon with okinawa-jima sweet potato; butter poached lobster; homemade egg yolk tagliatelle with black truffle; stuffed roasted pheasant and more. On Christmas Day indulge in menu highlights of buffalo mozzarella pannacotta, organic farm turkey; black sea bass; radicchio lasagnetta and more. Dec. 24, 5-11 p.m., $125/pp; Dec. 25, 11 a.m.-6 p.m., $130/pp. 9500 Wilshire Blvd., Beverly Hills, 310.385.3901. theblvdrestaurant.com
FIG
Dec. 25. Dine on a menu of that combines the comfort and decadence of tradition with from chef Ray Garcia. Highlights served family style include wheat berry salad with carrots and pomegranates; poblano tamales with salsa verde; porchetta with parsnip grits and pickled apples and more. Pair the meal with FIG's signature Pinot Noir and Chardonnay, developed together by Chef Ray and winemaker Joshua Klapper from the Santa Maria Valley. Seatings at noon, 3 p.m. and 6 p.m. $69 per adult and $35 for children 12 and under. 101 Wilshire Blvd, Santa Monica, 310.319.3111. figsantamonica.com
Terranea Resort
Dec. 25. Indulge in the ultimate Christmas Day ballroom buffet at Terranea. Highlights include breakfast offerings such as waffle and omelet stations, cheese and fruit plates, and lunch options including everything from free range turkey with cranberry chutney, sea salt rosemary crusted prime rib to a decadent holiday pastry display. $90/pp adult, $45/pp children ages 5-10, children 4 and under dine free. 6610 Palos Verdes Drive South, Rancho Palos Verdes, 310.265.2740. terranea.com
"Spoonful of Sugar" Children's Holiday Tea
Through Dec. 31. Guests young and old will enjoy this special holiday Mary Poppins themed afternoon tea at Wolfgang Puck at Hotel Bel-Air and the Polo Lounge. The supercalifragilisticexpialidocious menu features Mary Pop Meringues, Medicine Go Down Cupcakes, Chim Chimney Quiche, and Admiral Boom's Grilled Cheese. These sweet and savory items will be accompanied a choice of more than 15 loose leaf teas and fresh juices, and guests will receive a copy of the timeless Mary Poppins children's storybook. Every Friday and Saturday from 3-5 p.m. $49/pp.
InterContinental Los Angeles
Dec. 25. Dine on a special four-course dinner from executive chef Jonathan Wood. Highlights include pork chashu boa bun amuse; Maine lobster bisque; pan-roasted Mediterranean branzino; Muscovy duck served two ways; Mont Blanc chestnut dacquoise, and more. $68/pp adults, $34/pp children under 12. 2151 Avenue of the Stars, L.A., 310.284.6500. intercontinentallosangeles.com
Montage Beverly Hills
Celebrate the holidays in the heart of Beverly Hills with a Holiday Tea (through Jan. 5); Christmas Eve dinner at Scarpetta with a special a la carte holiday menu and a special Christmas Day buffet at Scarpetta. 225 North Canon Dr., Beverly Hills, 310.499.4199. montagebeverlyhills.com
Four Seasons Los Angeles at Beverly Hills
Dec. 25. Enjoy a Christmas feast from chef Ashley James that includes a caviar and tartare station until 3 p.m., with warm potato blinis made to order. Numerous food stations include offerings from the sea, roasted prime rib, baked ham and more, including holiday desserts like housemade doughnuts, cookies and gelato. A children's buffet is also available. $98/pp adults, $49/pp, children 12 and under. 11 a.m.-6 p.m. 300 South Doheny Dr., L.A., 310.860.4000. fourseasons.com
Tres by José Andrés
Dec. 25. Celebrate Christmas Day over a festive holiday brunch from 10 a.m.-3 p.m. $52/pp. Regular menus are also available all day long. 465 S La Cienega Blvd., L.A., 310.246.5551. sbe.com/tres‎
Chi Lin
Dec. 25. Dine on refined regional Chinese specialties, ranging from inventive noodle dishes, healthful salads and sides and special holiday offerings along with the regular menu. Opens at 5 p.m. 9201 Sunset Blvd, West Hollywood, 310.278.2068. innovativedining.com
Delphine Eatery + Bar
Starting Dec. 23. Dine on a Christmas-inspired menu from chef Sascha Lyon for the week of Christmas. Highlights include oysters with champagne cream and caviar, trout with butter braised lentils, filet Mignon and Pacific jumbo prawn and more. Last seating at 7:30 p.m. $65/pp. 6250 Hollywood Blvd, Hollywood, 323.798.1355. restaurantdelphine.com
Stefan's at LA Farm
Dec. 25. Dine on a special holiday tasting menu from Top Chef Stefan Richter in addition to the regular menu. Richter also offers a variety of seasonal cocktails. 3000 Olympic Blvd, Santa Monica, 310.449.4000. stefansrestaurants.com