Local Natives Perform 3 Concerts In Los Angeles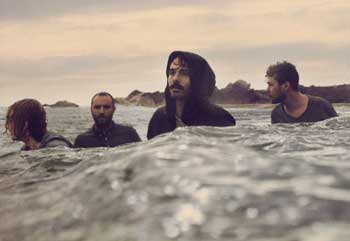 See Los Angeles band Local Natives perform at the Fonda Theater, El Rey Theatre and Amoeba Music in conjunction with the release of their new album Hummingbird.
By Christina Xenos
Los Angeles' own Local Natives play three live shows in conjunction with the release of their sophomore album, Hummingbird. See them perform Jan. 28 at The Fonda Theater, and Jan. 29, at the El Rey. Hummingbird officially drops Jan. 29 and prior to the El Rey show you can catch the band play a live set at Amoeba Music in Hollywood; while there, if you purchase of a new album you can attend a signing after their set.
Much has happened between the band's critically-acclaimed, "Best New Music" debut album, Gorilla Manor, and the imminent release of Hummingbird. From rave reviews to television performances, Gorilla Manor launched the band onto the global stage, saw them headlining theaters throughout America and Europe, opening for bands like Arcade Fire and The National, winning them lauded slots at major festivals around the world, and selling over 100,000 albums in the U.S. alone. Upon their return home from the road, the band built out a rehearsal space/studio in an abandoned bungalow in Silverlake, allowing them to try writing in different ways, and freeing them up to work extensively on tones and arrangements. This ultimately led to their experimenting with new instruments and sounds, bringing a broader musical palette to the table, and challenging them to grow from the comfort space of their established aesthetic.
The band says Hummingbird was created from the emotional framework of being stretched between two opposite poles. It has already earned praise for "Breakers" which Pitchfork named "Best New Track" upon its release.
They recently stopped by KCRW's Morning Becomes Eclectic for a special live session featuring new songs off Hummingbird, which you can watch here:

Find more info: thelocalnatives.com