Last Chance for Foie Gras in Los Angeles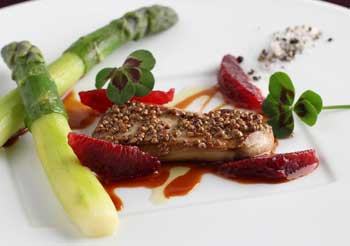 You have until July 1, to savor the unctuous delicacy of foie gras in California. Here are some Los Angeles restaurants to hit where you can enjoy your last bites of foie gras.
For its legions of passionate admirers, nothing in the food world is as seductive or decadent as foie gras—not beluga caviar, not blue fin tuna toro, not even black truffles. For many, foie gras is the most anticipated course of the evening, often the most memorable.
L.A. restaurants such as Petrossian (321 N Robertson Blvd., L.A., 310.271.0576) in West Hollywood, Animal (435 North Fairfax Ave., L.A., 323.782.225) on North Fairfax Avenue, Wilshire Restaurant (2454 Wilshire Blvd., Santa Monica, 310.586.1707), and The Royce (1401 South Oak Knoll Ave., Pasadena, 626.585.6410) and Haven Gastropub + Brewery (42 De Lacey Ave., Pasadena, 626.768.9555) in Pasadena are serving foie gras tasting menus to send off the beloved product in style. Chef Greg Daniels of Pasadena's Haven, a strong advocate for humane, ethical farming practices, usually serves his signature foie gras cheesecake for dessert.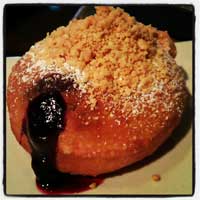 You can find other sweet renditions of foie gras at West Restaurant (170 North Church Lane, L.A., 310.481-7878) where Executive Chef Mathew Woolf serves of a PB&J foie gras parfait with peanut butter, strawberry jam and brioche. Stock up on foie gras donuts at Umamaicatessen (852 South Broadway, downtown, 213.413.8626) in downtown LA. A light donut shell is blasted full of berry jelly on one side and foie gras mousse—a decadent treat any time of day.
At n/naka (3455 Overland Ave., L.A., 310.836.6252), Chef Niki Nakayama offers a seven-course foie gras kaiseki menu, highlighting various cooking methods of foie gras. In each course Nakayama paires foie gras with Japanese flavors like miso, dashi, soy sauce, and fish such as unagi and tara (cod); there is even a sushi course, featuring foie gras sushi.
One of the most elaborate menus is showcased at Mélisse (1104 Wilshire Blvd., Santa Monica, 310.395.0881) in Santa Monica, where chef/owner Josiah Citrin offers six courses (following two amuse-bouches), containing more than a token amount of the soon-to-be contraband, together priced at $185. Citrin, despite his sadness over the prohibition, has plenty left in his arsenal, but states indignantly, "The real story is not banning foie gras, it's about taking away freedom; what will be next?"