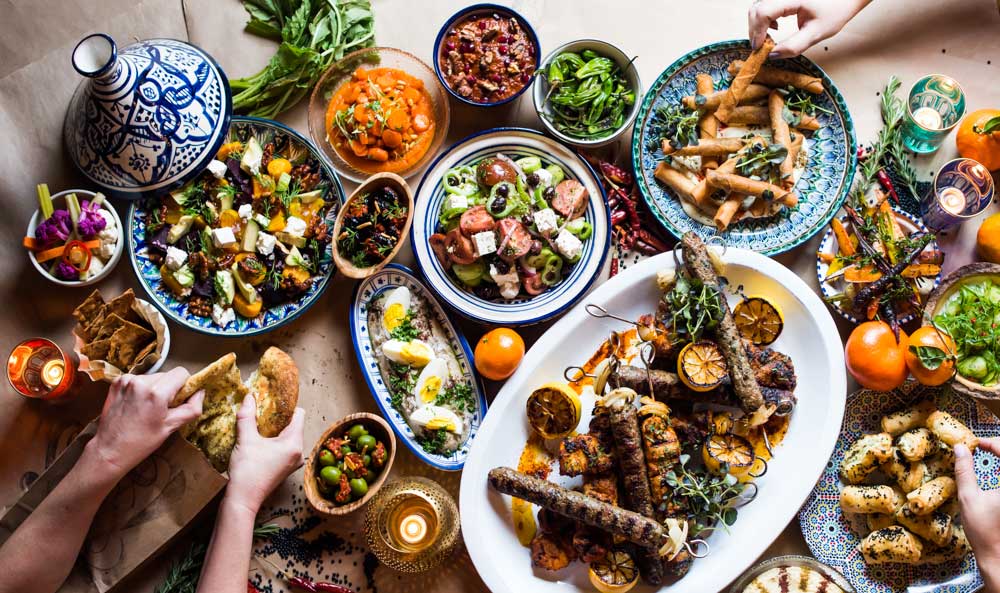 Entertainment, sports and cultural venues throughout LA are making great food part of the Los Angeles dining experience.
By Roger Grody, adapted from Entertaining Eat in the January 2016 issue of WHERE Los Angeles Magazine
The trend began at performing-arts centers and museums, and now the irresistible combination of food and entertainment has spread to botanical gardens, cultural centers and even sports arenas, where ordinary nachos simply don't cut it anymore. As LA continues to blossom as a creative capital, its diverse, compelling cuisine is appearing at unexpected venues, making any cultural experience all the more appetizing.
Maple at Descanso Gardens
Descanso Gardens, in La Cañada Flintridge, is one of LA's best-kept secrets. Its 160 acres of tranquil gardens are more rustic than the meticulously manicured grounds at the nearby Huntington Library, Art Collections, and Botanical Gardens.
For years, the only on-site dining at Descanso was a relatively conventional café, but Patina Restaurant Group—the organization maintains a presence at cultural centers throughout Southern California—has recently introduced Maple at Descanso Gardens.
A sprawling retreat on the northern edge of metropolitan LA, Descanso is home to North America's largest collection of camellias, an imposing oak forest and a serene Japanese garden, among other attractions. The new restaurant is housed in a comfortable Craftsman-style building previously used for classes and seminars. Weekend brunch is the main attraction; guests enjoy starters like radish-avocado toast or an heirloom beet tostada before moving on to main courses like executive chef Mark Salazar's signature take on eggs Benedict, fried chicken paired with beignets instead of waffles, or a cast-iron banana-nut muffin. The lodge-like ambiance, in the midst of such beautiful grounds, feels like summer camp for grown-ups.
1919, Freshwater Dumpling & Noodle House, The Rose Garden Tea Room
The Huntington, despite its international reputation and formidable endowment, never offered much in the way of food beyond a standard café and a traditional rose-garden tearoom. A new food-and-beverage concessions deal was recently struck with Bon Appétit Management Co., which brought in celebrity chefs Susan Feniger and Mary Sue Milliken (founders of Border Grill) along with longtime associate and Blue Window co-owner Kajsa Alger. The multivenue package was rolled out in November, delighting visitors to the impressive institution.
The former main café has been renamed 1919, transformed into a food-hall concept with several stations to explore, including one identified as Border Grill. Offering everything from pizzas to sushi rolls, the various menus could not be more diverse, extending far beyond Mexican-inspired specialties. In addition to citrus-chicken quesadillas, Peruvian mahimahi ceviche and habanero-apricot wings, available snacks include grilled octopus with watermelon relish, charcuterie and a teriyaki burger with wasabi aioli. Alger oversees the made-to-order sushi, prepared in accordance with the Monterey Bay Aquarium's strict sustainability guidelines.
Over at the Chinese Garden, Alger has created a menu at Freshwater Dumpling & Noodle House that includes hand-rolled scallion pancakes, Nepalese vegetarian dumplings, sticky rice with Chinese sausage and mushrooms wrapped in lotus leaves, and tek-tek noodles with stir-fried vegetables and peanut sauce. The setting, at a pagoda with ample terraces overlooking tranquil koi ponds, could hardly be more idyllic, enveloped by the splendor of the Huntington's 120 acres.
The Rose Garden Tea Room, surrounded by the 1,200-variety Rose Garden, is still available for a more traditional experience, and the fare includes everything one expects from high tea: crumpets and scones with Devonshire cream, fresh berries, finger sandwiches and pastries, as well as smoked salmon, salads and, for an added tariff, sparkling wine or blinis topped with caviar.
Cleo L.A. Live
For years, some of the best Mediterranean cuisine—centuries-old traditions from the Middle East and North Africa updated for a hip LA crowd—has been found at Hollywood's Cleo, tucked into an equally cool boutique hotel called the Redbury. After debuting in Las Vegas, Cleo continues to expand, taking over an 8,000-square-foot space at L.A. Live.
The new location features the same innovative cuisine from chef Danny Elmaleh, whose father founded a Moroccan restaurant in Japan. That cross-cultural pedigree gives you a feel for the innovative approach that is truly part of the chef's DNA. On the other hand, he is relatively restrained when it comes to classic dishes like muhammara, falafel and shawarma. They have a refined quality to them, but he does not alter their essence.
The latest Cleo has a sophisticated modern interior with subtle North African elements that suits the downtown location. Guests can load up on lamb sliders, Moroccan fried chicken with harissa aioli and duck bastilla—or choose from a large selection of tapas-size meze—before a Clippers game or visit to the Grammy Museum, a relatively undiscovered gem at L.A. Live.
Manuela
The Arts District is very possibly the most exciting neighborhood in all of downtown LA. It was only a few years ago that restaurants like Bestia and the Factory Kitchen made tentative moves into the Arts District, an area occupied by crumbling warehouses and factories. Today the momentum seems unstoppable. Massive projects like the 32-acre Row DTLA are bringing new shops, galleries and restaurants into an area Angelenos have avoided most of their lives. Art remains a priority, demonstrated by the arrival of Hauser Wirth & Schimmel, a gallery with outposts in Zurich, London and New York. The sprawling multidisciplinary art center occupies an old flour mill in the AD, and its interior was designed by noted New York-based museum architect Annabelle Selldorf. In addition to exhibition, education and research components, the 100,000-square-foot complex includes an intriguing dining opportunity, a restaurant called Manuela.
The vintage, art-filled space is composed largely of materials reclaimed from the 1930s mill or surrounding Arts District buildings, and the result is a homey, approachable vibe. Orchestrating the cuisine is chef Wes Whitsell, a native Texan who previously cooked at Gjelina, Blair's and Osteria la Buca. At Manuela, he offers a menu that combines Southern charm with European sophistication and a few Latin notes.
Diners might begin with smoked jalapeño-laced elk tartare, chickpea-squash soup or grilled lettuce salad before hooking into trout with almond-brown-butter sauce, or smoked chicken with dirty rice. Finales include cobblers and chocolate-banana bread pudding. Manuela is far more interesting than most museum restaurants, which is just what it might take to draw reluctant patrons into the AD to view fine art.
Terra Cotta
There have been a number of restaurants in the space next to the Wiltern, Koreatown's 1931 art deco landmark and one of LA's truly grand performance venues. Just opened there, with a name that pays tribute to the material composing the theater building's distinctive blue-green facade, is Terra Cotta. The dining room includes elements that mirror the vintage opulence of its neighbor, namely crystal chandeliers hanging from 20-foot ceilings, gilded detailing and Spanish-style tiles.
Executive chef Danny Ye, formerly of Nobu in New York, has created a menu that speaks to the neighborhood yet ventures far beyond it, with influences from around the globe. Starters include grilled octopus with kochujang-spiked romesco sauce, crispy tempura smelts and hamachi with jalapeño-tarragon emulsion; main dishes include salmon with yuzu kosho, shellfish pasta with uni-butter sauce, and filet mignon with a soy-mirin reduction and pomme puree. A seductively backlit bar dispenses creative cocktails that combine classic concepts with global inspirations.
B.S. Taqueria at Staples Center
Levy Restaurants, which contracts for food concessions at major-league sports venues around the nation, is pushing the envelope at Staples Center, recognizing that an LA crowd craves more than the ordinary hot dog. Since 2014, Levy's celebrity-chefs program has elevated the genre of sports grub and, most recently, brought in chef Ray Garcia (Broken Spanish) to open a branch of his B.S. Taqueria at Staples Center.
Garcia adds to the list of celebrity chefs at Staples, which includes Ludo Lefebvre (Trois Mec, Petit Trois, Trois Familia), who introduced his LudoBird gourmet fried chicken to the arena's Main Concourse, and Josiah Citrin (Mélisse, Charcoal), who applies his classic French sensibilities to the all-American hot dog at Dave's Doghouse. There is also a Blaze Pizza at Staples, helmed by executive chef Bradford Kent (Olio Wood Fired Pizzeria at Grand Central Market), for those who want to customize their own thin-crusted pizzas, cooked before them in an 800-degree oven. Suddenly, it appears, one does not have to eat poorly at the ball game, even in the cheap seats.