Weekend Roundup
Find the best Los Angeles things to do for the weekend of 12.16.11

EVENTS
Santa Monica Pub Crawl
Dec. 17. Dress in your favorite holiday kitsch and join one of the largest pub crawl events in the city–one that spans over 20 bars with multiple crawl routes in Santa Monica. Each bar offers food and drink specials to participants throughout the night. Crawlers must dress in Santa/Holiday attire so the streets of Santa Monica will be filled with merry cheer. The night commences with an official after party at Yankee Doodles. $10 gets you specials at participating bars, proceeds benefit the Westside Food Bank. www.santamonicapubcrawl.com

Charles Phoenix: Retro Holiday Slide Show
Dec. 18. With insightful commentary, clever wit and a keen eye for quirky detail, pop culture humorist Charles Phoenix comes to REDCAT bearing his unmatched collection of vintage slides—unforgettable documents of holidays past—as he roasts and toasts mid-century life and style. Phoenix's annual offering gives glory to holidays throughout the year, in one time-traveling journey. Experience politically incorrect New Year's Rose Parade floats, a bizarre Lamb Cake Contest on Easter Sunday, and an explosion of patriotic pride on the Fourth of July and more. 3 p.m., 7 p.m. $30. 631 West 2nd St., downtown, 213.237.2800. redcat.org
A Christmas Carol
Dec. 18. Skip the museum and head straight to Surfas to prepare a feast inspired by Charles Dickens. Learn about the history of the Christmas tree, holiday cards, and Christmas in the Victorian Era while preparing a feast just one week before Christmas. Menu may include, but is not limited to, Duchess Potatoes, Portobello Mushroom Stew, Glazed Carrots with Walnuts, Mincemeat Pie and Plum Pudding. ($85 includes recipes, ingredients and wine). www.artbites.net

Digital Darkroom
Dec. 17-May 28. Exhibition features the work of 17 artists from the United States, the United Kingdom and France. Exploring the intersection of art and technology, Digital Darkroom features fine and commercial artists including Jerry N. Uelsmann, Pierre Beteille, Maggie Taylor and more. Eighty prints are shown along with with hundreds more images on display in vivid detail in the Digital Gallery. The gallery also features a short film on image-making in the 21st century, complete with interviews and behind-the-scenes footage from select photographers. 2000 Avenue of the Stars, Century City, 310.209.4560. www.annenbergspaceforphotography.org

MUSIC + DANCE
Invisible Children Holiday Benefit
Dec. 15-16. Hear some of the best talent in alternative and indie rock at this two-night benefit for Invisible Children: a non-profit organization focused on ending child soldier exploitation in Central Africa. Pete Wentz and Alternative Press curate Dec. 15, which features Jon Foreman (Switchfoot), Matt Pryor (The Get Up Kids), Aaron Gillespie (The Almost) and more; while Alexandra Patsavas (Chop Shop Music) curates Dec. 16 that features such acts as the Mountain Goats, Eric D. Johnson (Fruit Bats) + Andy Cabic (Vetiver), Ivan & Alyosha and more. 6:30 p.m. Troubadour, 9081 Santa Monica Blvd., West Hollywood. www.troubadour.com

The Nutcracker
Dec. 17-18. Los Angeles Ballet's celebrated original production of The Nutcracker returns to Royce Hall for its sixth season. Follow Clara and her Nutcracker to the magical Land of Snow, and to the enchanted Palace of the Dolls where all of Clara's favorite companions come to life. Royce Hall, UCLA Campus, Westwood, 310.825.2101. uclalive.org

Upright Cabaret's Broadway Christmas
Dec. 20. Upright Cabaret transforms the intimate Catalina Jazz Club in Hollywood into a wonderland of song and holiday cheer as some of Broadway's brightest celebrate the 6th annual Upright Cabaret Broadway Christmas Revue. At the show, directed by Brent Crayon, hear some of Upright's finest performers put their spin on holiday classics. See performances by Tony Award-nominee Sam Harris (The Life, The Producers, Grease), Lesli Margherita (Zorro, the Musical), Jake Simpson (2x Star Search Grand Champion), Kelli Provart (Aida), Carla Renata (The Life, Avenue Q), Arielle Jacobs (In The Heights), Will Collyer (Big), Jim Holdridge (Life Could Be A Dream) and Kyle Dean Massey (Current "Fiyero" in Wicked at The Pantages) with Brandon Alameda, Christina Ballestero, Matthew Ballestero, Elizabeth Brackenbury, Erin Dowling, Sheila Karls, William Martinez, Karissa Noel, Caitlin O'Brient, Derek Scott Rocchini, Danielle Sadd and more. American Idol stars Diana DeGarmo (Hairspray, Hair, 9 to 5) and Ace Young (Hair, Grease) are set to guest host for both shows. Click here to read an interview with Diana DeGarmo. Two shows: 8 p.m. and 10 p.m., Catalina Jazz Club, 6725 West Sunset Blvd., Hollywood. www.UprightCabaret.com

Music Center's Holiday Sing-Along
Dec. 16. Celebrate the magic of the season with a sing along to holiday favorites amidst the cool wintry skies and festive twinkling lights of the Music Center Plaza. Find live musical accompaniment, and lyric sheets are provided. No experience necessary, just arrive prepared to sing. 6:30 – 8 p.m. Event is free, but tickets are required and distributed onsite beginning at 6 p.m. while supplies last. One ticket per person to those waiting in line. Music Center Plaza, 135 North Grand Ave., downtown, 213.972.3660. www.musicenter.org

Holiday Organ Spectacular
Dec. 16. Organist David Higgs and soprano Shana Blake Hill perform holiday favorites with the accompaniment of the majestic Walt Disney Concert Hall organ. The beauty of the organ is showcased in a wide-ranging and invigorating program of devotional and festive holiday music. 8 p.m. Walt Disney Concert Hall, 111 South Grand Ave., downtown, 323.850.2000. www.laphil.com

EAT | DRINK
Haven Gastropub + Brewery
Opens Dec. 15. Savor fresh takes on classic European cuisine with a modern American twist (Hiramasa crudo, duck prosciutto flatbread, pumpkin gnocchi…) at Haven, Pasadena's newest gastropub. The on-site brewery produces Haven's uniquely crafted beers, featuring year-round brews and small-batch seasonal offerings in a rotating selection of five varieties, such as Imperial Stout, Bavarian-Style Hefeweizen, and IPA. 11-2 a.m. daily. 42 De Lacey Ave., Pasadena, 626.768.9555. www.havengastropub.com

Happy Hours at Mezze
Whether you start out early or want to wind down late night with a bite and brew, Mezze offers a large selection of the beer, wine and crafted cocktails half off. Chef Micah Wexler also offers his new bar menu that features Eastern Mediterranean bites like Egyptian rebel fries, braised Moroccan chicken wings, Brussles sprouts with soft boiled egg and soujouk, and many more. Daily 6-7:30 p.m.; Fri.-Sat. 11 p.m.-1 a.m. Mezze, 401 N. La Cienega Blvd., L.A., 310.657.4103. www.mezzela.com

Late Night Social Hour at Osaka
Grab a seat at the expansive main bar in Hollywood's newest Peruvian- Asian restaurant, and receive half off all food and drinks. Enjoy selection of ceviches for $8, sushi rolls for $4-$8, Osaka wok rice and vegetables for $6 and specialty pisco cocktails for $6. Osaka, 6327 Hollywood Blvd., Hollywood, 323.785.0360. www.osaka.com.pe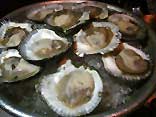 Champagne and Oysters at Public Kitchen & Bar
Dec. 1-31. Celebrate the holidays over a wide selection of champagne and oysters at Public Kitchen & Bar at the Hollywood Roosevelt Hotel. Nosh on a nightly menu of Belon, Coromandel, Fanny Bay, Hood Canal, Kumamoto, Malpeque, Phantom Creek, Raspberry Point, Well Fleet, Salt Pond, and Kusshi oysters for $14 for a half dozen, $20 for nine oysters, or $28 for a dozen. Sip a selection of top tier champagne and sparkling wine ranging from from $10 to $29 per glass, or $35 to $140 per bottle; varieties include Bollinger "Special Cuvée" Brut NV, Milan Brut "Cuvée Millenaire" NV, Chartogne-Taillet Brut "Cuvée St. Anne" NV, and more. Public Kitchen & Bar, Hollywood Roosevelt Hotel, 7000 Hollywood Blvd., Hollywood, 323.769.8888. More Info.

BREAKFAST WITH SANTA
Patina at the Music Center
Dec. 17-18. Children can get in the holiday spirit by spending time with Santa while sipping warm apple cider and engaging in a variety of activities at this event. Breakfast features an extensive buffet that includes items such as winter waldorf salad—a specialty dish—with toasted walnuts, red flame grapes, and herb aïoli, and a "build your own buttermilk pancakes" station with toppings including blueberries, strawberries, bananas, chocolate chips, whipped butter, and warm Vermont maple syrup. The entrée finale is a hand-carved Nueske's apple wood smoked honey glazed ham. The dessert station offers a holiday candy bar. Adults can also enjoy a complimentary mimosa or Champagne, among other adult beverages. 9:30 a.m., noon seatings. Music Center, 135 N. Grand Ave., downtown, 213.972.7565. www.patinagroup.com/musiccenter

Terranea Resort
Dec. 17. Parents and their little ones can enjoy all the fruits of the season with a festive breakfast with Santa buffet. Get into the holiday spirit with a visit santa, festive music and crafts with Terranea's magical elves. Sip whipped cream-topped hot cocoa from the "Red Nose Fueling Station," customize an omelet with an assortment of fillings in "Mrs. Claus' Little Egg Kitchen," or frost cupcakes and gingerbread men in "Little Elf's Christmas Decorating Corner." 9:30 a.m. and 11 a.m. seatings. Call for reservations. Terranea Resort, 100 Terranea Way, Rancho Palos Verdes, 310.265.2836. terranea.com

HOLIDAY
Malibu Country Mart Winter Wonderland
Dec. 17. Kick off the holiday season this weekend steps from the beach at the Malibu Country Mart, which features photos with Santa (noon-3 p.m.), strolling carolers and a visit from Santa and his reindeer (noon-4 p.m.). Malibu County Mart, 3835 Cross Creek Rd., Malibu, 310.456.7300. www.malibucountrymart.com

Chill at W Hotel Los Angeles
Through Jan. 1. Hit the pool deck at the W Hotel Los Angeles Hotel and find it transformed into a winter wonderland complete with skating rink, cocktails from its Ice Bar, comfort food, specially outfitted cabanas and more, including children's activities. W Hotel Los Angeles, 930 Hilgard Ave, Westwood, 310.208.8765. www.wlosangeles.com/chill

LA Downtown On Ice
Through Jan. 16. Skate on LA's largest outdoor ice skating rink under the sun and stars at festive Pershing Square downtown. Info + detailed session schedule www.laparks.org. Pershing Square, 532 South Olive St., downtown, 213.847.4970.

Ice at Santa Monica
Through Jan. 16. The mild seaside temperatures in Santa Monica don't prohibit one of the season's coolest cold-weather pasttimes. Downtown Santa Monica adds an 8,000-square-foot outdoor ice-skating rink to the corner of 5th Street and Arizona Avenue—for "a little taste of winter without the bite." M–Th 2–10 pm, F 2 pm–midnight, Sa 10 am–midnight, Su 10 am–10 pm. Admission, skate rental $12. 1324 5th St., Santa Monica, 805.701.7248. iceatsantamonica.com

THEATER
Fela!
Dec. 13-Jan 22. Legendary Nigerian Fela Kuti was a musical dynamo and a political powder keg who used his supercharged and sexy Afrobeat sound and charismatic spirit to ignite and inspire a generation to dare challenge a government of oppression. FELA! is both rave and theatrical wonder. Thanks to Fela's captivating music and the visionary direction and choreography of Tony Award® winner Bill T. Jones, this tale of courage, passion and love will shake you: body and soul. Ahmanson Theatre, 135 N. Grand Ave., downtown, 213.628.2772.

Jane Austen Unscripted
Through Dec. 18. They look like Jane Austen characters, dress like them — even talk like them, but these improv experts are likely to ad-lib scenes that would make modest Jane blush. Comedy buffs will love the troupe's spontaneity — the show changes nightly — and local Austen- heads can choose to arrive in costume, joining the cast for tea after the show. Impro Theatre, The Broad Stage, 310.434.3200. thebroadstage.com

Wicked
Through Jan 29. Back by popular demand! L.A.'s favorite musical flies back to the Pantages this holiday season after a record-breaking two-year run. Called "A phenomenon that keeps growing" by The Los Angeles Times and "Broadway's biggest blockbuster" by The New York Times, "Wicked" is the untold story of the witches of Oz and how they became known as the Wicked Witch of the West and Glinda the Good. Pantages Theatre, 6233 Hollywood Blvd., L.A., 323.468.1770. www.broadwayla.org

The Night Watcher
Through Dec. 18. Tony Award nominee Charlayne Woodard's one-woman show tackles the subject of motherhood. A surprise call from Alfre Woodard with a last-minute adoption opportunity sends this self-described "blue collar actor" into a hilarious litany on the joys of second-hand parenthood. Kirk Douglas Theatre, 9820 Washington Blvd., Culver City, 213.628.2772.

Vigil
Through Dec. 18. A man travels across the country to visit his estranged and dying aunt Grace (Olympia Dukakis), but he finds she's not dying as quickly as he expected. Mark Taper Forum, 135 N. Grand Ave., downtown, 213.628.2772.