Weekend Roundup
Find the best Los Angeles things to do for the weekend of 12.09.11

EVENTS
Aimee Mann Christmas Show
Dec. 10. Singer-songwriter Aimee Mann is better known for her melancholy tunes, but she's filled with (partial) cheer at least once a year. Her sixth annual Aimee Mann Christmas Show is a variety show with a supporting cast of musicians, comedians and other special guests such as Michael Penn, Paul F. Thompkins, Tim Heidecker, Nellie McKay and Andy Daly. Mann performs a variety of songs from her repertoire, including the new tune "Charmer" from her forthcoming album, but is sure to pull material from her untraditional 2006 Christmas album, One More Drifter in the Snow. The Wiltern, 3790 Wilshire Blvd., L.A. www.aimeemann.com/christmas

Garfunkel & Oates' Ho, Ho, Hoes? Holiday Show
Dec. 9. Check out this dynamic duo of very intelligent, irreverent and hilarious singer songwriters as they bring their holiday cheer to Largo's intimate stage. The gals will be joined by special guests to spice up the evening. $25. Largo, 366 North La Cienega Blvd., L.A., 310.855.0350. www.largo-la.com

Eat My Blog
Dec. 10. Indulge in a yuletide explosion of holiday treats baked by more than 50 local bloggers and restaurants such as MB Post, Shortcake and Rivera. From Coconut Milk Tres Leche Cakes from Echo Park's Xoia, to Dulce De Leche Rice Krispies Treats from Kate Wheeler of "Savour Fare" to Oreo-Stuffed Chocolate Chip Cookies from Esi Impraim of "Dishing Up Delights," Eat My Blog has something for every sweet tooth. Proceeds support the LA Regional Food Bank. 10 a.m.-4 p.m. Pita Jungle, 43 East Colorado Blvd., Pasadena, 626.432.7482. eatmyblogla.wordpress.com

Griffith Observatory Total Lunar Eclipse Viewing
Dec. 10. Early Saturday morning as the moon passes into the shadow cast by the Earth, you can see the lunar eclipse through the eye of one of Griffith Observatory's telescopes. At the rare viewing event, observe the moon at its various stages of eclipse and listen to commentary by Griffith Observatory staff members. 4:30 a.m.-7 a.m. Griffith Observatory, 2800 E. Observatory Rd., Griffith Park. www.griffithobservatory.org

Let Us Eat Cake!
Dec. 11. Explore the history of sugar and desserts while touring LACMA's collection of Latin American, French, English and Italian paintings and decorative arts. After the tour, meet at the Surfas Test Kitchen to bake decadent pastries just in time for the holidays. Desserts may include Bûche de Noël, Gingerbread Baby Cakes, Fresh Berry Galette, Maple & Pear Upside Down Cake and Chocolate Peppermint Bark. Cheese will be served to lessen the sugar high. $100 (includes museum admission, tour, recipes, ingredients and wine). noon- 4 p.m. www.artbites.net

MUSIC
The Hollywood Sound
Dec. 8–11. The Los Angeles Philharmonic joins Pacific Standard Time with an exploration of L.A.'s contributions to film scores, featuring music by famed composers including Erich Wolfgang Korngold, Bernard Herrmann, Alex North, Elmer Bernstein, Jerry Goldsmith and John Williams. Their memorable scores are performed by the Phil with cellist Zuill Bailey and conducted by Thomas Wilkins. On the program are such compositions as North's "A Streetcar Named Desire Suite," Goldsmith's "Planet of the Apes: The Hunt" and "Chinatown Suite," Herrmann's "North by Northwest Overture" and Williams' "Close Encounters of the Third Kind Suite." Walt Disney Concert Hall, 151 S. Grand Ave., downtown, 213.972.4399. laphil.com

Straight No Chaser Holiday Show
Dec. 9. Straight No Chaser is reinventing the idea of a capella in the modern pop music scene. Formed over a dozen years ago while students together at Indiana University, the group has reassembled and reemerged as a phenomenon with a massive fan base, more than 20 million views on YouTube, numerous national TV appearances, and proven success with two holiday releases, as well as With A Twist, their newest recording. The Wiltern, 3790 Wilshire Blvd., L.A. www.sncmusic.com/shows

Le Salon de Musiques
Dec. 11. Concert feature pieces by Spanish composers Granados, De Falla, Mompou and Albeniz as well as Mozart's Violin Sonata KV 304 In E Minor and C. Franck's Violin Sonata with Phillip Levy on Violin and Francois Chouchan on Piano. This performance is accompanied by Cava (Spanish sparkling wine), food by Patina and informal conversation introduced by musicologist Julius Reder Carlson. $65/$45 students. 4-6 p.m. Dorothy Chandler Pavilion, 135 N. Grand Ave., downtown, 310.498.0257. www.lesalondemusiques.com

HOLIDAY
Malibu Country Mart Winter Wonderland
Dec. 10. Kick off the holiday season this weekend steps from the beach at the Malibu Country Mart, which features photos with Santa (noon-3 p.m.), strolling carolers and stocking and dreidel decorating party (1-3 p.m.). Malibu County Mart, 3835 Cross Creek Rd., Malibu, 310.456.7300. www.malibucountrymart.com

Chill at W Hotel Los Angeles
Through Jan. 1. Hit the pool deck at the W Hotel Los Angeles Hotel and find it transformed into a winter wonderland complete with skating rink, cocktails from its Ice Bar, comfort food, specially outfitted cabanas and more, including children's activities. W Hotel Los Angeles, 930 Hilgard Ave, Westwood, 310.208.8765. www.wlosangeles.com/chill

LA Downtown On Ice
Through Jan. 16. Skate on LA's largest outdoor ice skating rink under the sun and stars at festive Pershing Square downtown. Info + detailed session schedule www.laparks.org. Pershing Square, 532 South Olive St., downtown, 213.847.4970.

Ice at Santa Monica
Through Jan. 16. The mild seaside temperatures in Santa Monica don't prohibit one of the season's coolest cold-weather pasttimes. Downtown Santa Monica adds an 8,000-square-foot outdoor ice-skating rink to the corner of 5th Street and Arizona Avenue—for "a little taste of winter without the bite." M–Th 2–10 pm, F 2 pm–midnight, Sa 10 am–midnight, Su 10 am–10 pm. Admission, skate rental $12. 1324 5th St., Santa Monica, 805.701.7248. iceatsantamonica.com
EAT | DRINK
Artisan House
New restaurant, bar, deli and market opens on the ground floor of L.A.'s historic Pacific Electric Building. Dine on California-Mediterranean fare from Executive Chef Jason Ryczek (One Sunset, Boa), which includes a cheese & charcuterie trolley, Artisan House fresh herbs salad made with offerings from the restaurant's rooftop garden, with kumquats, shallots, and candied pecans and whole seasonal fish filleted table-side. Don't miss cocktail offerings from Elden McFeron III, or DJs spinning tunes from Thursday nights through the weekend. Lunch, dinner daily; brunch weekends. 600 South Main St., downtown, 213.622.6333. www.artisanhouse.net

Late Night Social Hour at Osaka
Grab a seat at the expansive main bar in Hollywood's newest Peruvian- Asian restaurant, and receive half off all food and drinks. Enjoy selection of ceviches for $8, sushi rolls for $4-$8, Osaka wok rice and vegetables for $6 and specialty pisco cocktails for $6. Osaka, 6327 Hollywood Blvd., Hollywood, 323.785.0360. www.osaka.com.pe

White Truffles at Locanda del Lago
Executive Chef Gianfranco Minuz whips up mouthwatering offerings from a batch of Italian white truffles that just landed yesterday. Feast on Prosciutto d'Agnello: Housemade Lamb Prosciutto with Green Tea-Honey Reduction, Roasted Beets and Shaved White Truffle; Risotto al Tartufo Bianco: Parmesan Risotto with Freshly Shaved White Truffle; and Tagliatelle al Mascarpone con Tartufo Bianco: Housemade Egg Tagliatelle in Creamy Mascarpone-Parmesan Sauce with Fresh White Truffle Shavings. Each dish is $65, limited quantities are available and will be offered until gone. Locanda del Lago, 231 Arizona Ave., Santa Monica, 310.451.3525. www.lagosantamonica.com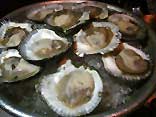 Champagne and Oysters at Public Kitchen & Bar
Dec. 1-31. Celebrate the holidays over a wide selection of champagne and oysters at Public Kitchen & Bar at the Hollywood Roosevelt Hotel. Nosh on a nightly menu of Belon, Coromandel, Fanny Bay, Hood Canal, Kumamoto, Malpeque, Phantom Creek, Raspberry Point, Well Fleet, Salt Pond, and Kusshi oysters for $14 for a half dozen, $20 for nine oysters, or $28 for a dozen. Sip a selection of top tier champagne and sparkling wine ranging from from $10 to $29 per glass, or $35 to $140 per bottle; varieties include Bollinger "Special Cuvée" Brut NV, Milan Brut "Cuvée Millenaire" NV, Chartogne-Taillet Brut "Cuvée St. Anne" NV, and more. Public Kitchen & Bar, Hollywood Roosevelt Hotel, 7000 Hollywood Blvd., Hollywood, 323.769.8888. More Info.

THEATER
Jane Austen Unscripted
Through Dec. 18. They look like Jane Austen characters, dress like them — even talk like them, but these improv experts are likely to ad-lib scenes that would make modest Jane blush. Comedy buffs will love the troupe's spontaneity — the show changes nightly — and local Austen- heads can choose to arrive in costume, joining the cast for tea after the show. Impro Theatre, The Broad Stage, 310.434.3200. thebroadstage.com

Fela!
Dec. 13-Jan 22. Legendary Nigerian Fela Kuti was a musical dynamo and a political powder keg who used his supercharged and sexy Afrobeat sound and charismatic spirit to ignite and inspire a generation to dare challenge a government of oppression. FELA! is both rave and theatrical wonder. Thanks to Fela's captivating music and the visionary direction and choreography of Tony Award® winner Bill T. Jones, this tale of courage, passion and love will shake you: body and soul. Ahmanson Theatre, 135 N. Grand Ave., downtown, 213.628.2772.

It's a Wonderful Life!
Dec. 10. Four-time Academy Award nominee Annette Bening, along with three-time Emmy Award winner Bryan Cranston, acclaimed stage and screen actress Glenne Headly and Drop Dead Diva's Josh Stamberg, will appear at the Geffen Playhouse for a special one-day-only reading of It's a Wonderful Life. This adaption of It's a Wonderful Lifecaptures the heartwarming holiday spirit of the classic film with the nostalgia of a live radio play. Joining the familiar characters is a sound effects artist who will be using a time-honored bag of tricks to create the world of the play. 3 p.m., 8 p.m. Geffen Playhouse, 10886 Le Conte Ave., Westwood, 310.208.5454.

Wicked
Through Jan 29. Back by popular demand! L.A.'s favorite musical flies back to the Pantages this holiday season after a record-breaking two-year run. Called "A phenomenon that keeps growing" by The Los Angeles Times and "Broadway's biggest blockbuster" by The New York Times, "Wicked" is the untold story of the witches of Oz and how they became known as the Wicked Witch of the West and Glinda the Good. Pantages Theatre, 6233 Hollywood Blvd., L.A., 323.468.1770. www.broadwayla.org

Bring It On—The Musical
Through Dec. 10. An esteemed team of Tony Award winners backs the musical comedy loosely based on the 2000 teen film starring Kiersten Dunst about rival cheerleading squads competing for glory. Ahmanson Theatre, 135 N. Grand Ave., downtown, 213.628.2772.

Radiance: The Passion of Marie Curie
Through Dec. 11. This world premiere play, written by acclaimed actor and writer Alan Alda and Tony Award winner Daniel Sullivan, analyzes the groundbreaking Curie. A two-time Nobel Prize winner in multiple sciences whose record is still unmatched, Curie is portrayed as a woman with a passion for science as well as love. The Geffen Playhouse in Westwood presents this winning experiment. Geffen Playhouse, 10886 Le Conte Ave., Westwood, 310.208.5454. GeffenPlayhouse.com

Vigil
Through Dec. 18. A man travels across the country to visit his estranged and dying aunt Grace (Olympia Dukakis), but he finds she's not dying as quickly as he expected. Mark Taper Forum, 135 N. Grand Ave., downtown, 213.628.2772.

The Night Watcher
Through Dec. 18. Tony Award nominee Charlayne Woodard's one-woman show tackles the subject of motherhood. A surprise call from Alfre Woodard with a last-minute adoption opportunity sends this self-described "blue collar actor" into a hilarious litany on the joys of second-hand parenthood. Kirk Douglas Theatre, 9820 Washington Blvd., Culver City, 213.628.2772.