The Los Angeles Philharmonic presents concerts for first responders, announces summer season.
By Sherry Stern
Gustavo Dudamel's first words are straightforward: "Welcome to the Hollywood Bowl."
The response to the beloved music director of the Los Angeles Philharmonic is anything but. The joyous audience applauds and hollers. More than a few tears are shed.
After 18 months of dormancy, L.A.'s landmark venue is roaring back, beginning with five free programs for first responders and others who have worked hardest during the COVID-19 pandemic.
"To see this place filled with people, with you, it feels like a resurrection," Dudamel says to a spaced-apart audience seated from the front boxes to the last benches.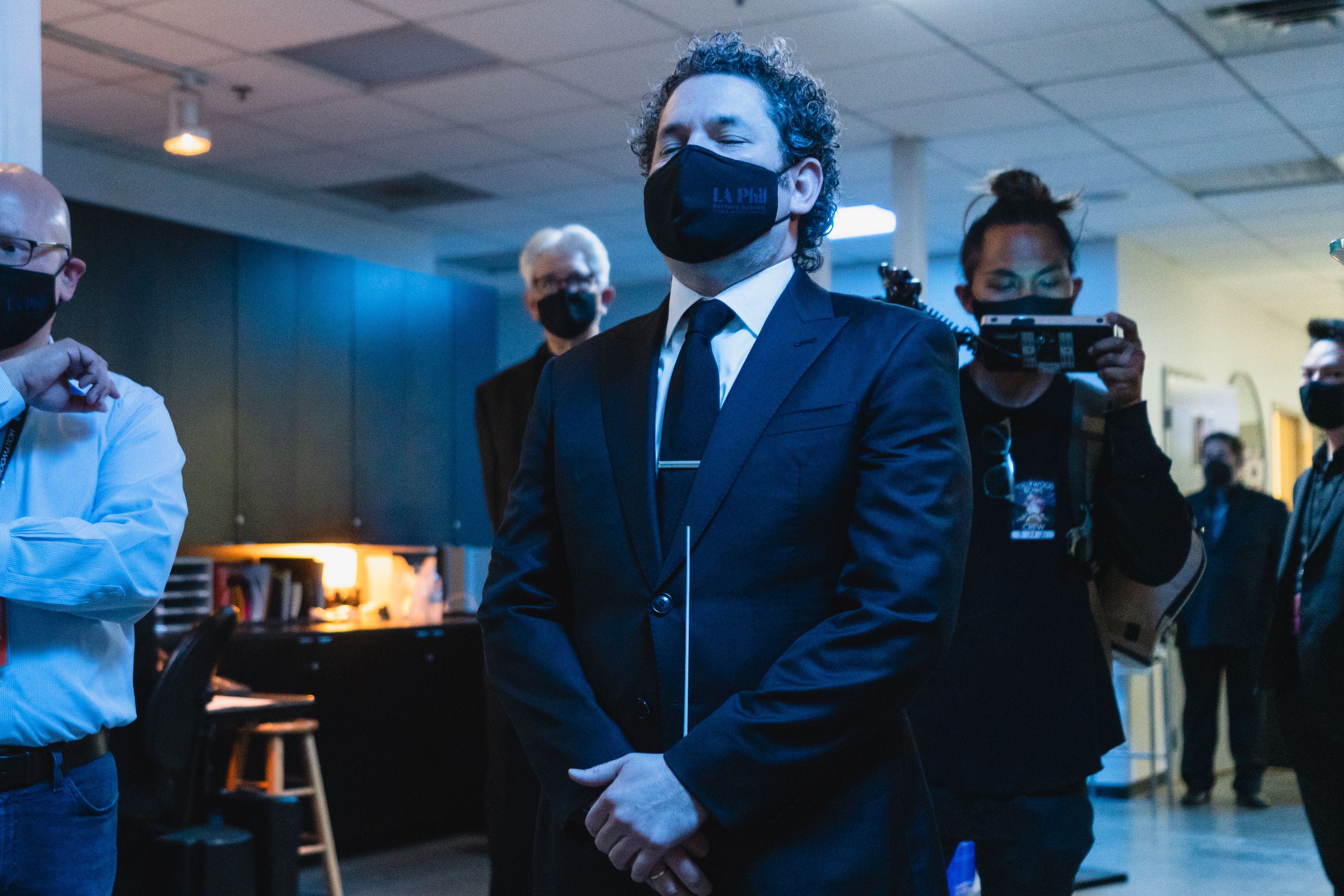 Narrating video images of 2020, the conductor pays tribute: ''The past year was one of tremendous loss, but also one of tremendous heroism. The Hollywood Bowl is back because of you, the frontline and essential workers who have given so much to keep our community safe."
With these initial concerts the L.A. Phil and the Hollywood Bowl are showing gratitude and also figuring out how 2021 will work. At this point, most of the musicians wear masks, except woodwind and brass players, who use their mouths. Starting with these spring concerts and going forward, audience members must show tickets on smart phones and can use QR codes to pre-order food. 
When concerts begin July 3-4 with Kool & the Gang and celebratory fireworks, the Bowl will be filled to a maximum 67% capacity. The majority of those seats will be available strictly to fully vaccinated patrons. Two sections are set aside for people who are not vaccinated; they must show proof of negative COVID-19 tests.
Season subscriptions and Kool & the Gang are already on sale. Single concert tickets go on sale June 1. Seating could be expanded as county regulations modulate.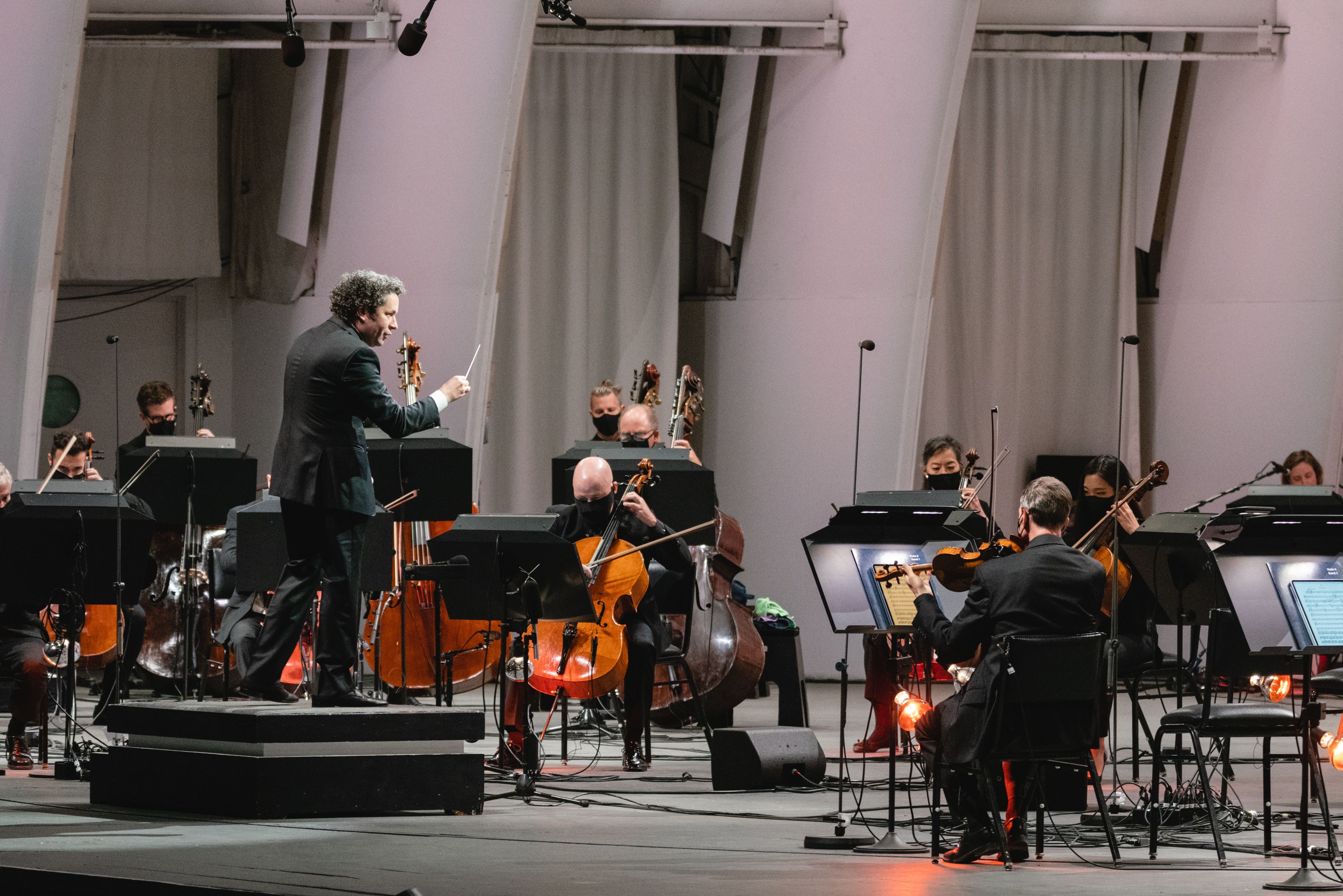 The L.A. Phil kicks off the season July 15 with a performance of Peter and the Wolf narrated by Viola Davis and conducted by Dudamel. On July 16, Christina Aguilera performs with the L.A. Phil and Dudamel. Concerts continue through September. Even in this COVID-shortened season expect the Bowl's traditional mix of musical genres and inventive programming. 
Highlights among classical performances include the Tchaikovsky Spectacular with fireworks and USC Trojan Marching Band Aug. 6-7; Dudamel Conducts Gershwin Aug. 10; Yo-Yo Ma: The Bach Project Sept. 14, and Mozart Under the Stars with Dudamel" Sept. 28. Events inspired by films include The Princess Bride in concert July 31; the Sound of Music sing-a-long Aug. 21; Black Panther in concert Sept. 10-12; and John Williams conducts the L.A. Phil Sept. 3-5.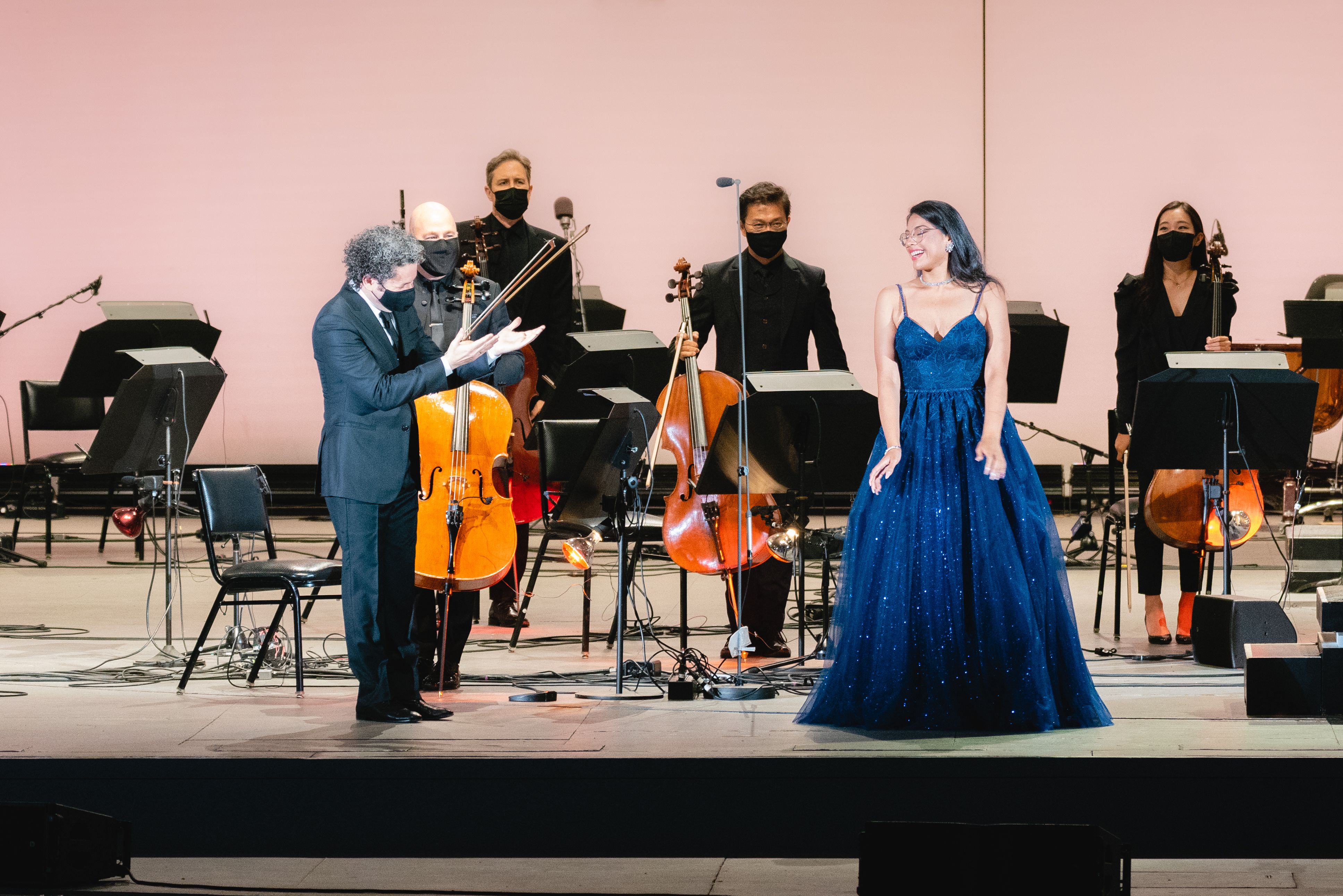 Among concerts featuring vocalists are Cynthia Erivo with the L.A. Phil and conductor Thomas Wilkins July 30; H.E.R. with the L.A. Phil and Dudamel Aug. 13; and Carlos Vives with the L.A. Phil and Dudamel Aug. 27-28. World music events include Reggae Night XIX featuring Ziggy Marley Aug. 1 and Blame it on Rio! with Sergio Mendes Aug. 15. On the jazz calendar are Dave Koz & Friends Aug. 8 and Herbie Hancock Sept. 26.
A year ago, no one imagined what was to come. Now, as Dudamel tells his audience, "It's a miracle to be here."
Full schedule and tickets at hollywoodbowl.com. Photos courtesy L.A. Phil