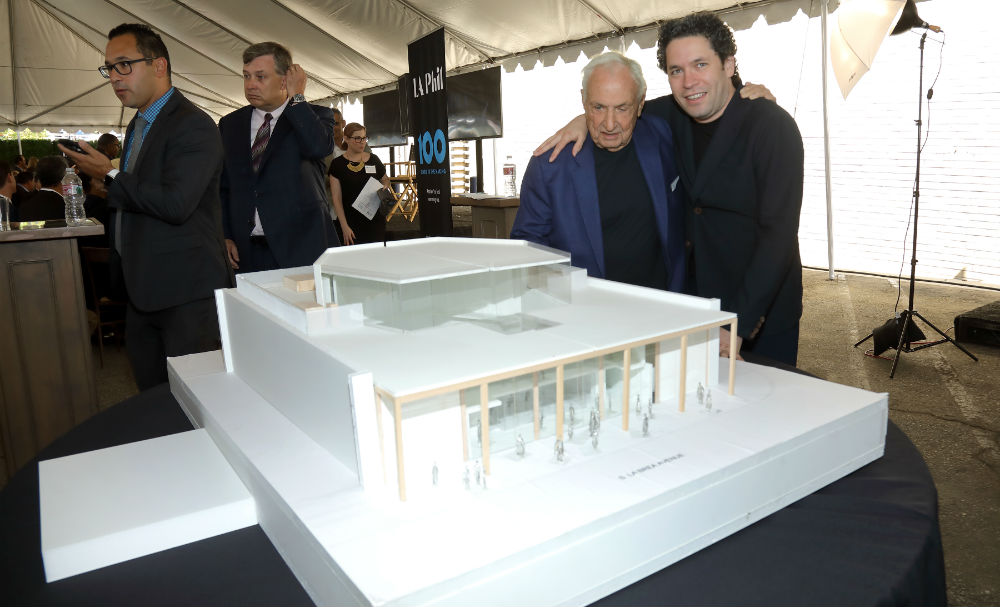 By Libby Slate.
When Daemon Williams first began playing clarinet in the L.A. Phil's YOLA (Youth Orchestra Los Angeles) after-school program, he was an 11-year-old sixth grader with this mindset: "I'm being forced to practice and go to class. It's not my choice. How is this going to help me in my future? Where is this going to take me?"
Today, Williams is a 19-year-old sophomore at UCLA, where he's learning new fingerings and different phrasings on the clarinet. He wants to be a recording artist and possibly a music producer, and is even envisioning a job someday in the L.A. Phil's education department. And YOLA, with which he played for seven years before graduating high school, has taken him to perform in London and Washington, D.C., and on a five-city tour of California.
"I would never have known what would happen," says Williams, who has also mentored YOLA students. "At some point I realized, 'This is good.' Around my sophomore year in high school, when I moved up to the highest orchestra, it brought me more opportunities. It opened up a door in my brain: You should continue this."
"Opportunity" is a watchword of YOLA, which was inspired by Gustavo Dudamel even before he officially became L.A. Phil music and artistic director; Dudamel came up through the similar El Sistema program in his homeland of Venezuela and wanted that type of program here.
YOLA provides free musical instruments and instruction to students who would otherwise have limited access to such benefits. The after-school program began in 2007 with 80 students at the EXPO Center in South Los Angeles, a partnership with the Harmony Project and the City of Los Angeles Department of Recreation and Parks, and has since expanded to three more sites and almost 1,000 students; the newest site's program, instituted last year in the Westlake/MacArthur Park area of Los Angeles, is the first to include in-school instruction as well.
The YOLA at EXPO Center orchestra joined Dudamel at the Hollywood Bowl in October 2009 for his inaugural concert as L.A. Phil music and artistic director; YOLA students from the various sites have since played at the Bowl and Walt Disney Concert Hall downtown. Ninety percent of YOLA graduates attend college; half play in collegiate or local orchestras.
"YOLA is life-changing for our students and their families," says Elsje Kibler-Vermaas, L.A. Phil acting director of education initiatives. "It creates a network of learning. Students are hungry for music, and they're hungry to be connected. We're seeing that [they view] YOLA as a home away from home. We have built that trust with the community and with the families."
Agrees Williams, "It's created a family and brings us together in an environment most of us would never have discovered. And it's taught me many skills. Leadership—as a mentor, I'm able to offer advice. I want to be able to pass on my knowledge. And communication skills."
There's confidence, too, bred of performing in public and, for some, travel. In London in May, 10 other YOLA students chosen through auditions and interviews performed with British students and led sessions at the Barbican Centre's Future Play Symposium. Together, they also created the book Tuning Into Change: A Youth Manifesto for the Arts, which explores how artists can effect change in society.
One London participant was Madison Centeno, a 17-year-old 12th-grade oboist who has played for eight years through YOLA at HOLA (Heart of Los Angeles) in L.A.'s Rampart district. "London was amazing! I felt like, 'I'm a professional. I'm performing with Gustavo Dudamel,'" she recalls.
Pre-London, "we had meetings in Los Angeles to discuss 'What do we want to change? What does music mean to us? How can we change the community through music, make people listen to us and have a voice?' " says Centeno, whose younger sister and brother are also YOLA students.
Once overseas, she continues, "we met up with English and Scottish students and put it into the manifesto. I would like to travel the world and change people's lives with my playing."
YOLA has expanded its core program to offer a Leadership Development curriculum, which provides leadership training, the aforementioned mentoring and college prep workshops.
In 2012, it further expanded with Take a Stand, a partnership with Bard College in New York and its school of music to connect like-minded educators nationwide. In July, the National Take a Stand Festival culminated with a Dudamel-directed concert at Walt Disney Concert Hall by students from YOLA/El Sistema-inspired programs throughout the country.
Future plans call for further expansion. In August, the L.A. Phil unveiled architect Frank Gehry and Gehry Partners' model for the new Judith and Thomas L. Beckmen YOLA Center @ Inglewood, which converts a former bank branch into a 25,000-square-foot facility.
Elements include a performance space, rehearsal rooms, practice studios and rooms—some with recording equipment—and a music library. The center opens in about 18 months.
"This is a dream come true," Dudamel said at the event. "Classical music is sometimes very far from the community. [Here] the concept is that small groups of people will have access to classical music, and the arts in general. Arts education is a right."
As for dreams come true, Centeno describes performing at the Hollywood Bowl: "There are so many people watching you. It's so exciting to see them all. And after we perform, it's the best feeling. The audience clapping made me feel really proud."
Photo courtesy L.A. Phil.