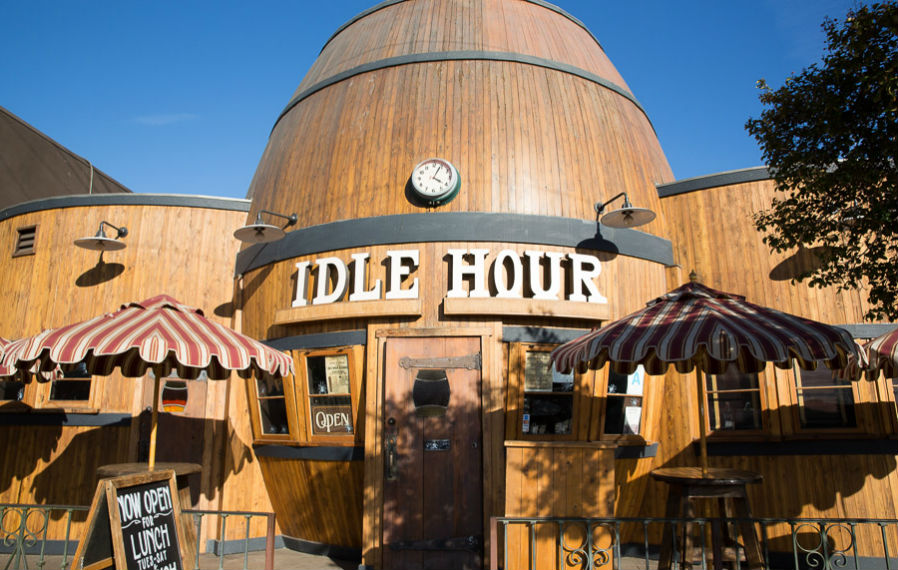 Giant doughnuts? Burgers that eat entire cities? Los Angeles' distinctive landscape is full of buildings you just can't miss.
By Andrea Richards.
Anyone who has spent more than five minutes in Los Angeles remarks on the wild preponderance of architectural styles—from quaint Arts and Crafts bungalows and masterworks of midcentury modernism to apartment buildings based on Moorish castles and the ubiquitous Spanish Colonial Revival strip malls. It's a city whose buildings are as diverse as its inhabitants. And, as most everything about Los Angeles does, some of the city's quirkiest examples of architecture have inspired a love-or-hate response. For some, Randy's Donuts' massive-doughnut-topped drive-thru is something to praise—for others, it's an object of ridicule.
No person has done more to raise the profile of the city's most outlandish buildings than Jim Heimann, a writer, cultural historian and collector whose book California Crazy first documented "programmatic architecture"—the giant doughnuts, shoes, fruits, barrels and bulldogs that once dotted the roadside of Southern California, capturing the attention of passersby and letting them know by the very shape of the building what was offered inside. "'Programmatic' is more of a snooty architecture term," says Heimann. "The terms 'pop architecture' or 'bizarro architecture' are more common. In France, they call it 'trash architecture.'" Whatever this wild architecture is called, Heimann's book, which was published over 30 years ago and has been rereleased in a gorgeous, expanded and updated edition by art publisher Taschen, makes one thing clear: These are buildings that, in their heyday, could not be missed.
A Wonderland of Whimsy
Programmatic architecture came into existence alongside the automobile in the 1920s and '30s. Perhaps the most well-known example is the flagship Brown Derby restaurant once located on Wilshire Boulevard—a Hollywood hot spot during the movie industry's golden era that was shaped like a derby hat. When it was built in 1926, the Derby's structure wasn't as strange as it seems; L.A. dwellers at the time were regularly beckoned along the city's major commercial streets by freezer-shaped buildings selling ice cream, a florist that resembled a flower pot, or a coffee shop topped by a giant coffeepot. While similar types of roadside attractions appeared across the U.S., Heimann explains, "The concentration of those kinds of buildings was really a Southern California phenomenon." Indeed, Los Angeles had more oddball buildings than anywhere else in the country, due not only to its car culture but also to the presence of Hollywood—for folks living in the midst of filmdom, with decaying film sets on street corners, fantastic buildings just felt like home.
"I always describe L.A. as just a giant movie set," says Bobby Green, a bar owner whose 1933 Group has overseen the historical restoration of several landmark buildings, including the barrel-shaped Idle Hour bar in North Hollywood. Tipped off in 2010 by local preservationist Chris Nichols that the decrepit 75-year-old building was up for sale at public auction, Green and his partners decided to purchase and restore it. Designed for a film tech from Universal Studios in 1941, the whiskey-barrel-shaped building was originally a taproom—and after a $2 million restoration, the historical cultural monument has returned to its original function: serving thirsty visitors an ice-cold beer (and cocktails) inside a giant cedar barrel.
Preserving the Pop
The process of restoring Idle Hour tapped into Green's passion for programmatic architecture. "My family moved from Oklahoma to L.A. when I was 10. … Los Angeles was like a fantasyland. In 1980 there were still tons of 1950s cars cruising around Ventura Boulevard—pink Cadillacs and Chevys, yellow hot rods—just total eye candy. And there was still a good amount of programmatic architecture as you drove around. … Tail o' the Pup, the front of a Cadillac on Ventura Boulevard, the Burger That Ate L.A. on Melrose, the Cadillac sticking out of the Hard Rock Cafe at the Beverly Center," says Green. "You saw these weird things that were so uniquely Los Angeles."
Along with Idle Hour, Green's 1933 Group has saved a 1960s reproduction of the 1928 Bulldog Café—a small, pipe-smoking-bulldog-shaped building—which sits on the patio of Idle Hour, and it has also recently acquired the 1946 hot-dog-shaped hot-dog stand known as Tail o' the Pup that originally stood on the corner of La Cienega and Beverly boulevards. "As a kid, Tail o' the Pup was, to me, as iconic as the Hollywood sign. Any tourist who came to L.A., that's what they'd remember: Tail o' the Pup and maybe the Hollywood sign, the Capitol Records Building and maybe the Observatory," says Green of his company's newest project.
Why do these oddball buildings matter? First, there are few left. With the development of faster cars and freeways after World War II, programmatic buildings became less practical—even if drivers saw, say, a great-looking huge chili bowl offering fresh chili, they'd be hard-pressed to stop in time. Aside from practical concerns, aesthetics shifted, and these vernacular structures took on a marginalized status as folksy and old-fashioned. California Crazy notes that there was a minor resurgence in the 1980s (the Hamburger That Ate L.A.). That was followed by a postmodernist spin in the 1990s by major architects like Michael Graves, who capped Disney's animation building in Burbank with the hat worn by Mickey Mouse in Fantasia, and Frank Gehry, whose Binoculars Building, originally the Chiat/Day Building, in Venice uses Claes Oldenburg and Coosje van Bruggen's artwork Giant Binoculars as its facade. Contemporary examples are few—as Green says, there was a "slow fade" into a wave of more homogeneous buildings.
But it's not just the historical significance of these structures that has led people like Heimann and Green to preserve and protect them—it's that these oddball structures also seem to speak to the soul of what it means to visit Los Angeles. Just as eating a taco from a truck is an iconic activity in L.A., so too is drinking a beer in a barrel or getting a doughnut from Randy's. "I call it the Pink's Syndrome," says Heimann, comparing the renewed popularity of the doughnut spot to the perpetual queue at the legendary Pink's Hot Dogs stand. Randy's, an over-55-year-old chain of doughnut shops best known for its landmark building in Inglewood, has been featured in films, TV shows and even Randy Newman's "I Love L.A." video. "There's a constant line there—locals and tourists—everybody now wants Randy's Donuts," Heimann continues. In fact, Randy's is in the process of expanding with several new SoCal locations—including one at Hollywood & Highland. Could this mean a resurgence of the style? Could programmatic architecture actually make a comeback, even as L.A. becomes denser and hopefully less reliant on automobiles? Green posits an interesting idea: "If you start looking around at L.A. today, these Bird scooters are going about 15 mph, so I actually think, with people whizzing around on these little contraptions, it's more like 1930 than it's been since."