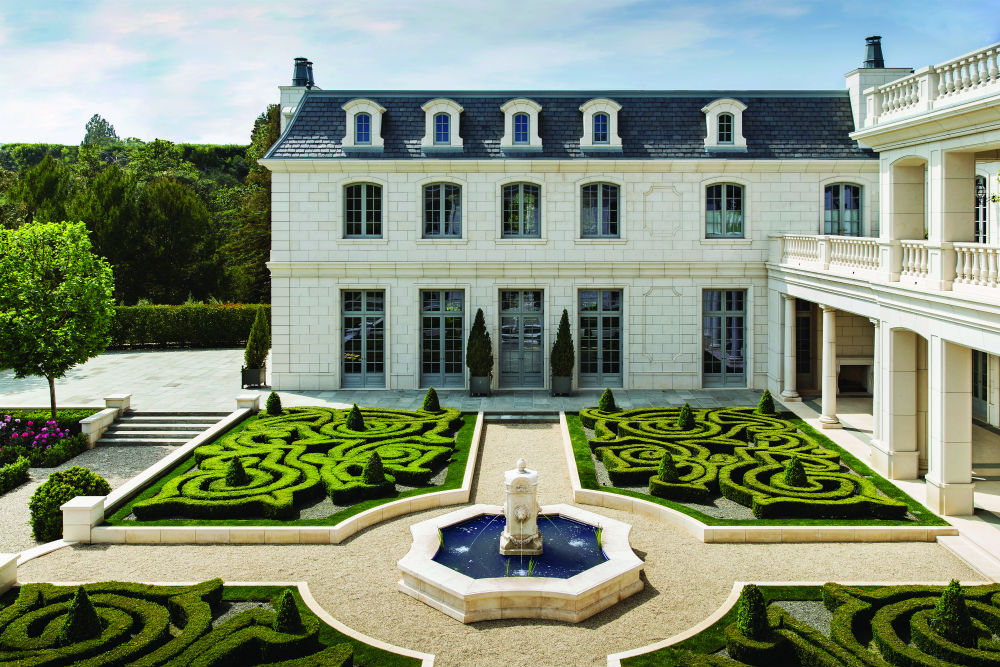 Celebrating the diversity of residential architecture, in Los Angeles, architect William Hefner finds inspiration in both classical and modern themes.
By Joseph Lemoyne.
Architect William Hefner is best known for a massive French château in Bel-Air, but it is a mistake to typecast his work based on that single high-profile commission. Authoring both traditional and modern designs, this soft-spoken professional demonstrates impressive range through expressions as diverse as L.A. itself.
Incorporating architecture, landscape architecture and interior-design services under a single roof is Studio William Hefner, making it a one-stop shop for high-end residential design. From Wilshire Boulevard offices overlooking the La Brea Tar Pits and Los Angeles County Museum of Art, Hefner oversees a multidisciplinary staff of 35 that includes his wife, principal interior designer Kazuko Hoshino.
Hefner arrived in Los Angeles from Northern California to study at UCLA and founded his current practice in 1989. Earlier in his career, he worked for megafirm Skidmore, Owings & Merrill, but found its specialty of high-rise commercial buildings not entirely fulfilling. "I was creating spaces for attorneys and accountants, but it was difficult to establish any personal connection the ultimate users of those spaces," laments Hefner. He was, therefore, drawn to the more intimate and accountable specialty of residential architecture, eventually earning commissions for ultraluxury properties.
One might argue that the architect's 60,000-square-foot Chateau des Fleurs, occupying 10 precious acres in Bel-Air, is hardly intimate, but Hefner has demonstrated an ability to bring intimacy to large-scale residences. The original design concept was inspired by his client's visit to the Hôtel du Cap on France's Côte d'Azur, and one of Hefner's challenges was to create grand rooms for entertainment while ensuring more informal, family-friendly spaces throughout the home.
When Chateau des Fleurs was completed in 2013, it was the largest home in the city, and the project is lavishly memorialized in Hefner's book Chateau des Fleurs (Pointed Leaf Press, 2016). The book showcases an impressive level of historically accurate detailing incorporated into the home, a meticulous approach that is a signature of all Hefner's traditionally themed residences. Despite its size—it is, in fact, so massive that most comparable properties are hotels, not residences—there is very little repetition in the home, as Hefner clearly eschews shortcuts. "We wanted to make sure each room was special and unique," explains Hefner of the house, whose 31 bathrooms provide a sense of its imposing scale.
Despite the Chateau's true-to-period design elements, Hefner also created a house that is technologically and spatially suited to the lifestyles of 21st-century L.A. families. While the home's design is rooted in authentic French traditions, its gilded, ornate details are tempered by a seamless intersection of indoors and out—part of its Mediterranean inspiration that translates well to L.A.
Every room has a museum-like quality, thanks to Hefner's prolific research, but not even the most formal and palatial spaces feel cold. Furthermore, subterranean parking for staff, multiple kitchens and elevators make the size of the residence more manageable and bring additional modernity to the home. "One of my goals was to not let the technology of the house intrude with the purely classical experience," says the architect.
Despite the legacy of Chateau des Fleurs, Hefner appreciates a diversity of design, drawing inspiration from L.A. traditionalists like Wallace Neff and Paul Williams, as well as midcentury-modern masters Rudolph Schindler and Richard Neutra. He reports that approximately 60 percent of his commissions are currently modern, a share that has doubled over the past decade as tastes of high-networth individuals have evolved.
"In my practice, I try not to have a 'signature' style but strive toward quality design and execution in different genres," he says. Like many of his peers in L.A., Hefner recognizes that modern design maximizes coastal or hillside views and suits the region's indoor-outdoor lifestyle. "I personally prefer a look that is more tailored and simplified than Baroque designs, so I'm pleased trends have moved in that direction," he states.
"My philosophy, in both traditional and modern homes, is to introduce spaces for indoor-outdoor living, which is a reason we offer landscape architecture among our services," says Hefner. "In Southern California, the entire site becomes a living space, with large patios, covered outdoor living areas and landscaped courtyards that people can use throughout the year," he explains.
An approximately 7,000-square-foot home in Beverly Hills' coveted Trousdale Estates demonstrates Hefner's comfort level with modern expressions. Reminiscent of L.A.'s influential Case Study Houses from the midcentury era, it was commissioned for a client with an extraordinary modern art collection. "Accommodating art is always a challenge in a view house," says Hefner, who notes the requisite expanses of glass naturally limit available wall space.
In suburban Sierra Madre, a considerably more rustic community than Beverly Hills, Hefner created a thoroughly contemporary residence in an environment where Craftsman bungalows and Spanish Revival homes are the prevailing architecture. But through a generous use of stone and wood, he was able to infuse the property with considerable warmth, softening the impact of its modernist theme.
An 8,000-square-foot Pacific Palisades residence—a study in concrete, metal and glass—features expansive windows and a constant blurring between indoors and out. Hefner reports that the HOA imposes a requirement for pitched roofs to discourage modern architecture, which led to a distinctive roofline that floods the home with even more light. "There were days when I cursed that requirement, but the soaring volumes resulting from it made the house more interesting," concedes the architect.
Studio William Hefner's landscape-architecture practice reflects his perspective on modern design and indoor-outdoor lifestyles. Infinity pools, a de rigueur amenity for modern homes in L.A., double as reflecting ponds, and the aforementioned Palisades home includes a fountain-laden stone courtyard that assumes the serenity of a Zen garden. With contemporary architecture that can sometimes appear austere, thoughtful attention to landscaping—even when that landscaping is itself very contemporary—can soften the sharp edges.
Hefner characterizes traditional and modern styles as demanding two different languages, and he is clearly fluent in both.