Plan the Perfect Date in Los Angeles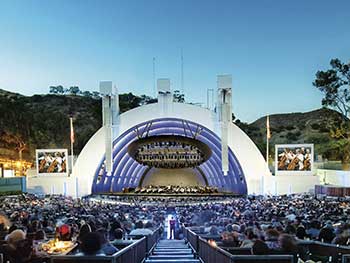 Plan the perfect date in Los Angeles where you can fall in love with all of its arts, music, culinary and cultural treasures. Discover the most romantic destinations to impress your LA date!
—adapted from 4 Perfect L.A. Days by Lesley McKenzie in Where Los Angeles magazine
For the perfect day à deux, begin with a leisurely breakfast at chef Walter Manzke's République, where you can enjoy a rotating selection of goods baked fresh daily and an extensive list of yummy morning pick-me-up beverages such as Vietnamese coffee in an airy, sun-soaked setting.
Plot the next move at the Los Angeles County Museum of Art, where Chris Burden's Urban Light sculpture makes for an Instagram-worthy shot, as does Michael Heizer's monumental Levitated Mass sculpture.
Brush up on art smarts at shows such as Expressionism in Germany and France: From Van Gogh to Kandinsky (running through Sept. 14), before heading to Milk Jar Cookies for a light afternoon treat (think out-of-the-box flavored cookies such as banana split and seasonal offerings like lemon blueberry).
And before heading out for the evening's headlining event—namely, a show at the Hollywood Bowl—leave time to swing by Joan's on Third for a gourmet picnic feast to go, including the likes of zucchini fritters and Sicilian meatballs; box ticket holders can enjoy a gourmet meal from Patina Group delivered to their seats.
Note: Don't forget to pack a tablecloth and hurricane candles. There's no shortage of vino at this venue, thanks to the well-curated The Wine Bar and Market Café, while, depending on the show (check schedule for details), guests may also have the option of bringing in their own bottles of wine to enjoy during the show. Either way, lovebirds can look forward to toasting a great day under the stars and, with any luck, a next date, too.
Side Trip
Wine & Dine With Malibu Discovery
Malibu is known for sea, sand and surfing, and, more than ever, viticulture, too. Find out what the buzz over local wine is about during guided tours with Malibu Discovery, including the popular Malibu Wine Trail Tour. Prepare to be chauffeured in style to three area tasting rooms such as the Rosenthal Tasting Room, Cornell Winery, Malibu Wines or SIP Malibu, followed by lunch at local favorites such as Kristy's Wood Oven & Wine Bar, Duke's Malibu or Sunset Restaurant, paired with—you guessed it—even more vino. Cheers to that!