Where to Have Family Fun in Los Angeles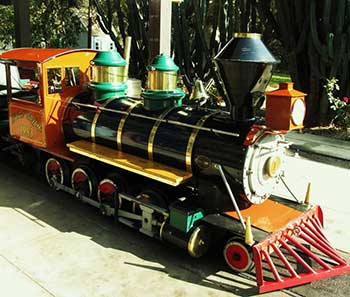 From Travel Town to the Griffith Observatory, here's your guide to a perfect day of family fun in Los Angeles. From Griffith Park to the LA Zoo, there's never any shortage when it comes to fun for the whole family in LA!
—adapted from 4 Perfect L.A. Days by Lesley McKenzie in Where Los Angeles magazine
Give your little ones a day to remember, starting with breakfast at The Alcove Café and Bakery, which turns out apple pie pancakes and fruit and Nutella-laden crepes, as well as heartier options. Snag a bar of famous in-house Alcove chocolate to go before hitting the road for an action-packed day.
Start your fun with a visit to Travel Town, which features attractions like a museum and miniature-train ride. Next, hit the "Pan for Gold!" exhibit at the Autry National Center, on display during weekends year-round from 11 a.m. to 3 p.m., which offers visitors the chance to learn how to pan for gold like the original forty-niners.
Continue the fun at the Los Angeles Zoo & Botanical Gardens, home to more than 250 species—many of which are on view at the newly unveiled Rainforest of the Americas exhibit. Continue the day's animal-inspired streak at the Griffith Park Merry-Go-Round, an area landmark since 1937, decked out with 68 carved carousel ponies.
Aspiring cowboys and cowgirls can also take the reins on a real-life steed at the Griffith Park Pony Rides happening alongside mini covered wagon rides at the Los Feliz entrance to the park. For lunch, relax and recharge at the popular The Trails Café (2333 Fern Dell Drive, L.A.,323.871.2102), which beckons patrons with its outdoor seating and delicious array of casual fare, including mouthwatering fruit pies.
Evening amusement is to be found at Mount Hollywood's Griffith Observatory, where kids and adults alike can indulge their space fantasies at shows in the Samuel Oschin Planetarium (check website for age restrictions) and, on clear evenings, through the lenses of free public telescopes.
End your kid-friendly day on a sweet note at Los Feliz diner Fred 62 with one of the signature TV dinners such as The Partridge Family (pan-fried chicken, corn pudding, greens, mashed potatoes and a mini waffle drizzled in gravy), topped with a root beer float, natch.
Side Trip
Thrill Ride
No Los Angeles summer is complete without a trip to Universal Studios Hollywood, especially with this year's debut of Hollywood block-buster-inspired "Despicable Me Minion Mayhem," touted as a 3D ultra-HD digital animation adventure ride. Also on the ticket this summer? The little yellow minions' Super Silly Fun Land water-themed interactive play zone.