Interview: The Polo Lounge's Executive Chef Kaleo Adams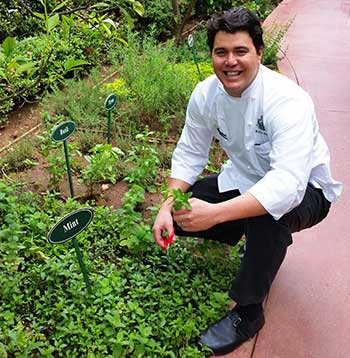 The Beverly Hills Hotel's executive chef, Kaleo Adams dishes on the iconic destination, his inspiration for the menu, over-the-top requests and more.
By Christina Xenos
Among Los Angeles' most iconic restaurants, The Polo Lounge at the Beverly Hills Hotel remains a place to see and be seen, and (most importantly) eat. Executive chef Kaleo Adams is the man behind the menu, making sure that industry A-listers and discerning diners alike are well cared for in The Polo Lounge and throughout the rest of the hotel. Check out where he gets his inspiration, some details on the hotel's new Cabana Cafe, some of the craziest requests he's received, and more.
Where do you get inspiration for your menus?
It could come from anywhere… a new restaurant, magazines or books, old prep lists or menus from places I have worked, something I have been craving, or even a guest request. But if I had to pick one singular source of inspiration is would have to be from the amazing farms that are in our own backyard. I cannot get enough of the locally sourced ingredients that we have privileged to have easy access to, and we are very lucky to be in California where we can get freshly grown produce year-round. All of our menus showcase the best of California's wonderful and unique fresh ingredients.
The Polo Lounge is an institution, is it challenging to be creative but still stay true to what frequent diners at the restaurant want?
Every day when I come to work, I am humbled by The Polo Lounge. It is more than just a 73 year-old restaurant; it is a true LA institution that is  a brand in and of itself. But while culinary trends are constantly changing, quality and excellence never go out of style. We do have classic items on the menu that we would never remove, and this is part of what makes The Polo Lounge so special. But this doesn't mean that I can't improve them. Take our signature dish, the McCarthy Salad for example – it looks the same as it did years ago, but now the eggs are organic and the lettuce, beets and tomatoes are all sourced locally; the chicken is Jidori; and the cheese and bacon are both better products. This allows us to remain relevant and best meets the needs of our discriminating clientele.
With this being said, I still enjoy being creative and adding new dishes to the menu. Our guests are great, and they embrace the new items and look forward to what's next. It is only by changing the menus have we been able to create new "classics". The West Hollywood Salad is one of the newer dishes that has quickly established itself as stiff competition for the McCarthy Salad! We would never take it off the menu due to its popularity and at this rate, it looks like it will be around for the next 73 years.
What's the most popular dish at The Polo Lounge? How popular is it?
The McCarthy Salad continues to be the most popular item on the menu and accounts for about 10% of our total food sales.
I'm sure your diners make special requests. What's the most interesting off menu request or modification you've received?
We have a frequent diner that comes in and asks for everything on his plate to be white. And I'm serious.
What farmers markets do you shop at?
We are at the Wednesday and Saturday Santa Monica market and on the Sunday Cahuenga [on Ivar between Hollywood and Sunset Blvds.] market.
What ingredients are you eyeing for your spring/summer menus?
The obvious ones are corn, peas, asparagus, nettles and morels. So far we have had great onions and garlic.
What approach did you take for the menu offerings at the new poolside Cabana Café?
We wanted the Cabana Café to be upscale comfortable but setting appropriate. It is poolside and location in an area of pure leisure for everyone so it needs to be laid back but a quality restaurant. I didn't want the menu or ambiance to compete with The Polo Lounge or be as relaxed as the Fountain Coffee room. It is open to the public and we have seen more and more locals coming back to enjoy the great food and fun atmosphere. Not to mention the scenery …. it is a great place to people watch!
When you're not at the hotel, what restaurants do you like to eat at around L.A.?
My wife and I love Tsujita Annex for ramen. We live right around the corner from Plan Check on Fairfax so that's our current burger fix… Golden State is great too! Superba Snack Bar has some really great food – I am looking forward to their new project. I like what Chef Josef Centeno is doing downtown. Rustic Canyon is great too.