Interview: Los Angeles Street Food Expert Farley Elliott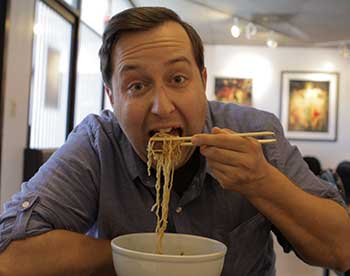 Food and drink writer Farley Elliott, takes on the Los Angeles street food scene in his new guidebook, Los Angeles Street Food: A History from Tamaleros to Taco Trucks.
By Christina Xenos
When he's not scouring the restaurant scene for new and exciting dining as Senior Editor for Eater Los Angeles, food and drink writer Farley Elliott is drawing on his extensive experience as a taco reviewer for Serious Eats and parlaying his passion into a new guidebook of Los Angeles street food aptly named, Los Angeles Street Food: A History from Tamaleros to Taco Trucks (Arcadia Publishing). The in-depth chronicle, "serves up all there is to know about the greasy, cheesy, spicy and everything in between." I chatted with Farley about his passion for L.A.'s significant street food scene, essential dishes and must-try tacos.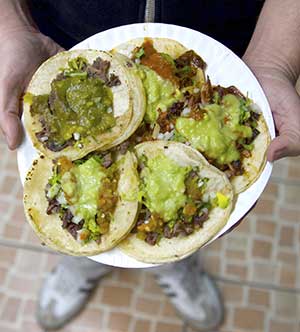 Why did you need to write this book?
Street food is the way that I first connected with Los Angeles, and it's a significant part of the reason I'm still here. I didn't grow up in an area with a defined culture around food, so to come to a city like L.A. and be able to experience this diversity in cuisines is really special to me, and I thought that maybe I'd be able to translate that connection for others with this book.
What sets L.A.'s street food scene apart from others in the U.S.?
There really is no other U.S. city like Los Angeles when it comes to street food — we're on par with some of the most well-known street food cities in the world, in Latin America and Southeast Asia. No other city in the U.S. can match our diversity, our intensity, or our ingenuity.
Aside from tacos, what other essential street foods should people navigating the L.A. scene know about?
The bacon-wrapped hot dog. It's an L.A. signature, this sort of warped urban version of a Sonoran dog from northern Mexico, that's become our late night calling card, outside of large events and Hollywood clubs. After that, get out into the neighborhoods and eat what they're eating — maybe it's elote in Lincoln Heights, or a small Taiwanese snack truck in the San Gabriel Valley.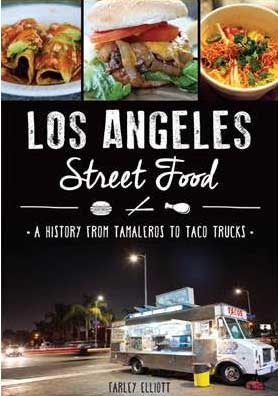 Speaking of bacon-wrapped hot dogs, how many Danger Dogs should one person eat in a year?
That depends on your level of danger. The county's forest fire index doubles as a hot dog indicator — you'll always hover around a yellow in terms of scariness, but usually that's OK. Just don't eat too many or you'll fall into the red zone. That's when bad things happen.
On tacos: What taqueria/taco would you recommend to the 1) Chipotle Enthusiast,  2) Kogi Evangelist, 3) Andrew Zimmern Disciple.
Chipotle lovers who want a bit of everything should try Tacos Cuernavaca (5400 E Whittier Blvd., L.A., 323.671.8442) in East L.A. They'll keep loading on the ingredients until you beg for mercy.
Kogi evangelists should give Soho Tacos a shot. Call them 'upscale authentic' if you want, but this OC-based truck goes gourmet flavor bombs that give Roy Choi a run.
Andrew Zimmern disciples should head for Tire Shop Taqueria (4069 S Avalon Blvd., L.A.) in South LA. Out of the way, super authentic Tijuana-style carne asada that will blow your mind.
Info/Events
Find more info. and pick up a copy of Los Angeles Street Food: A History from Tamaleros to Taco Trucks
Hear Farley read excerpts from the book at Skylight Books on July 25 at 5 p.m.
Head out to Farley's book launch at the LA County Store on Aug. 9 at noon.
Hear Farley give a reading from the book at the L.A. Public Library as part of their Culinary Historians panel on Aug. 15 at 1 p.m.