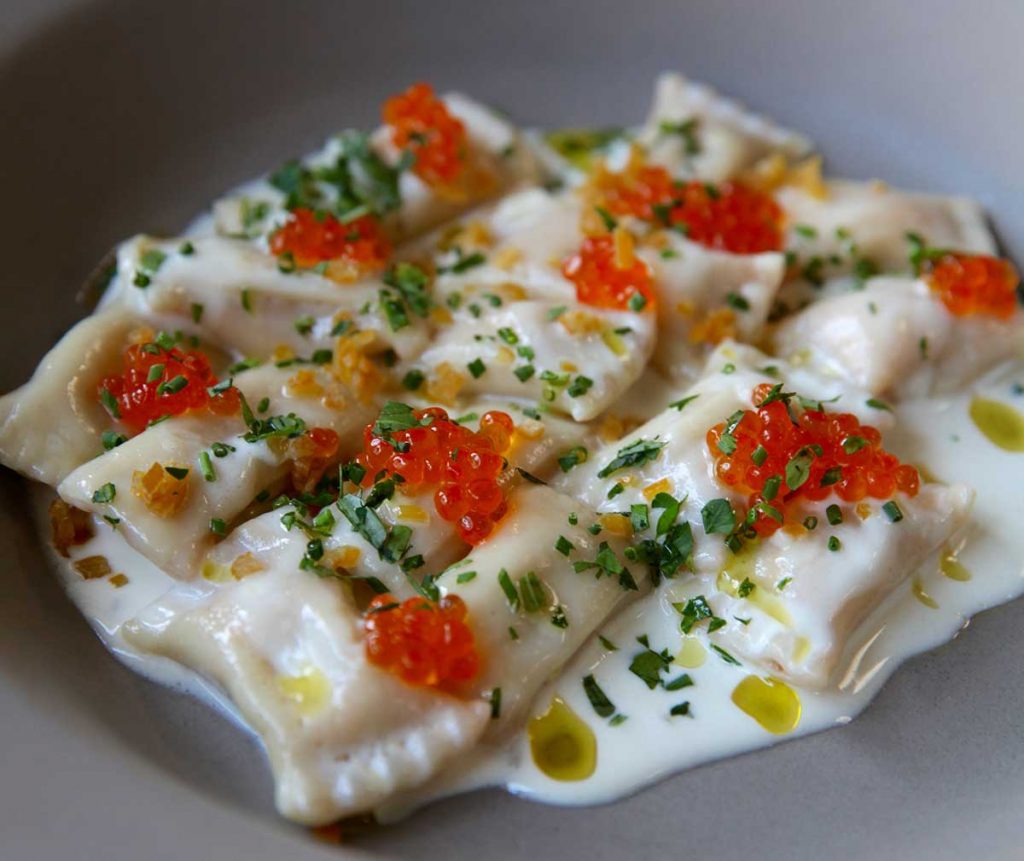 Chef/Restaurateur Stephen Kalt is making waves on Melrose Ave. with Spartina, his market-driven Cal-Italian dining destination.
By Christina Xenos
Chef/Restaurateur Stephen Kalt is in full swing with Spartina, his market-driven Cal-Italian restaurant on Melrose Ave. He opened the original Spartina in Tribeca, New York in 1994, which was soon regarded as one of the best neighborhood restaurants in Manhattan. The 100-seat dining destination features vintage elements like Charlotte Perriand-inspired bar stools, merged with custom French Blue tables, and an expansive outdoor patio. We chatted with Kalt to get his perspective on his journey to Los Angeles, a few of his favorite dishes and what ingredients he's obsessed with right now.
After departing New York, working in Las Vegas and then at Caulfield's in Beverly Hills, what made you finally want to reopen Spartina in L.A.?
Opening a restaurant is something I've wanted to do since I moved to L.A. Caulfield's was a favor to both the owners of the Sixty Hotel group and the owners of Caulfield's, both friends. I finally found a space that moved me and I built Spartina. That wasn't the original name. I was going to call it Gesto after the Neapolitan hand gestures that have become so recognized. There are actually framed photographs of those gestures in the hallway of Spartina. An old friend, Bobby Flay, called me when he heard I was going to open and suggested the name. We all hung out there in the old days in New York and for some reason, there was a great symmetry for me in that Spartina was both my first New York restaurant and my first Los Angeles Restaurant.
What sets the L.A. outpost of Spartina apart from the original?
Spartina L.A. is more Cal-Ital, market-driven Italian cooking while Spartina in New York was Mediterranean with a broad, pan-Mediterranean sensibility, where I explored a great deal of Spanish, North African, Provencal, as well as Italian cooking.
Where are you drawing inspiration for the menu?
I draw inspiration from regional Italian cooking, the farmers markets, as well as the diverse ethnic communities of Los Angeles
What ingredient are you obsessed with right now?
Chinese Fermented Black Beans and Calabrian Chilies
Is there one dish on the menu that you could eat over and over again? What are a few of your favorites?
Grilled Avocado with Preserved Lemon, Tomatillo, Dried Tomatoes, Calabrian Chilies, and Ricotta Salata. Beef Belly Hash with Fried Egg, Polenta with Red Grapes, Gorgonzola Dolce, and Black Pepper. Burrata Ravioli with Sea Urchin. Roasted Pacific Sea Bass with Artichoke Hearts, Cherry Tomatoes, Taggiascha Olives, and Lemon. Pizza with Guanciale, Pineapple, and Brussels Sprouts.
Where are you eating when you're not at the restaurant?
Bao and Pingtung; Alimento, Gjusta, and [the] taco truck on Olympic and LaBrea.
Spartina, 7505 Melrose Ave., L.A., 323.782.1023. spartina.la