Interview With Alma Restaurant's Ari Taymor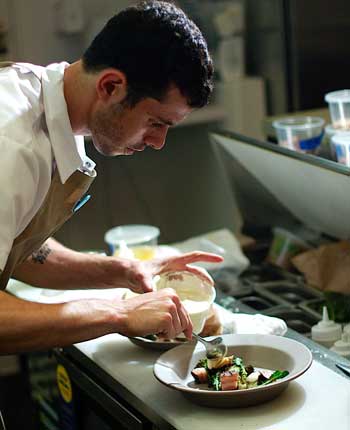 Chef Ari Taymor helms the kitchen at Alma in downtown Los Angeles. Find out what inspires his cooking, why he loves Los Angeles and a few of his favorite local spots.
By Roger Grody
After debuting a year-and-a-half ago, Alma restaurant downtown quickly established a national reputation—Bon Appétit proclaimed it "Best New Restaurant in America"—and chef/co-owner Ari Taymor's modern prix fixe menus are keeping fine dining alive in L.A. Born and raised in the Bay Area, the 28-year-old Taymor cooked at Bar Tartine and the James Beard-nominated Flour + Water in San Francisco before moving to downtown L.A.
What ignited your passion for cooking?
I never cooked anything until I was 20, and food was never a presence in my life beyond being hungry or not. I ate a lot of fast food, and after getting sick I began to reevaluate my diet. I also started cooking for myself and liked it more and more…. When I ate at Chez Panisse in Berkeley with my family, it was the first time I really understood … how transcendent food could be.
What's your culinary philosophy at Alma?
We try to evoke emotion by constructing dishes that have a sentimental quality to them, whether driven by the natural environment or an urban setting like L.A. And everything is meticulously sourced. We grow a good amount ourselves, and the rest comes from farmers markets…. Somebody is even raising animals exclusively for us.
Do you have some regular hangouts? Where do you go to find fun in Los Angeles?
I eat at Night + Market at least once a week, where the crispy rice and fermented pork salad is like nothing I've ever tasted before. For sushi, I like Sushi Gen in Little Tokyo. It has a very simple, Japanese businessman feel to it but serves pristine fish that's cut well…. I enjoy L&E Oyster Bar in Silver Lake, where they shuck oysters perfectly.
What do you like about downtown life?
Everybody downtown is very open-minded, and there are people on the streets all the time, with lots of restaurants and bars opening up. The Last Bookstore is really amazing, a throwback to the San Francisco bookstores I'm used to. For coffee, I like Handsome Coffee.
What other parts of L.A. do you enjoy?
Two of my best friends live in Silver Lake, so I know the area pretty well. I enjoy hanging out at Barnsdall Park, which provides great views of the city, and shopping at boutiques like Confederacy and Mohawk General Store.
For a Bay Area transplant, you're surprisingly enthusiastic about L.A.
San Francisco is great, and I'm still a 49ers fan, but L.A. is the most exciting city in the country.
DETAILS
Alma 952 S. Broadway, downtown, 213.244.1422
Barnsdall Art Park 4800 Hollywood Blvd., Hollywood, 323.644.6275
Confederacy 4661 Hollywood Blvd., Los Feliz, 323.913.3040
Handsome Coffee Roasters 582 Mateo St., downtown, 213.621.4194
The Last Bookstore 435 S. Spring St., downtown, 213.488.0599
L&E Oyster Bar 1637 Silver Lake Blvd., Silver Lake, 323.660.2255
Mohawk General Store 4011 Sunset Blvd., Silver Lake, 323.669.1601
Night + Market 9041 Sunset Blvd., West Hollywood, 310.275.9724
Sushi Gen 422 E. 2nd St., downtown, 213.617.0552