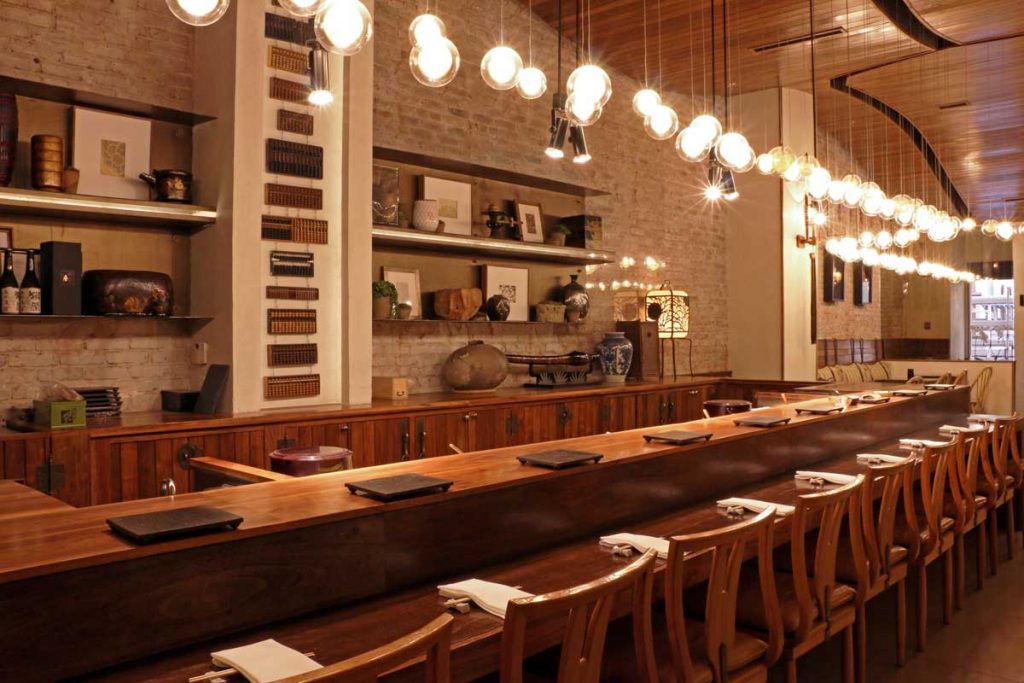 After three years of top omakase offerings in downtown Los Angeles, take a peek into what's happening now at Q Sushi.
By Christina Xenos
With its endless omakase offerings and sought-after chefs, Los Angeles might be one of the most exciting places outside of Japan to seek and eat sushi right now. Local favorites pepper strip malls and often win out for convenience, as it's not every day that you're prepared for a truly elevated dining experience. When you are, though, the omakase being served than at Q Sushi downtown is one of the best.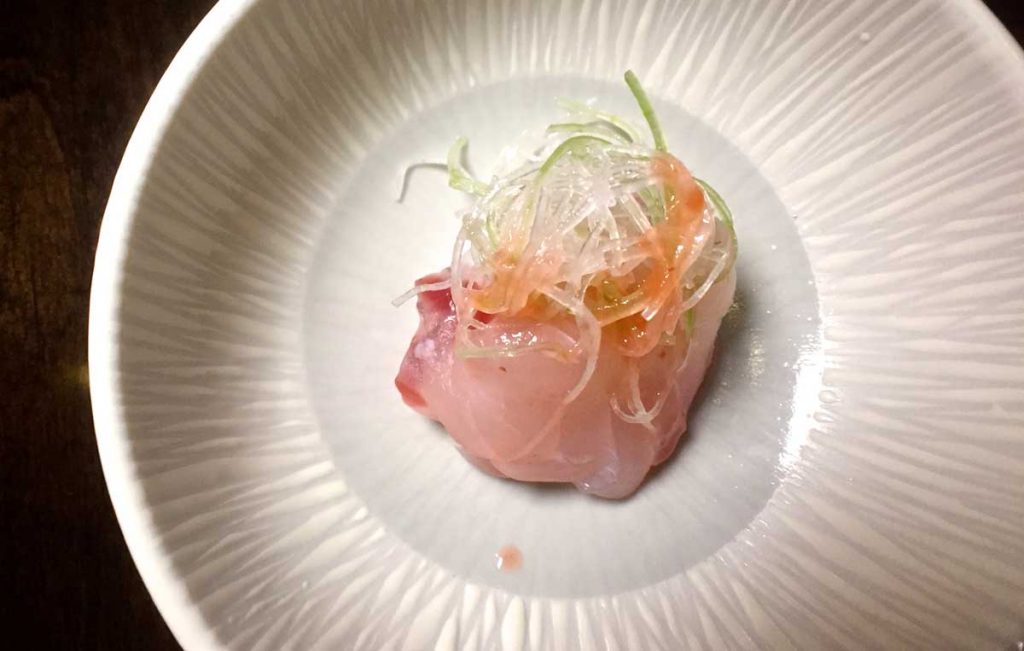 An origin story
Executive Chef Hiroyuki Naruke's story is as transcendent as his repertoire of raw fish. He refined his mastery at a six-person restaurant in Tokyo, Japan, where his reputation grew among an increasingly dedicated clientele. But the city's hopping Roppongi district experienced a devastating drop off in business after the tsunami rolled through in 2011.
Fortunately, Ryan Goldstein, a dedicated diner from the nearby law firm of Quinn Emanuel, persuaded Chef Hiro to cross the pacific and set up shop in Los Angeles in November 2013. (The Q is for the first letter of the firm's moniker.)
What makes Q Sushi one of the best
Where Q Sushi differs from other high-end omakase experiences in Los Angeles is in its understated simplicity. The purist, "edomae" tradition is honored and serviced here, highlighting the fish's subtle flavor without concealing condiments or visual fireworks. No gold flakes, avocado fans, or soy/wasabi mixes needed here. Hiro's waves of flavor all come gracefully pre-seasoned.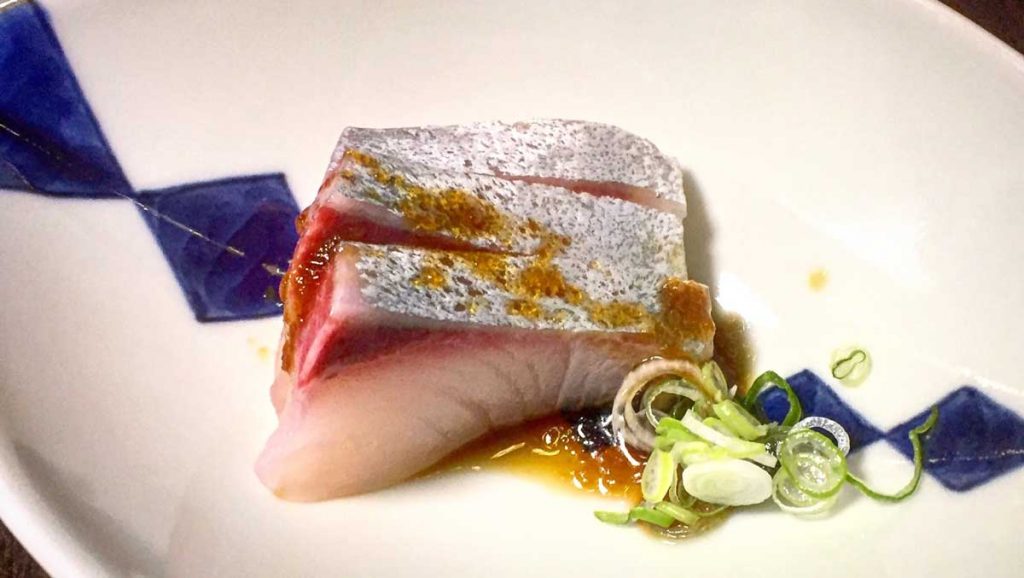 The menu is selected daily from what is the best being offered at market. You might start the 20-course journey with a an assortment of tsumami. The assortment of small appetizers could include striped bass in plumb vinegar, or amber jack with onion soy sauce. The golden eye snapper cured in kombu seaweed may be a first for many. Two other original and flavorful dishes were the baby squid with ginger infused soy and a seared toro with finely diced shishito peppers, almost like an Asian salsa, which felt nearly carnivorous, both in taste and mouth-feel.
You can see the level of skill in each bite before you taste it. It's a level of precision you don't often see in other restaurants. The attention to detail is present in all aspects, starting with housemade ginger, served in fatter chunks as opposed to the more commonly presented thin slice. It's a palette cleanser, true, but it also enhances certain bites, like the shima-aji and deep orange ocean trout.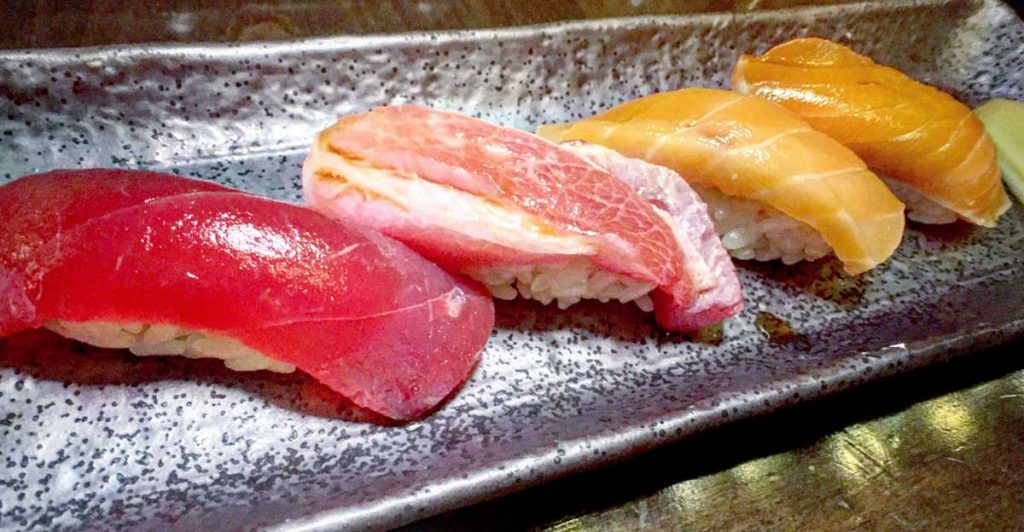 The whole experience
A perfect compliment to the array of sushi is sake. The selective list at Q Sushi offers a number of delicious choices. If you're having trouble deciding what pairs best with say, tako (octopus), painstaking grilled over a three-hour period, a flight of three sakes is definitely the way to go.
The venue's bowed wood-ceilings, white washed brick walls and finely spun mini-globe lights are an apropos setting for this discreet ichthyology meditation. And you can rely on the service at Q sushi being impeccable.
Feel free to use the one the numerous antique abacuses behind chef Hiro to sort out the proper gratuity on your bill. This exquisite sushi experience is worth every cent you'll spend.
Q Sushi, 521 W. 7th St 213.225.6285. qsushila.com