Indulge On Mac 'N' Cheese This Summer At The Hudson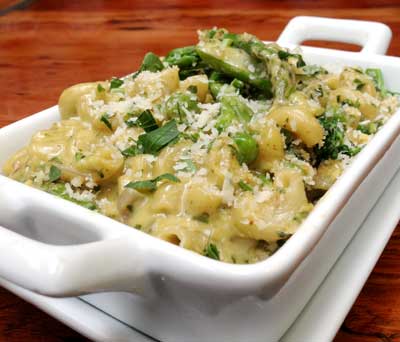 The Hudson's Mac 'N' Cheese Throwback Thursdays offers three different selections of the classic dish in addition to their award-winning menu staple.
This summer West Hollywood's neighborhood staple and choice destination, The Hudson, takes you back to '69—1369 that is! Since the 14th century, dishes made with macaroni pasta and cheese have been savored throughout the world, starting out as a dish for the upper class and ending up as a dish for the EVERY class. Each Thursday night beginning July 11th, the restaurant offers three modern day selections in addition to their classic Mac N' Cheese with smoked jalapeño, parmesan bread crumbs, shallots and garlic; which holds the title of "Best Mac & Cheese in LA" from CBS. The selections will be available for $11 each and will include ingredients such as artichoke, braised short rib, blistered grape tomatoes, spicy chorizo, charred broccolini and wild mushrooms to name a few.
Mac 'N' Cheese Summer Schedule
Thursday July 11
· blackened chicken, gorgonzola, grilled red onion
· Italian sausage, smoked mozzarella, roasted red pepper
· artichoke, blistered grape tomatoes, basil, parmesan cream
Thursday July 18
· braised short rib, smoked jalapeño, grilled shallots
· spicy chorizo, manchego, charred green chile
· spring peas, asparagus, parmesan
Thursday July 25
· grilled chicken, pepper jack, charred chipotle
· grilled corn, braised leeks, jalapeño
· bacon, Brussels sprouts, caramelized shallots
Thursday August 1
· crispy pancetta, gorgonzola, roasted tomato
· charred broccolini, white cheddar, crushed red pepper
· wild mushroom, feta, toasted pine nuts
Thursday, August 8
· Italian sausage, smoked mozzarella, roasted red pepper
· spring peas, asparagus, parmesan
· grilled chicken, pepper jack, charred chipotle
Thursday, August 15
· artichoke, blistered grape tomatoes, basil, parmesan cream
· spicy chorizo, manchego, charred green chile
· charred broccolini, white cheddar, crushed red pepper
Thursday, August 22
· blackened chicken, gorgonzola, grilled red onion
· wild mushroom, feta, toasted pine nuts
· bacon, Brussels sprouts, caramelized shallots
Thursday, August 29
· braised short rib, smoked jalapeño, grilled shallots
· crispy pancetta, gorgonzola, roasted tomato
· grilled corn, braised leeks, jalapeño
Each "Mac 'N' Cheese" is available for $11 each. These varieties are NOT available in the Mac 'N' Cheese Happy Hour portion/price
The Hudson, 1114 North Crescent Heights Blvd. West Hollywood, 323.654.6686. thehudsonla.com