Home Oscar Party Tips
Plan the perfect Oscar party with tips and recipes from Wolfgang Puck, Moet & Chandon Champagne, and Wayne Elias.
If you're planning your own Oscar party, start cooking now. Celebrity Chef Wolfgang Puck says the biggest mistake people make is leaving all the food prep and cooking until the last minute. He says creating comfort food similar to what is being served at the Governor's Ball is easy. You can gather your ingredients and prep your dishes a day or two ahead of time, then and cook them on Sunday just before you're ready to serve. Find our picks for top Oscar Party recipes below, and for more Oscar Party tips, link to download the official app and ballot for your party go to: oscar.go.com
COCKTAIL
Red Carpet Glamour
Create the very same Moet & Chandon Champagne cocktails that celebs will be sipping at the Governors Ball:
Fill a chilled Champagne flute 1/2 way with ice.
Stir one ounce of fresh-squeezed sour mix and Hum botanical spirit with fresh ice.
Strain into flute to fill 1/2 way.
Top with Moet & Chandon Imperial.
Continually refresh as you wish with Moet & Chandon Imperial as the Champagne will float on top of the Hum sour.
Fresh squeeze sour mix preparation: Combine one cup sugar with one cup water until sugar is completely dissolved. Add one cup fresh lime juice and one cup fresh lemon juice and refrigerate.
 STARTER
Chinese Spoons with Siracha Tuna Tartare, Daikon Sprouts
(Recipe courtesy of Wayne Elias, co-owner with Chris Diamond of Los Angeles-based Crumble Catering and Vermont Bar and Kitchen, who both will support celebrity chef Cat Cora with creating the food for the 20th annual Elton John AIDS Foundation's (EJAF) Annual Academy Awards Viewing Party.)
2 Dozen Servings
10 ounces of fresh ahi tuna sushi grade
1 tsp. siracha sauce
2 tblsp. Light soy sauce
1 tsp. Finely diced ginger
1 tsp. Finely chopped cilantro
½ tsp toasted white sesame seeds
1 cup of daikon sprouts- use only the flower sprout and a little stem
Mix all ingredients in a bowl except the sesame seeds and the daikon sprouts.
Adjust seasoning to taste. Please in each Chinese spoon ½ ounce of tuna mixture and garnish top with daikon sprout.
 MAIN COURSE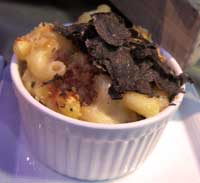 Baked Macaroni and Cheese with Black Truffles
(Recipe courtesy Wolfgang Puck.)
Yield: Serves 4
8 ounces elbow macaroni
3 tablespoons butter
3 tablespoons flour
3-1/2 cups milk
1/2 medium white onion
1 bay leaf
1 teaspoon Kosher salt
1 teaspoon black pepper
Pinch cayenne
3 tablespoons finely chopped black truffles
10 ounces sharp aged white cheddar, grated
3 ounces Gruyère cheese, grated
1 ounce Parmesan cheese, grated
2 drops black winter truffle oil
3 tablespoons butter
1 cup brioche bread crumbs
2 tablespoons chopped parsley
Sliced fresh black truffles for garnish (optional)
Preheat oven to 350 degrees F.
In large pot of boiling salted water, cook the macaroni to al dente (approximately 7 minutes). Strain and place on a lightly oiled sheet pan.
While the macaroni is cooking, in a separate pot, melt the butter and whisk in the flour. Continue to cook over low heat for 4 minutes stirring constantly. Add the milk, chopped truffles, onion and bay leaf. Simmer for 10 minutes. Remove onion and bay leaf.
Turn off the heat and add 3/4 of the aged cheddar and all of the other cheeses. Season with salt and black pepper and fold in macaroni. Pour into a 2-quart casserole dish. Top with remaining cheddar.
Melt the butter in a sauté pan and toss bread crumbs and parsley to coat. Top the macaroni with bread crumb mixture. Bake for 30 minutes. Remove from the oven let stand for about 5 minutes. Serve with fresh shaved black truffles.
Chicken Pot Pie (pictured at top)
(Recipe courtesy Wolfgang Puck, adapted from "Wolfgang Puck Makes it Easy," Rutledge Hill Press, 2004.)
Yield: Serves 4
2 pounds boneless, skinless chicken, cut into 1-inch chunks
Salt and freshly ground black pepper to taste
3 tablespoons all-purpose flour
4 tablespoons vegetable oil
4 tablespoons unsalted butter, divided
1/2 pound organic red-skinned potatoes, cut into 1/2-inch pieces
1/2 pound organic carrots, peeled and cut into 1/2-inch pieces
1 medium yellow onion, peeled and diced
2 garlic cloves, minced
Pinch of crushed red pepper flakes
1 sprig thyme
1 bay leaf
1 cup white wine
2 cups organic chicken stock
1 cup plus 1 tablespoon heavy cream
1/4 cup dry sherry
1/2 cup shelled or frozen peas
Approximately 1/2 pound frozen puff pastry, defrosted following package instructions
1 cage-free egg
Season the chicken pieces with salt and pepper, and toss in a mixing bowl with 2 tablespoons of the flour until evenly coated. In a large skillet over high heat, heat 2 tablespoons of the oil. Add the chicken pieces, reduce the heat slightly, and sauté, turning them occasionally, until light golden and thoroughly cooked, about 5 to 10 minutes. Using a slotted spoon, transfer the chicken to a plate and set aside. Add the remaining oil and 2 tablespoons of the butter to the pan, then add the potatoes, carrots, and onions and sauté until they begin to look glossy and bright, 2 to 3 minutes. Reduce the heat to medium, stir in the garlic, red pepper flakes, thyme, and bay leaf, and sauté, just until the vegetables begin to color slightly, 2 to 3 minutes more.
Add the wine, turn up the heat, stir and scrape with a wooden spoon to deglaze the pan deposits, and simmer until the liquid reduces by about half, 3 to 5 minutes. Add the chicken stock and the 1 cup of cream. Bring the liquid to a boil, reduce the heat slightly, and simmer briskly until the liquid reduces by about half again and is thick and creamy, about 15 minutes. Remove the sprig of thyme and the bay leaf.
Stir in the reserved chicken pieces and the sherry. Stir together the butter and remaining flour and stir this paste into the mixture. Season the sauce to taste with salt and pepper. Transfer to 4 large individual ovenproof 2-cup soup bowls, 4 ramekins of the same size, or a 2-quart baking dish. Cover with plastic wrap and refrigerate until the filling is cold, at least 1 hour.
Preheat the oven to 400 degrees F. Make sure the puff pastry is no thicker than 1/4 inch. With the tip of a sharp knife, cut the pastry into 4 circles that will overhang the rim of the serving bowls or ramekins by about half an inch; for a single large baking dish, cut 4 circles that will cover its top, or use one large sheet.
In a small bowl, beat together the egg and the remaining 1 tablespoon cream to make an egg wash. Brush the tops and outsides of the rims of the bowls. Place the bowls, ramekins, or baking dish on a baking tray and place the puff pastry circles on top, pressing them gently over the sides of the dishes . Pierce the tops with the tip of a paring knife. Brush the top of the pastry with egg wash. Carefully transfer the baking sheet to the oven and bake until the filling is bubbling hot and the pastry is a deep golden brown, 25 to 35 minutes. Serve hot.
SIDE
Roasted Yukon Gold Potatoes with Creme Fraiche and Osteria Caviar
(Recipe courtesy Wolfgang Puck, 2004.)
12 medium Yukon Gold potatoes
2 ounces Iranian osetra caviar
Crème Fraîche (recipe follows)
Preheat oven to 350 degrees F.
Wash and dry potatoes. Wrap individually with aluminum foil.
Place on baking sheet and bake for 1 hour.
Remove potatoes from oven and set aside.
Crème Fraîche
2 tablespoons buttermilk
1 cup heavy cream
Stir together the ingredients and let sit at room temperature, covered, until the mixture thickens, usually overnight. Scrape into a container, cover, and refrigerate until needed.
Score and pinch each potato. Dollop with a little bit of the crème fraîche and osetra caviar.
 DESSERT
Strawberry Shortcake!
Biscuits and Farmers Market Strawberries and Cream!
(Recipe from Sherry Yard, Executive Pastry Chef, Wolfgang Puck Fine Dining)
Cake:
4 oz Butter, cut into ½ inch pieces kept cold
1 Eggs
1/3 cup Heavy Cream
1 ½ cups All Purpose Flour
3 Tbsp Sugar
1 ½ tsp Baking Powder
1/8 tsp Salt
Method:
1. Pre-heat the oven to 375 degrees and place the rack in the center.
2. Sift together the All Purpose Flour, Sugar, Baking Powder, and Salt.
3. Add dry ingredients to bowl of standing mixer fitted with the paddle attachment.
4. In a separate medium size bowl, whisk together the eggs, and heavy cream. Reserve.
5. Add butter to the mixer and on low speed begin blending for 2 minutes until butter resembles flatten walnuts.
6. Turn the machine off and add the wet ingredients.
7. On low speed mix until the dough just comes together.
8. Dust your work surface with all purpose flour and scoop out the dough onto table.
9. Using hands fold and flatten the dough over itself until it forms a uniform square.
10. Using a rolling pin dust the dough and roll to 1/2 inch thick.
11. Cut the dough in circles using a 3-inch cookie cutter or biscuit cutter.
12. Brush with milk and coat with generously with sugar.
Bake:
10 minutes turn the pan and continue to bake for 5 minutes, dark golden brown.
ASSEMBLY:
1 pint Mc Grath Farms Strawberries, cut into quarters
1 cup Heavy Cream, whipped soft
Method:
Slice shortcake in half, layer with whipped cream and pieces of strawberry, top with cream and the other half of the biscuit. Garnish with a dollop of cream and a slice of strawberry.