Los Angeles New Year's Eve 2015 Events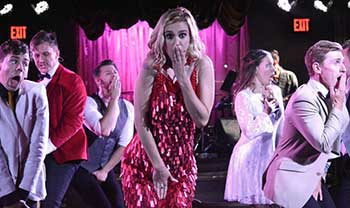 Celebrate New Year's Eve 2015 in Los Angeles with events, parties, celebrations and more.
Edited By Christina Xenos
Also check out our Los Angeles New Year's Eve Dining Guide
Prohibition NYE
Ring in the new year at Union Station down town. The Roaring Twenties themed event offers an evening of tray passed oysters, hand rolled cigars, live jazz music, DJs (POSSO and Parker+Barrow), burlesque dancers, and a premium open bar to satisfy all of the senses. 9 p.m.-2 a.m. $100/advance.
Grand Park
The whole family is welcome to ring in the new year at LA's Grand Park. Find 3D projections covering 22 stories of City Hall, performances by local bands and DJs on three stages, free photo booths and a wide range of food vendors. No alcohol permitted in event space. 7 p.m.-12:30 a.m.
New Year's Eve with Pink Martini
Ring in the New Year with the fun-loving sounds of  Pink Martini and their hip blend of Brazilian samba, '30s Cuban dance, Parisian café, and Japanese film noir. 7 p.m., 10:30 p.m.
For The Record: Baz
Though a cabaret lens, For The Record: Baz intertwines the tales of star-crossed lovers from Romeo + Juliet, Strictly Ballroom, Moulin Rouge and The Great Gatsby through songs like "Lady Marmalade," "Kissing You," "Love Is In The Air," "Crazy In Love," in a stunning 360-degree live theatrical concert experience. The cast will feature Janel Parrish (Pretty Little Liars, Dancing with the Stars), Rumer Willis (90210, House Bunny), Barrett Foa (NCIS: LA), Ginifer King (Haunted Hathaways), among others. Pair your night with five specialty cocktails inspire by the Baz Luhrmann catalog. 7:30 p.m. $35–$55. Stay late for DBA's New Year's party (additional ticket required).
DBA Hollywood
Expect nothing less from the nightlife hot spot than a high energy party that features a five hour premium open bar, top DJs spinning Top 40, Hip Hop, House and Mash Ups so you can hit the dance floor all night long. Top off the evening with an explosive live count down with a classic champagne toast and festive NYE party favors. 9 p.m.-2 a.m. $79+.
Mrs. Fish
Downtown's hottest new nightlife destination that layers live music, tasty food and crafted cocktails rings in 2015 with a bash that features live bands, musicians DJs and more, including tray passed hors d'oeuvres. Email reservations@mrsfish.com for reservations. $55. 8 p.m.-2 a.m.
NYE Countdown Party W Hollywood Hotel
All dining and drinking destinations inside the W Hollywood play host to the W Hollywood's annual New Year's Eve bash, featuring four distinct, musically-themed spaces for dancing the night away to special guest DJs. Complete with red carpet arrivals to make the night extra special, tickets include an open bar.
"Spanish Masquerade" at The Bazaar by José Andrés
At The Bazaar's annual masquerade ball, enjoy multiple dining areas and tray-passed tapas, sip on cava and wine and specialty cocktails from stations scattered throughout the restaurant. Cap the night off with desserts in the Patisserie and dance the night away with music by the house DJ. General admission tickets start at $195/pp (from Dec. 1-25); $250/pp (from Dec. 26-31). Additional various table service packages are also available.
Harvard & Stone
Celebrate with live bands, burlesque performances and tunes from DJs Phoebe Falconer with Tyler Restavrant. $25 includes entry and cash bar.
Aristocrats and Alley Cats New Year's Eve Bar Crawl
All the ACME Hospitality Group's downtown bars will be doing a toast every hour on the hour until 1 a.m. The King Eddy Saloon, Spring St. Bar and Beelman's Pub will be white trash, pouring High Life in champagne flutes. Sixth St. Tavern and Library Bar will be classy, popping bottles of Perrier Jouet. Expect DJs, drink specials, no cover and an after party. See website for specific times and locations.
No Vacancy
Enjoy special guest DJs, live bans, live performances and tightrope walkers. The ticketed event includes admission and open bar from 9 p.m.-2 a.m. Email: reservations@novacancyla.com for reservations.
Pour Vous
Dress for a masquerade cocktail party and enjoy a free champagne toast. $25.
The Varnish
The Jamie Elman Trio will provide entertainment with live jazz. Guests can enjoy unlimited cocktail service and Champagne punch, along with a late night dinner catered by Belcampo Meat Co., snacks being served throughout the night, and the bar's 5th annual Varnish Limbo Contest. Reservations can be made for 2-6 people by contacting. thevarnish@thavarnishbar.com $195/pp. 9 p.m.-2 a.m.
New Year's Eve Masquerade Party at Seven Grand
Champagne carts serving throughout the bar and a customary midnight toast! Guests adorned with a mask will get to skip the line. Bar Jackalope will also get in on the fun, hosting a "Fiendish Finale to 2014" for bottle owners, whiskey tastings on the hour with fruit and chocolate pairings until midnight, and providing complimentary bubbles. 7 p.m.-2 a.m.
New Year's Eve at "Honeycut 54"
Ring in the new year with disco beats from DJs Whitney Fierce + Lady Monix. Also find an all-night open bar, party favors, giveaways, food trucks galore, champagne toasts, and midnight kisses. $150/pp. 7 p.m.-2 a.m.
Harlowe's "A Little Party Never Killed Nobody"
Enjoy music, dancing, complementary passed appetizers and a midnight toast. $95/$500 VIP. 8 p.m.-2 a.m.
Sassafras's "Black & White Party"
id farewell to another year in black & white attire at Sassafras and enjoy burlesque, live music from The Dixie Giants, and more. Also enjoy an open bar with specialty cocktails, passed NOLA inspired apps and a midnight toast. 8 p.m.-2 a.m.
Skybar at Mondrian
Jet to Paris during Skybar's "Francophilia" celebration. French doors open at 8 p.m. with a premium open bar and upbeat French classics by a jazz quintet. Hors d'oeuvres will be served from 9-10 p.m., followed by sounds from a very special guest.
Bar Marmont
New York staple Legendary Damon will be hosting an evening of DJs, drinks and decadence. Stars will collide as LA DJ/Producer Sean Patrick and NYC deejay The Gent take over the DJ booth for the evening. In addition, Executive Chef Carolynn Spence will be creating an elegant, three-course menu for the evening. $50-$200.
NYElectric at W Hollywood
The part on the roof of the W Hollywood goes off with two headlining DJ's spinning at some of the hottest music festivals and clubs: Scotty Boy and Chamsi, four hour premium hosted bar, sweeping views of the Hollywood skyline and more. 10 p.m.-2 a.m. $185+.
Great Gatsby at the Argyle
Ring in the new year with three floors of bars, five-hour premium open bar, two floors of music featuring top DJs, tray passed appetizers, go-go girls dressed as flapper, 10ft stilt walkers and Gatsby-esque performers and more. $90+.
Cleopatra's Ball at Egyptian Theatre
Celebrate 2015 in the Egyptian Theater courtyard with a five-hour premium open bar, four top LA DJs, two dance floors and an LED countdown. 9 p.m.-2 a.m. $75+.
Solid Gold at Playhouse
Dance the night away to tunes from five DJs during a night that also includes a four-hour premium open bar, three areas to mingle and more. 10 p.m.-3 a.m. $100.
Grand Opening 1718 | Black Tie Soiree
Ring in the new year and celebrate the opening of a hot new nightlife venue, 1718 Vine. The night includes a five-hour open bar, table service packages, world renowned DJs, champagne toast, party favors and more. 9 p.m.-2 a.m. $120+.
Grand Opening No Filter | NYE
Party all night long with a five-hour open bar, dancers, party favors and more. 9 p.m.-2 a.m. $85+.
Hollywood VIP: 4-5 Club All Access Pass
For the ultimate Hollywood New Year's Eve experience get an all access pass to some of the hottest New Year's parties. Perks include access to clubs like Couture, Egyptian Theater, Playhouse after hours, 1718 and Gatsby's House. Upgrade to a platinum VIP ticket and also receive premium open bar all night at Egyptian Theatre & 1718 after midnight. $135+.
Cabaret en Rouge at Chaya Beverly Hills
The Beverly Hills spot transforms into a high-energy spectacular channeling the Parisian cabaret scene and reviving its ultimate NYE party complete with unlimited dinner stations, passed hors d'oeuvres, open dessert bar, live entertainment, midnight balloon drop, burlesque dancers. $65. VIP tickets include complimentary cigars, and between 10-11pm,  complimentary scotch tastings.
Magnolia House
Celebrate at a cocktail party featuring DJ tunes complementary welcome cocktail, party favors, champagne toast at midnight, Magnolia House gift bag and more. 9 p.m.-2 a.m. $25.
Heaven: Fallen Angels at The Abbey
Hit the dance floor an right in 2015 with sounds by Grand Smith starting at 4 p.m, and Dawna Montell at 9 p.m. Admission is $20, but you can get it for free if you stop by for lunch on New Year's Eve and spend $25.
The Raymond 1886
Spend the last night of 2014 drinking and dancing to the beats of DJ Heat Maxwell & WLDCT as we count down to 2015 at The Raymond & 1886 Bar's Ultimate New Year's Eve Bash. Admission includes live entertainment, midnight champagne toast and party favors. $120, use code RAY86 to save $20.
Katana
will offer the regular dinner menu from 5:30-8:45 p.m. After 9 p.m., the restaurant will play host to the ultimate New Year's Eve party with a DJ, dancing while overlooking the Sunset Strip, midnight champagne toast, and party favors, all for $20. Additionally, the restaurant will feature a five-course preset menu for $125 after 9 p.m.
Angel City Brewery 
Celebrate over specialty, limited batch beers on tap, including Imperial Chai Stout, For the Sake of Ale, Pomegranate Saison and Bourbon Rye Lager and a specialty sparkling toast at midnight. The evening will also feature live music by JUICE, Animal Games and Dirty Lingo, and three food trucks – Sweet E's, Slangin Corea and The Hurricane. The brewery will have complimentary party favors for the first 150 attendees, so get there early. No cover.
Universal CityWalk's New Year's Eve Movie Night
Celebrate the evening at the CityWalk AMC Theatres, featuring five of Universal Pictures' most iconic films, including "Jurassic Park," "E.T. The Extra Terrestrial," "Back to the Future" and a double feature of "Dracula" and "Frankenstein." The New Year's Eve festivities will include a red carpet entry and live DJ dance party with appearances by favorite Universal Studios Hollywood characters such as the Minions, Doc Brown, Dracula, Frankenstein and the quintessential Hollywood icon, Marilyn Monroe, in honor of the theme park's 50th anniversary. $25 adults; $15 children.
The Satellite
Dance all night to your favorite hits from the 80s and 90s inspired by Prince, Spice Girls, Pet Shop Boys, Madonna, Salt-n-Peppa, New Edition, Blondie, Talking Heads, Bobby Brown, Janet Jackson, David Bowie, Debbie Deb, The Cure, TLC, George Michael, Depeche Mode and more. $10 before 10 p.m., $15 after.
Venice Whaler's New Year's Eve Winter Wonderland
Ring in the new year by entering the festive soiree down a red carpet frosted with snow. Enjoy a complementary glass of bubbly, music from a live DJ and a band, fresh falling snow and more. $20 advance/$30 door.