Los Angeles Christmas Dining Guide 2015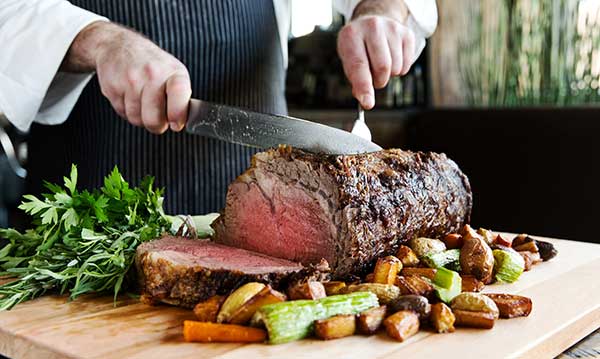 Find out where to dine in L.A. on Christmas Eve and Christmas day in our 2015 Los Angeles Christmas Dining Guide.
Edited by Christina Xenos
Maré
Dec. 21-27. Chef Eric Greenspan channels the restaurant's coastal European roots with a week-long Feast of the Seven Fishes menu. Order your favorite fish dishes a la carte, or indulge in the whole feast for $50. Highlights include crudo of scallop with grapefruit and chili; risotto of crab and uni with squash and orange; sole with olive tapenade and braised lettuce; whole snapper blood orange caper puttanesca; and assorted zeppole for dessert.
Providence
Dec. 24. Executive chef/co-owner Michael Cimarusti presents an upscale interpretation of the traditional southern Italian Feast of the Seven Fishes, with dishes inspired by his Grandmother Josephine and Great Grandmother Domenica. Highlights of the menu include crispy polenta and caviar bolognese; Maine lobster grilled in the shell with smoked puree of chestnut; Nancy's hand-harvested sea scallop with black truffle vinaigrette, scallop nave and crispy buckwheat; and grilled striped bass with roasted winter squash. 4-8 p.m. $140/pp, $200 with wine pairings.
Four Seasons Hotel Los Angeles at Beverly Hills
Dec. 24-25. Whether you want a refined Italian dinner or a bountiful Christmas brunch, find it at Four Seasons Hotel Los Angeles at Beverly Hills. Start your holiday celebration over a five-course prix-fixe menu of choices that include grilled persimmon chocolate with Italian burrata, trofie pasta with lobster and arugula, New York steak with porcini and Italian baked potatoes and more. On Christmas Day, dine on an indulgent brunch complete with your favorite breakfast selections, hot items like Chinese hot pot with beef short ribs and vegetables and free range chicken pot pie; carving station with citrus-roasted free range turkey, honey-glazed baked ham and roasted prime rib; raw bar; dime sum station; and more, including a children's buffet. While you're there, make sure to stop by the lobby to see 200-room chocolate replica of the hotel.
Mélisse
Dec. 24. Celebrate with a five-course prix-fixe dinner. Chef Josiah Citrin serves a menu that includes caviar with Hokkaido scallop, cucumber and crème fraiche; chestnut soup with celeriac, smoked potato and black truffle mousse; foie gras terrine with pears, dates, ginger, and endive; black bass "En Ecailles" with kohl rabi, young broccoli, and a citrus-ginger broth; aged Liberty duck with orange, scented salsify, radicchio, and toasted seeds; and gateaux chocolat with hazelnut, ricotta, and green tea. $175/pp. 5-8:30 p.m.
THE Blvd
Dec. 24-25. Celebrate in style at the Beverly Wilshire, A Four Seasons Hotel. On Christmas Even you can dine on a special four-course menu (think chestnut soup, seared sea scallops and roasted Muscovy duck breast); while on Christmas Day dine on a special three-course dinner. Enjoy it all in the festively decorated dining room to live piano music.
Union
Dec. 24. Chef Bruce Kalman puts his dock-to-dish styles on a Feast of Seven Fishes menu. Selections include smoked uni with lard; soft scrambled duck egg and white Alba truffles; and chilled olive oil poached spot prawns with arugula, compressed persimmon and fennel top granita. $125/pp, $40/pp wine pairings. Seatings at 5 p.m. and 8 p.m.
Valentino
Dec. 24. Piero Selvaggio and Executive Chef Tommaso Tarantino of the fine dining Santa Monica institution offers a five-course Feast of Seven Fishes menu for the holiday. Highlights of the menu include Stuzzichino of red mullet risotto fritter; crudo of diver scallop with pistachios and citrus-infused Colatura; warm Maine lobster salad with spiced Sicilian couscous; squid ink ravioli with seafood ragu and winter vegetables and more. 5-10 p.m.
Tavern
Dec. 24. Dine in the airy atrium at Suzanne Goin & Caroline Styne's Brentwood restaurant. The three-course dinner features highlights like chicken liver mousse with grape conserva, pancetta, arugula and grilled bread; barramundi with farro pudding, watercress, fennel, green garlic and chestnut gremolata; grilled quail with cannelini beans, bacon, spigarello and mustard creme fraiche; and caramel Bûche de Noel with candied hazelnuts and espresso ice cream. $55/pp. 5-9 p.m.
Le Petit Paris
Dec. 24-25. Dine on a special three-course pre-fixe menu at downtown's chic French bistro. Highlights include housemade duck foie gras; half lobster with bisque and baby vegetables; filet Mignon with Jus Corsé; stuffed truffle macaroni; and poached pear with ginger mascarpone.
Terranea Resort
Dec. 24-25. Celebrate your holiday seaside at the luxury Palos Verdes resort. Enjoy a Christmas Eve dinner buffet at Catalina Kitchen, seasonal menu at Nelson's or a tasting menu (dishes include smoked stuffed quail, lobster pot pie with a truffle crust) at Mar'sel. On Christmas Day, you can enjoy brunch or dinner at Catalina Kitchen, along with dining at Nelson's and Bashi and a tasting menu at Mar'sel.
The Lobster
Dec. 24. Kick off Christmas seaside with a Feast of Seven Fishes dinner. The menu offers selections like baked littleneck clams; fritto misto and salmon rillette bruschetta; grilled branzino; and crab and sea urchin squid ink linguini. 90/pp, $25/pp wine pairings.
Pistola & Gusto
Dec. 24. Chef Vic Casanova makes the traditional Feast of Seven Fishes simple by serving all of them in a Zuppa Di Pesce with calamari, mussels, clams, branzino, snapper, cod and jumbo shrimp.
The Pikey
Dec. 24-25. Hollywood's popular English pub celebrates the holiday with specials like goose neck ragu with spelt pappardelle; house-cured glazed ham; roast goose breast; and mincemeat pie ice cream. On Christmas Eve, enjoy a complementary glass of spiced mulled wine while you dive into specials like homemade pigs in a blanket, scallops wrapped in bacon with medjool dates; and delicate squash with golden raisins. On Christmas enjoy enjoy Christmas Dinner—a choice of house-cured, glazed ham or roasted goose breast along with chestnut bread sauce, sausage stuffed onion, roasted potatoes, chestnuts and stuffed cabbage with goose egg ($40), along with a variety of seasonal a la carte specials.
Abigaile
Dec. 24. Make Hermosa Beach your destination for dining on white balsamic-roasted romesco with spiced honey and hazelnut butter; coffee-rubbed prime rib with truffled gratin, pastachio and broccolini; 5-spice suck breast with cranberry, kale and sweet potato puree; and pan roasted cod with leek fondue and blood sausage hash—all on Christmas Eve. 5 p.m.-close.
Día de Campo
Dec. 24. Channel Baja on Christmas Eve with a four-course dinner from executive chef Ken Johnson. Highlights include wood-grilled octopus with salsa verde, oven-roasted tomato and radish salad; scallops with parsnip puree, mustard frill and bacon crumbs; short rib empanada with corn salsa, sofrito, egg and queso; and churros with raspberries, lime sugar and spiced chocolate sauce. $55/pp.
Taste on Melrose
Dec. 24. The iconic West Hollywood dining spot offers a seasonal menu that is available as a prix-fixe ($40/pp) or a la carte. Dine on selections like blue crab bisque; riesling poached pear salad; prime rib with roasted Brussels sprouts, Taleggio potato gratin, red wine rosemary jus; pan-seared scallops with kabocha potato puree, fried Brussel sprouts and pomegranate creme fraiche; and chocolate hazelnut bread pudding. 5-10 p.m.
Catch
Dec. 24-25. Dine with spectacular seaside views at the dining destination inside Hotel Casa del Mar. The three-course prix-fixe menu includes dishes like rosemary garbanzo soup with roasted shrimp and herbs; roasted duck breast with Mandarin sauce, truffle potatoes, and roasted Abercorn squash; and Panettone bread pudding with cranberry sauce and almond ice cream
FIG
Dec. 24-25. Stop by the Fairmont Miramar Hotel & Bungalows for special additions to the menu for Christmas Eve dinner and Christmas Day brunch from 11 a.m.-7 p.m.
Viviane
Dec. 25. Celebrate the holiday with pool views over a family-style Chinese feast from executive chef Michael Hung. The meal is dubbed "Dinner at Chop Suey Palace", in honor of Ralphie's unexpected holiday meal in the film "A Christmas Story." Highlights from the menu include roasted duck leg lacquered in soy with a sauté of mustard greens and confit kumquats and 5-spice scented beignets with black sesame anglaise. 11 a.m.-9 p.m. $58/pp, $22/pp children.
Circa 55
Dec. 25. Celebrate the holiday inside the iconic Beverly Hilton Hotel. The dining destination offers brunch and dinner for the occasion. Highlights of brunch include a seafood spread with oysters, steamed snow crap, poached mussels, cocktail shimp and more; along with entrees like roasted duck a la orange and carved cherry wood smoked prime rib. For dinner dine of a menu that includes Mary's chicken stuffed with mustard greens, bacon; along with Christmas peppermint chocolate creme brûlée. Brunch, 11 a.m.-4 p.m. $79/pp adults, $36/pp children; dinner 6-11 p.m., $72/pp.
Estérel Restaurant
Dec. 25. The restaurant inside to Sofitel Los Angeles transports you to the French Rivera where you will dine on a special holiday menu from chef Victor Bororda. Expect everything from a sweet baby gem, watercress and baby kale salad; choice of prime rib from a carving station, herb-roasted salmon or Mary's chicken; and sides like sweet potato gradin, grilled asparagus and cremini mushrooms and more. Noon-9 p.m. $60/pp.
Tanzy
Dec. 25. Pair your Christmas dining with a move at Tanzy and adjacent iPic Theater. Dine on a three-course prix-fixe menu that includes a gift from the chef. The menu offers winter squash soup with puff pastry dome, crispy sage and spiced crème fraîche; herb-crusted prime rib with crispy yukon gold potato rosti, spicy broccolini, horse radish butter; and dark chocolate "BUCHE DE NOEL" a flourless chocolate cake, chocolate mousse, chocolate ganache.
Mastro's
Dec. 25. Nothing says Christmas Day like a seafood tower, prime steaks, lobster mashed potatoes and butter cake. If this screams Christmas to you, head to any Mastro's location.
The Proud Bird
Dec. 25. The iconic aviation-themed restaurant that overlooks one of LAX's runway offers a Christmas champagne buffet. Highlights of the offerings include complementary champagne, a carving station with prime rib, lamb and ham; made-to-order pasta station, along with classic Christmas sides and desserts. $44.95/pp, $20.95/pp children.