Highlights of the Los Angeles Luckyrice Festival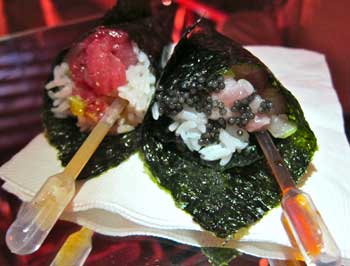 Last Saturday the Culver City Bookbindery exploded with Asian cuisine, cocktails and balloon sculptures at the second annual Los Angeles Luckyrice Festival.
By Christina Xenos
The Los Angeles Luckyrice festival teamed rising star chefs and mixologists from Los Angeles' culinary scene alongside international celebrity chefs to create the ultimate Asian cocktail and foodie experience. Hosted by Sang Yoon (Father's Office/Lukshon) and presented by Bombay Sapphire East, the evening blended authentic night market street food, creative chef-driven dining, cocktails galore, in addition to drinks featuring Bombay Sapphire East gin, Asahi beer, Bordeaux wines, Nicolas Feuillatte Champagne and Bruce Cost Ginger Ales. If you're looking to find Los Angeles fun, look no further! The night proved to be a culinary experience showcasing the tastes of Los Angeles Chinatown.
Highlights from the affair included dishes like Yoon's modern lomi lomi salmon; Jet Tila's (The Charleston) Northern Thai curry noodle soup with braised beef tendon; Bryant Ng's (Spice Table) spicy grilled beef ribs; Kris Yenbamroong's (Night + Market) tuna ceviche; Mohan Ismail's (RockSugar Pan Asian Kitchen) Vietnamese duck curry with a garlic chive pancake; and Jenee Kim's (Parks BBQ) Bulgogi served over lettuce; among others.
Katsuya hosted the VIP lounge and offered two types of hand rolls (toro, and hamachi with caviar) and Tokyo-style shoyu ramen with a marinated egg. They also featured three Bombay Sapphire East cocktails: the Snake in a Glass (Bombay Sapphire East, lemongrass infused sochu, cinnamon infused Martini Rosso, fresh Mandarin juice, mandarin spiced tea, garnished with a lemongrass stalk); the Burning Dragon (Bombay Sapphire East, muddled serrano chilies, lime juice, cranberry, simple syrup, garnished with a serrano chili slice); and the Eastern Legacy (Bombay Sapphire East, St. Germain, yuzu juice, peach puree, simple syrup, soda water, garnished with a shiso leaf).
Super Inflated not only created the towering balloon maneki-neko, which was one of the focal points of the festival, they also outfitted party goers with anything they could possibly imagine that could be made out of balloons, which was not limited to Hello Kitty corsages, balloon crowns, jet packs, butterfly wings and many more creations.
Check out more highlights from the festival:
[nggallery id=229]
For more information on additional Luckyrice festivals visit: luckyrice.com