Highlights of LA Philharmonic's Brooklyn Festival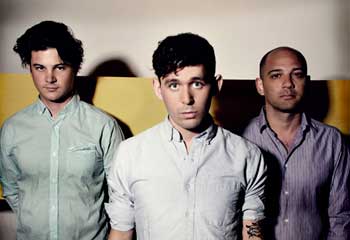 Despite the snarky parallels people draw between Brooklyn and certain *hipper* neighborhoods of Los Angeles, there is no denying the valuable contribution of Brooklyn artists to American music. The Los Angeles Philharmonic celebrates this with their Brooklyn Festival, April 16-22.
"Brooklyn's music scene represents a unique and concentrated cultural phenomenon. The LA Phil celebrates the significance of Brooklyn-influenced artistry with a dedicated focus on the artists and composers of the region, who are pushing new musical boundaries and tipping the scales of creativity," says Deborah Borda, President and CEO of the Los Angeles Philharmonic Association.
The event kicks off with Green Umbrella (Apr. 16), a program conducted by Brooklyn Philharmonic's celebrated new artistic director Alan Pierson, and includes a program of Brooklyn's most adventurous new music, including the World Premiere of Strip Mall by Matt Marks, a "mini-opera," performed on the same program as Tyondai Braxton's adventurous Central Market, a conceptually and sonically big, multi-movement work by an artist formerly of math-rock band Battles, but here enlisting an orchestra.
In Cameron Carpenter Plays Copland (Apr. 18, 20, 21), the festival goes old-school with Copland's Organ Symphony, which he wrote for his teacher Nadia Boulanger to play with the Boston Symphony under Koussevitzky. "You hear rhythms that would not have been there if I had not been born and raised in Brooklyn," the composer wrote about its proto-jazzy Scherzo.
Continuing the festival, Brooklyn-based bands The Antlers and Chairlift (Apr. 19.) come together on one bill, transporting the sounds of the ever-progressive borough to Walt Disney Concert Hall. Both bands make their Concert Hall debuts.
Brooklyn's art-rock scene gave birth to a new musical movement that continues to lend credibility and foster creativity in all different forms of music. Three of today's most multifaceted music talents – The National's Bryce Dessner, singer-songwriter Sufjan Stevens and composer Nico Muhly – come together to consider the cosmos with the West Coast premiere of Planetarium (Apr. 22), a planet-by-planet song cycle that melds their distinct creative contributions into a harmonic whole that unfolds against the backdrop of a giant orb. This show opens with a string quartet performance of compositions by Dessner, Stevens and Muhly.
Tickets for Green Umprella and Cameron Carpenter Plays Copland are on sale now, while tickets to The Antlers/Chairlift, and Planetarium go to the general public Saturday, Jan. 12. L.A. music blog The Scenestar reports that you can get presale tickets:
111 S. Grand Ave., downtown, 323.850.2000. LAPhil.com/brooklyn