Highlights from Los Angeles Food & Wine 2013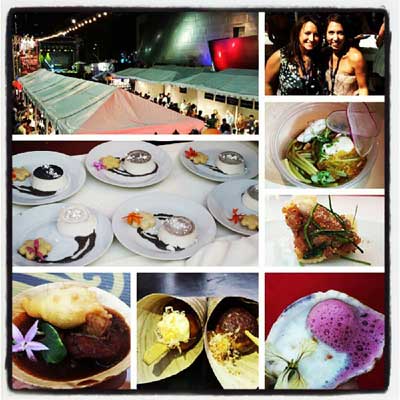 The third annual Los Angeles Food & Wine Festival hit downtown Los Angeles on Aug. 21-25. Check out our delicious recap of the affair.
 By Christina Xenos
The bright lights, paparazzi and red carpets of L.A. collided with culinary A-listers at the third annual Los Angeles Food & Wine festival, Aug. 21-25. Foodies descended on a variety of tasting events that were headquartered in downtown Los Angeles and fanned out to other locales like Beverly Hills, Century City and Santa Monica. When it comes down to ideas for fun in Los Angeles, you really can't go wrong with wine.
An intimate Founders Dinner kicked off the fest which quickly lead into the first marquee tasting, a Festa Italiana, hosted by Giada de Laurentis. A series of decadent lunches followed on Friday at L'Ermitage Beverly Hills, One Pico and Scarpetta, featuring chefs like Scott Conant, Michael Mina, Sven Mede, Matthew Accarrino and others. If you're looking for fun ways to spend the evening in Los Angeles, this certainly ranks among the tastiest.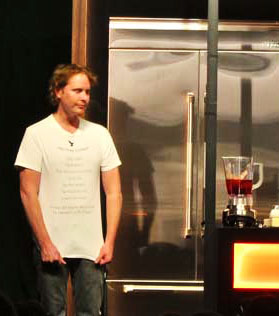 Friday evening first brought Tacos & Tequila at the Bungalow in Santa Monica that was sponsored by Patron tequila and featured cuisine by Rick Bayless, Ray Garcia and Josef Centeno. That "happy hour" was followed up with Asian Night Market hosted by chef Masaharu Morimoto on LAFW's Grand Avenue event site. Chefs and restaurants served a variety of street food inspired dishes like curried soba noodles from chef Jet Tila, chili crab toast from David Myers, and grilled pork neck gochujang with green onions and ajiaco from chef Ricardo Zarate. Cuisine was accompanied by free flowing wine that ranged from Cielo Malibu Estate Wineyards, to Chateau La Lagune, to Paso Robles' Justin Vineyards & Winery. The evening also featured entertainment from DJ D: Fuse, The Fung Brothers and a brief cameo by chef Morimoto who serenaded the crowd.
The rest of the weekend was filled with more grand tastings, marquee events and demos like alchemist chef Grant Achantz's cocktail demo with Beverage Director Charles Joly where they manipulated the elements to play off your senses and create other worldly concoctions.
We attended Friday's Asian Night Market event and Saturday's cocktail demo with Achantz and Joly and you can check out highlights of those here:
[nggallery id=240]