The Best Breakout Local Bands In Los Angeles You Need to Listen to Now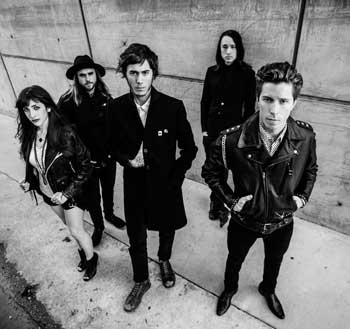 In a city overflowing with fresh talent, it's hard to tune out the noise from the music. Here, we present the best breakout musicians and local bands in Los Angeles poised to take their careers to the next level—and whose tracks should be on your playlists for 2014.
By Lesley McKenzie
Deluka
Deluka's catchy tune "Home" refers to home as a state of mind, but for these natives of Birmingham, England, it also refers to Los Angeles, where the quartet relocated in 2013 after four years in Brooklyn. But this band always had West Coast leanings; its name derives from the fictional L.A. call girl Kit De Luca, the best friend to Julia Roberts' character, Vivian, in the 1990 cult-classic rom-com Pretty Woman. The newly minted Angelenos have been hard at work on new music with producer Tim Pagnotta of Neon Trees, with their EP Bonds set to debut in the spring. Helmed by frontwoman Ellie Innocenti, the band's latest cache of infectious electro-pop and rock songs follows on the heels of their first full-length album, You Are The Night, in 2010, which propelled the quartet to fame and landed them a coveted spot on music festival Lollapalooza's lineup in 2011. Keep your ear to the ground for plenty more of the group's sun-soaked grooves in 2014.
White Sea
Artist and producer Morgan Kibby is behind multiple infectious earworms through her collaborations with French electronic group M83, including her vocals, keyboards, songwriting and arrangements on their Grammy-nominated album Hurry Up, We're Dreaming. But it's Kibby's solo project under the moniker White Sea that's creating beaucoup buzz of late (and which earned a spot on the soundtrack Girls, Volume 1: Music From the HBO Original Series, with her single "Overdrawn"). Her EP, This Frontier, captivated music fans in 2010, so ears perked up with news of her first full-length album, In Cold Blood, due out this May from Mom + Pop. In between remixing tracks for huge acts including Britney Spears, Lord Huron, Demi Lovato and Imagine Dragons, and supporting Phantogram on tour, Kibby continues crafting her own rich and ethereal sound. Expect to hear influences from her training as a classical musician, not to mention her talent for foot-tapping beats, and her powerful, soulful vocals to match.
Bad Things
With the Sochi Olympics behind him, Shaun White is trading the half-pipe for the stage as lead guitarist of Bad Things. Initially a passion project between the champion snowboarder and childhood friends drummer Lena Zawaideh and guitarist Anthony Sanudo, the band now catches air with frontman Davis LeDuke and bassist Jared Palomar. Bad Things released the single "Caught Inside" last summer and a self-titled debut album on Warner Bros. Records in January; appearances at festivals and on The Tonight Show Starring Jimmy Fallon followed. Expect more good things from this bad crew.
Brenna Whitaker
Any local jazz aficionado worth his or her weight in collectible vinyl is already familiar with Brenna Whitaker. With her larger-than-life stage presence and haunting vocals, Whitaker was the driving force behind the creation of W Hollywood's famed Sunday night jazz sessions (6250 Hollywood Blvd., Hollywood, 323.798.1300), where she and her Little Big Band performed with the likes of Stevie Wonder and Michael Bolton. Today, the blond beauty draws crowds at Herb Alpert's Vibrato Grill Jazz (2930 Beverly Glen Circle, Bel-Air, 310.474.9400), where she's scheduled to perform on April 8. Whitaker is also the go-to songstress for some of the city's most private gigs, including Gene Simmons' and Hugh Hefner's weddings—not to mention a recent two-week engagement on tech mogul and philanthropist Larry Ellison's private Hawaiian island of Lanai. Just how good is she? Multiplatinum artist Michael Bublé calls Whitaker "one of the finest singers of our generation." It's no wonder that legendary record producer David Foster has signed on to work with the Kansas City, Missouri native on her debut album with Verve/Universal, due summer 2014.
Miguel Atwood-Ferguson
When it comes to music, Miguel Atwood-Ferguson knows no bounds. A classically trained violin and viola player, Atwood-Ferguson's sounds and musical arrangements can be heard on more than 400 albums, films and commercials to date, and that's just the start. But this year, Atwood-Ferguson, whose diverse collaborators include Ray Charles and Flying Lotus, steals the spotlight with the release of two albums on local label Brainfeeder. The first is a solo album, a collection of pieces spanning classical, rock, hip-hop and jazz, peppered with orchestral arrangements and rhythm sections. Atwood-Ferguson also looks forward to debuting the first album of his globetrotting string quartet, Quartetto Fantastico, which bases its sound on complete improvisation.
The Ceremonies
Music runs in the genes of the Ceremonies—three Los Angeles-based brothers whose performances are equal parts theatrical and aurally stimulating. There's no stopping this trio, who wrapped a tour with the Fratellis in 2013 and are on the tail end of their stint as the opening act for Glasvegas. Tapped by MTV as "Artists to Watch" in late 2013, the siblings also garnered a following through KROQ's "Locals Only" countdown with their debut single, "Land of Gathering." Citing the Cure and the Smiths as influences, Mark, Michael and Matthew Cook churn out infectious alt-rock melodies infused with New Wave nostalgia, which one can hear on their self-titled five-track EP with Atom Factory Music/Capitol, released last fall. Hard at work on their debut album, the trio boasts management by Troy Carter, whose list of past and present clients includes Lady Gaga and John Legend.