Head to Dominick's Weekly Crawfish Boil Saturdays in May
Celebrated West Hollywood Italian eatery Dominick's brings back a festive local favorite: its annual crawfish boils.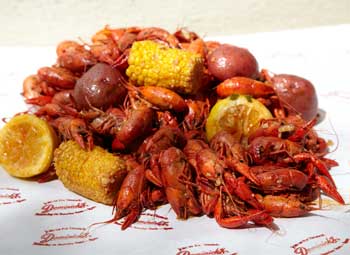 Drawing upon his New Orleans heritage, chef Brandon Boudet takes over the eatery's patio on Saturdays from noon to 4 p.m. to boil 300 pounds of Louisiana crawfish. In addition to the crawfish, available for $10.99 per pound, diners can enjoy a selection of Boudet's Big Easy-inspired dishes, including Po' Boy sub sandwiches, Creole boiled artichokes with remoulade and Dominick's Dago red and white wines by the bottle. For dessert, the chef offers New Orleans Sno Balls—snow cones drizzled with house-made syrups—in multiple flavors, served with an optional shot of Old New Orleans spiced rum. Space is limited; reservations for the crawfish boils are recommended. 8715 Beverly Blvd., L.A., 310.652.2335.