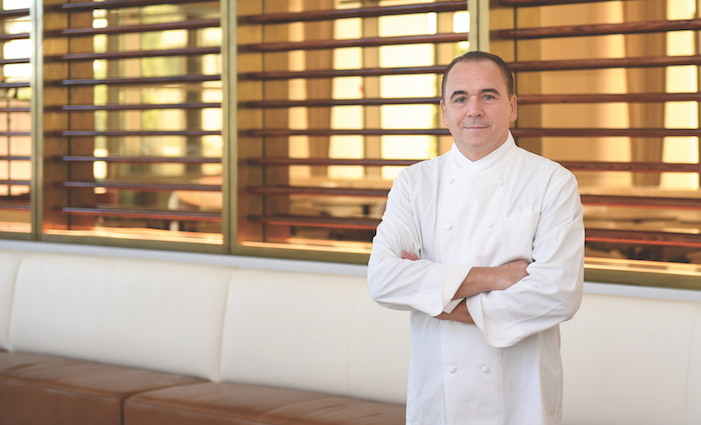 By Suzanne Ennis, Where Los Angeles magazine.
In the world of fine dining, few chefs reach the stature of Jean-Georges Vongerichten. The Alsace, France-born, Michelin-rated chef and restaurateur oversees a portfolio of acclaimed restaurants worldwide; he's published multiple cookbooks (one of which won a James Beard Award); and he's a frequent TV presence.
And now, the chef has made his West Coast debut at the new Waldorf Astoria Beverly Hills, the iconic hotel brand's first California location. There, Vongerichten oversees his namesake restaurant Jean-Georges Beverly Hills, the Rooftop by JG and the hotel's other food and beverage offerings alongside executive chef Steve Benjamin and chef de cuisine Richard Archuleta.
Days before the restaurants' grand opening, Vonger-ichten put the finishing touches on the menus, then sat down in Jean-Georges' expansive dining room to chat with Where about creating fresh, local and exciting California cuisine—which, it turns out, is where his heart has been all along.
What's on the menu at Jean-Georges Beverly Hills?
I call it the best of what we do in New York. It's a blend of ABC Kitchen, ABCV (the only-vegetarian restaurant we opened), Jean-Georges … it's going to be a bit of everything, with a California flavor, because I feel I'm cooking California cuisine in New York.
What's the most L.A. thing about the restaurant?
I think the whole restaurant, the whole look of it. On the beautiful terrace, those beams are going to be covered with passion-fruit vines, so it's very outdoor. [It's distinctly L.A.] on the plate, as well. We will be using Santa Barbara sea urchin, shrimp, abalone and local produce.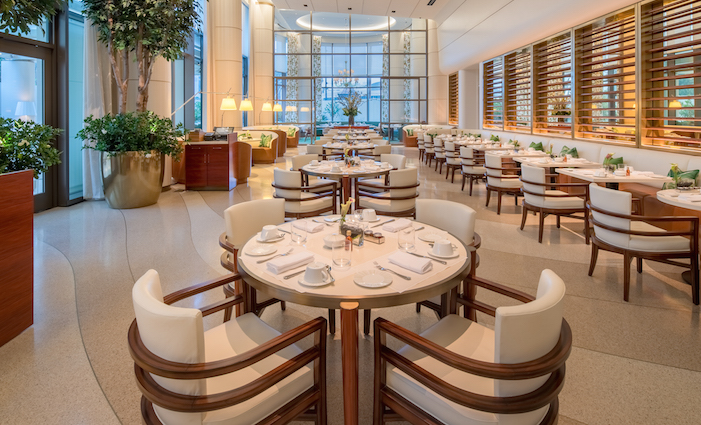 Do you work with local farmers?
[Nods.] We try to stay GMO-free and as organic as we can. Here we have a compost, as well. So we're going to try to be the most green place in L.A. That's my 
mission!
Was that always your approach?
Probably more now, because I think people are more demanding in terms of ingredients. [They want] traceability and honesty, too. They want to know where the carrot grows, and how—on and on. I mean, it's so delicious, but where is it coming from?
Do you spend much time in L.A.?
Before this project, I was mostly coming for events. I come to spy on things, too—see what's going on here, get inspired … There are more vegetarian and vegan places here on this side than the East Coast. It's important for me to see that and to learn. My travel in Asia helped me to understand that food, as well … We just put congee on the menu a month ago in New York, made of black rice and millet. People go crazy for it.
So, you're pushing the envelope a bit?
We love the staples, [too]—the poached eggs, the omelets. The avocado toast—you have to have it! But [they're] seasoned a little differently, so it's exciting. We have a whole juice program, as well.
Sounds very L.A.!
That's what I am telling you! I'm cooking L.A. in New York.
Where do you like to eat here?
I love Gjelina, I love Café Gratitude. I have always been a big fan of Nobu. Sushi Park—it's amazing, oh, my God. I think it's the best in town.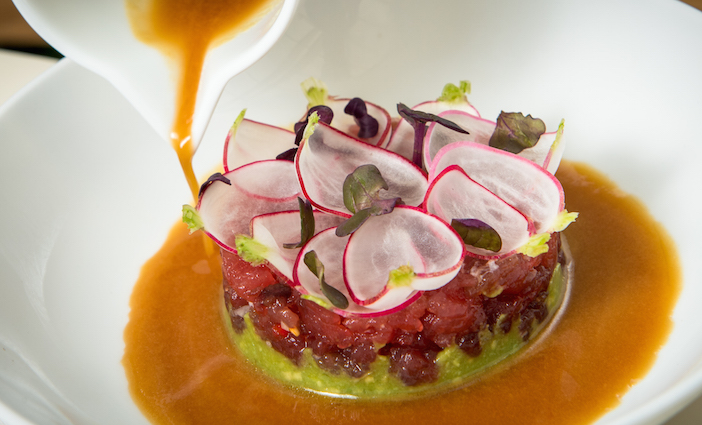 What's the best thing you've eaten lately?

Right now, I'm really into the vegetable mode. When you look at plants, vegetables and spices, there's 10,000 of them, so the combinations are endless.
I hear that you love street food.

Yeah. At the upstairs rooftop, we will have some tacos, some Korean grilled chicken, as well as samosas and pizza. We'll [draw from] the ethnicity of L.A.
And the cocktail program?

Awesome.
What kind of cocktails do you like?

My favorite is a ginger margarita, so we do a base of one part lime juice, one part organic brown sugar, one part ginger, and you make a syrup of it and one ounce of that, two ounces of tequila and a splash of soda. We use the peeling from the ginger to make ginger salt for the rim.
It's almost 5 o'clock!

That's good! [Laughs.]
Jean-Georges Vongerichten photo by Billy Farrell / courtesy of Waldorf Astoria Beverly Hills. Interior photo by William Rust / courtesy of  Waldorf Astoria Beverly Hills. Dish photo by William Rust / courtesy of  Waldorf Astoria Beverly Hills.