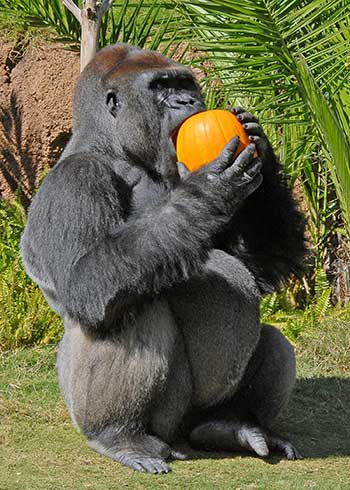 Halloween in Los Angeles is more than a month-long affair, and we've lined up the best Los Angeles Halloween events for you. Let your inner ghoul shine at masquerade balls, costume carnivals and more.
Written by Christina Xenos and Gillian Glover
West Hollywood Halloween Carnaval
Oct. 31. Billed as the largest Halloween street party in the world, this wild Halloween-night costume bash is also one of L.A. County's biggest annual events, complete with live music and entertainment, photo stations, food vendors and the crowning of a celebrity "queen." 6-11 pm. Free. Santa Monica Boulevard between La Cienega Boulevard and Doheny Drive, 800.368.6020. visitwesthollywood.com
Tim Burton's The Nightmare Before Christmas Live with Danny Elfman & Orchestra
Oct. 31, Nov. 1. Legendary composer, singer/songwriter Danny Elfman, takes the stage at the Hollywood Bowl performing his role of Jack Skellington singing live to film for a very special screening of Disney's timeless holiday classic, Tim Burton's The Nightmare Before Christmas. Joining Elfman will be a cast of singers and special guest artists performing the film's songs live. The concert transforms the Hollywood Bowl into Halloween Town with special pre-show activities including an audience participation Costume Contest. Tim Burton-inspired costumes are encouraged. 2301 N Highland Ave., L.A., 800.745.3000. Tickets.
L.P. Thriller Halloween Rooftop Party
Oct. 31. West Hollywood's Asian eating house and rooftop transforms it's roof deck into a cemetery and haunted house. Don your most festive costume and party under the moonlight with with small bites from Executive Chef Louis Tikaram, a hosted open bar with spirited cocktails and tunes from DJs. Snag a VIP ticket and gain access to an exclusive Veuve Clicquot lounge from 8-11 p.m. $100/$150 VIP; group packages available. Tickets http://www.eventbrite.com/e/lp-thriller-tickets-19021909042. 603 N. La Cienega Blvd., L.A., 310.855.9955. eplosangeles.com
Halloween Horror Nights
Sept. 18-Nov. 1. Universal Studios Hollywood's iconic—and crazy packed—Halloween attraction, open , features four scare zones and six movie-and TV-themed mazes based on the likes of Halloween, Alien vs. Predator and This Is the End (in 3D). Based on the hit zombie show, maze The Walking Dead: Wolves Not Far will feature moments from season five and two times the number of undead "walkers." 7 p.m.-2 a.m. $55-$85. 100 Universal City Plaza, Universal City, 800.864.8377. halloweenhorrornights.com
Dia de los Muertos
Oct. 24. The vibrant Mexican tradition is celebrated at Hollywood Forever Cemetery with dancers, food and craft vendors, a lively procession and more than 100 elaborately decorated altars. Find live music headlined by Lisa Downs, Huichol Musical, La Misa Negra, El Mariachi Manchester and Edna Vazquez. Noon-midnight. $20. Hollywood Forever Cemetery, 6000 Santa Monica Blvd., Hollywood, 323.469.1181. ladayofthedead.com
Los Angeles Haunted Hayride
Oct. 2-31. Weekends in October, the popular L.A. Haunted Hayride finds groups of scare-seekers piling into the back of a tractor to be paraded through Griffith Park's Old Zoo every, where several scares are lurking—including, no doubt, this year's advertised "Boogeyman." A maze and new immersive scare zones complete the experience.Check website for schedule. $25-$43, VIP $50-$59. 4730 Crystal Springs Ave., Griffith Park, L.A., 310.993.8289. losangeleshauntedhayride.com
Día de los Muertos Altars at Grand Park
Oct. 24-Nov. 2. Grand Park expands the celebration and traditions of Día de los Muertos with multiple ways to experience and learn about the holiday. At the center of the festivities is the park''s presentation of more than 50 altars and art installations in honor of Día de los Muertos in partnership with Self-Help Graphics & Art. The altars, which remain in the park all week long, will focus on both traditional and contemporary topics and explore the connections between the holiday's origins and the daily lives of Angelenos. Altar subjects range from personal stories that celebrate families and lost loved ones, to more contemporary expressions of current affairs and community challenges, such as gang violence, immigration reform and education. 200 N. Grand Ave., downtown, 213.972.8080. grandparkla.org
Noche de Ofrenda at Grand Park
Oct. 24. For the third year in a row, Grand Park partners with Self-Help Graphics & Art to present a traditional Noche de Ofrenda ceremony honoring the dead and featuring prayer led by the local indigenous community. In addition to enjoying performances by traditional dancers representing the Aztecan, Oaxacan and Michoacán traditions, as well as Los Angeles-based poets and musicians, you can also help build a giant community altar. The event kicks off the display of altars and art installations in the park developed by local artists and community groups. 7-9 p.m. 200 N. Grand Ave., downtown, 213.972.8080. grandparkla.org
EEK! At The Greek!
Oct. 24. The family-friendly event features the 60-piece Symphony In The Glen Orchestra with Maestro Arthur B. Rubinstein along with a creepy collection of frightening favorites, plus a trick-or-treat village in the plaza. This year's program will feature the Gay Men's Chorus of Los Angeles performing "Ghost Riders in The Sky," under the direction of Dr. Joe Nadeau, Artistic Director. $8-$100. 7 p.m., trick-or-treat village opens at 4:30 p.m. 2700 N. Vermont Ave., 323.665.5857. greektheatrela.com
Boo at the L.A. Zoo
Oct. 1-31. All month, the Los Angeles Zoo offers Halloween fun the kids can get in on, with haunted caves, a pumpkin patch, costumed characters, bat- and spider-themed crafts, jack-o'-lantern-carving demonstrations and creepy, crawly creature encounters. Kids can enjoy trick-or-treating Oct. 24, 25 and 31. 10 am-4 pm. Free with zoo admission. ($15-$20, under 2 free.) 5333 Zoo Drive, Griffith Park, L.A., 323.644.4200. lazoo.org
Halloween Organ with Film: Dr. Jekyll and Mr. Hyde
Oct. 31. Paramount's Dr. Jekyll and Mr. Hyde, directed by John S. Robertson and produced by Famous Players-Lasky, was the first of three film treatments of Robert Louis Stevenson's famous novella produced in 1920. It starred John Barrymore as the fatally split personalities, and featured Martha Mansfield and Nita Naldi as their love interests, roles based on a stage treatment, not the original story. Watch the silent classic accompanied live by Clark Wilson on the Hall's monster organ. 8 p.m. 111 S. Grand Ave., downtown. laphil.com
Dracula with Philip Glass and the Kronos Quartet
Oct. 29-31. For a more understated scare, head to downtown's hip Ace Hotel to experience the 1931 classic, Bela Lugosi-starring horror film in an all-new way. L.A. Opera Off Grand presents Dracula on the big screen, accompanied by a live performance of Philip Glass' 1998 score by Glass himself and the Kronos Quartet. On Halloween night, stick around for some bloodsucking fun at a special Black and White Ball in the lobby, featuring guest DJs, themed rooms, bars and more. (Ages 21+, black-and-white attire required.) Th, F 8 pm; Sa 4 pm, 8 pm. $34-$160. 929 S. Broadway, downtown, 213.623.3233. acehotel.com
Downtown LA Walking Tours: Haunted Tales
Oct. 1-Nov. 24. Be prepared to hear the haunting tales of Downtown L.A.'s dark side on this tour of murders, mysteries and unresolved crimes. The stories revolve on the City's most infamous tales and unexplained activity that disturb our mysterious past. This Halloween special tour will expose you to the spooky ghost stories that continue to haunt Los Angeles. Tues., Thurs., Sat., Halloween Weekend. dtlawalkingtours.com
Queen Mary Dark Harbor
Oct. 1-Nov. 1. Long Beach's supposedly haunted ship-slash-hotel is the perfect setting for a Halloween scare. Fight your way through six spooky mazes—three new (Soulmate, B340 and Voodoo Village) and three returning favorites, including Circus—and gaze upon oddities at a freak show. Check website for schedule. $20-$94. 1126 Queens Hwy., Long Beach, 877.342.0742. queenmary.com
Lucha VaVoom Aztec Horror!
Oct. 28-29. Celebrate the Halloween seasons with this ridiculously fun performance featuring masked Mexican wrestlers, mini Mexican wrestlers comedy, and burlesque acts all rolled into one wacky and entertaining evening. Mayan Theatre, 1038 S Hill St., downtown. luchavavoom.com
The Wiltern's Night of Horror
Oct. 30. The Wiltern Theater will be transformed into a haunted house and host a classic horror movie marathon, along with a virtual reality horror film showcase, costume contest with amazing prizes and giveaways and dance party hosted by Dj Loboman and special guests. Films screened will be An American Warewolf in London, The Cabin in the Woods, The Descent and Demons. $15+. 7 p.m. 3790 Wilshire Blvd., L.A., 213.388.1400. wiltern.com
CreepLA
Oct. 8-31. The fully immersive and interactive haunt experience set in an abandoned warehouse in the Arts District of downtown Los Angeles. Produced by a group of theatrical artists, CreepLA sets itself apart by providing a scare unlike any other that leaves its guests fearful long after their visit ends. $20-$30. 7-11 p.m. 718 E. Jackson St., downtown. CreepLA.com
UNICEF Black & White Masquerade Ball
Oct. 30. Dance the night away at a masquerade ball that showcases DJs, dancing, hors d'oeuvres from the city's top food trucks and more. Proceeds fund UNICEF's lifesaving programs, including global child protection programs and the U.S. Fund for UNICEF's End Trafficking project. 9 p.m.-2 a.m. $150+. Masonic Lodge at the Hollywood Forever Cemetery, 6000 Santa Monica Blvd., L.A. unicefmasqla.org
Wanderlust Hollywood Illuminated Halloween Ball
Oct. 31. Newly opened yoga destination channels their signature festival experience into an inaugural Halloween ball. Come in early for a heart opening yoga class with Kia Miller and Tommy Rosen in The Greatest Place accompanied with the live band Aykanna, or an intention dance ceremony with Hemalayaa & Parashakti with music by DJ Imagika Om in The Haven. Visit the Cave of Cacao, where the Sons of Earth will lead a chocolate ceremony to sweeten the evening and imbibe Wine-derlust elixirs. Sweat on two floors of DJs and enjoy tarot card readings, henna tattoos and other surprises throughout the night. $35/advance, $40/door, $60/VIP (limited tickets). 1357 N. Highland Ave., L.A., 323.967.8855. wanderlusthollywood.com/halloween
Haunted Hotel: Three Day Rule's Halloween 2015
Oct. 31. The Viceroy Santa Monica transforms into the Westside's hottest Halloween party. Party all night with two DJs spinning tunes on two different dance floors, costume contest and more. 8 p.m.-2 a.m. Viceroy Santa Monica, 1819 Ocean Ave., Santa Monica. Tickets